Ronda Rousey's Coach Wants Her To Fight Cris Cyborg, Which Seems Like a Terrible Idea
"I know Ronda could beat Cyborg. I know that. Cyborg is too slow."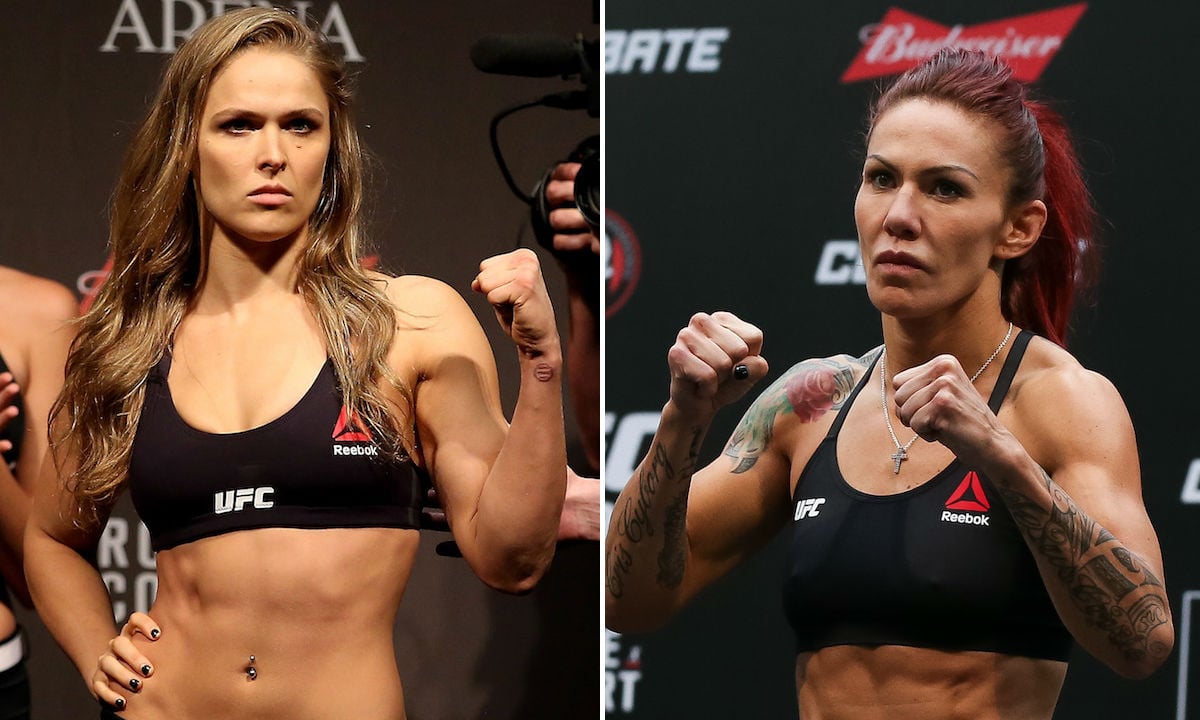 It's been months since Ronda Rousey has given any indication that she might make a comeback to the UFC. She's been busy getting married, honing her acting chops and taking care of a new puppy, appearing to move further from the Octagon at every step.
https://www.instagram.com/p/BZChS_wBQTg
But now that's changed. Edmond Tarverdyan, Rousey's longtime coach, has just endorsed a comeback for the former UFC champ and he has an opponent in mind: Cris Cyborg. 
"That's the one," Tarverdyan said on The MMA Hour. "I want that fight. When I trained Ronda, I know Ronda could beat Cyborg. I know that. Cyborg is too slow."
Asked if he thinks Rousey will in fact comeback to MMA, he said he's not sure. "We'll live and we'll see. If injuries weren't there and everything was where it was, we would take that fight and I'm telling you she's too slow for us. And Ronda will beat her."
Tarverdyan's confidence in Rousey's chances against Cyborg is surprising. The Brazilian is a force in the cage and hasn't lost a fight since she turned pro in 2005. Her most recent win, in July, was a brutal TKO that won her the vacant UFC women's featherweight title. 
https://www.youtube.com/watch?v=LPS8LcBoDpQ
Rousey, on the other hand, has been demolished her last two times in the Octagon by fighters who aren't even on Cyborg's level. 
But Tarverdyan believes Rousey would rise to the occasion, thanks to her personal animosity for Cyborg, which has been building for years. In the past, Rousey has publicly called out Cyborg for her history of PED use and Cyborg has responded by saying she'd literally end Rousey's life in the cage. 
Cyborg is so desperate to get a piece of Rousey, that she's even suggested they take their beef to the WWE. 
It's that hatred that Tarverdyan says would lead Rousey to victory. "Ronda needs a challenge. She really needs to be like, 'This person is no good and I need to prove something to the whole world.' That's how Ronda works good," he said. "She said she cheated before, she's hurt women and she wants to come and beat her."
He may be right that Rousey wants to beat Cyborg, but the likelihood of these two getting in the cage together remains remote. Not just because Rousey seems unlikey to ever get back in the cage, but becuase Cyborg has said she doesn't want to fight Rousey anymore. 
"When I wanted to fight her it was because she was at the top of her game and she had all of the confidence in the world," Cyborg wrote on Instagram. "Both of us are now at different chapters in our careers and for me that chapter is finished."
https://www.instagram.com/p/BZOmpj8FHNp