This Ferrari F1 Race Car Driven By Michael Schumacher Could Sell For $10 Million
The seven-time Formula 1 winner helmed this beast in his first championship-winning season with Ferrari.
(RM Sotheby's)
As Formula One surges in popularity—especially in the U.S., where three races will run in 2023—so too does the motorsport's memorabilia market. And the most collectible pieces are no less than the actual cars helmed by F1's legends, like this Michael Schumacher-raced Ferrari F1-2000.
He is of course one of the sport's greatest, if not the GOAT, having taken a record-seven F1 championships—the feat has so far only been matched by Lewis Hamilton. And Schumacher's cars are among the most desirable, as evidenced by the 2003 Ferrari F2003-GA that fetched $14.9 million to become the most expensive F1 car of the modern era.
While it would be a stretch to stay that this exact Ferrari F1-2000, chassis No. 198, won Schumacher his first championship with Ferrari, it certainly played a crucial part in his 2000 title run.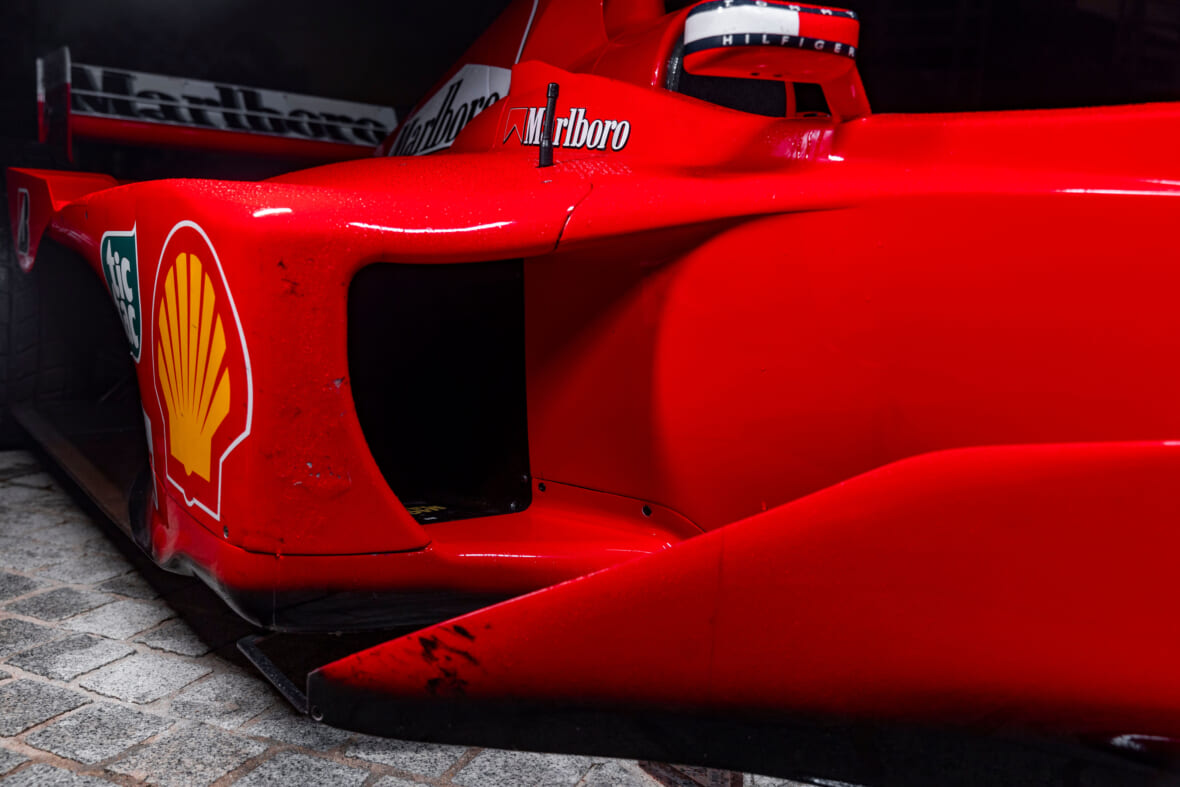 Upon debut in 2000, Scuderia Ferrari Technical Director Ross Brawn was confident in the aerodynamics package and 90-degree V10, which had been redesigned to lower the car's center of gravity.
"I think we've probably had the best car we have ever had at the beginning of the season since the present group has been working together here at Ferrari," Brawn said.
He was right. Ferrari won 10 of 17 races that season—nine went to Schumacher, one went to his teammate Reubens Barichello. At the penultimate grand prix in Japan, Schumacher was crowned champion for the third time overall and first of five times with Ferrari.
RM Sotheby's has a detailed history and provenance on Ferrari F1-2000 chassis No. 198. In brief, it was frequently called up as a spare throughout the first 10 races of the 2000 season, often enabling Schumacher to lead qualifying sessions for pole positions.
Its racing career ended when Schumacher was hit from the rear and forced to retire at the 10th race of the 2000 season in Austria, though chassis No. 198 was subsequently repaired.
Expect chassis No. 198 to sell for $7.5 to $9.5 million at RM Sotheby's Luxury Week in Honbg Kong where it's currently on display.