Tom Brady Calls For Colin Kaepernick to Play in NFL Again, As Controversial QB Saga Continues
There are so many crap quarterbacks in the NFL that it's getting hard to justify keeping Kaepernick out.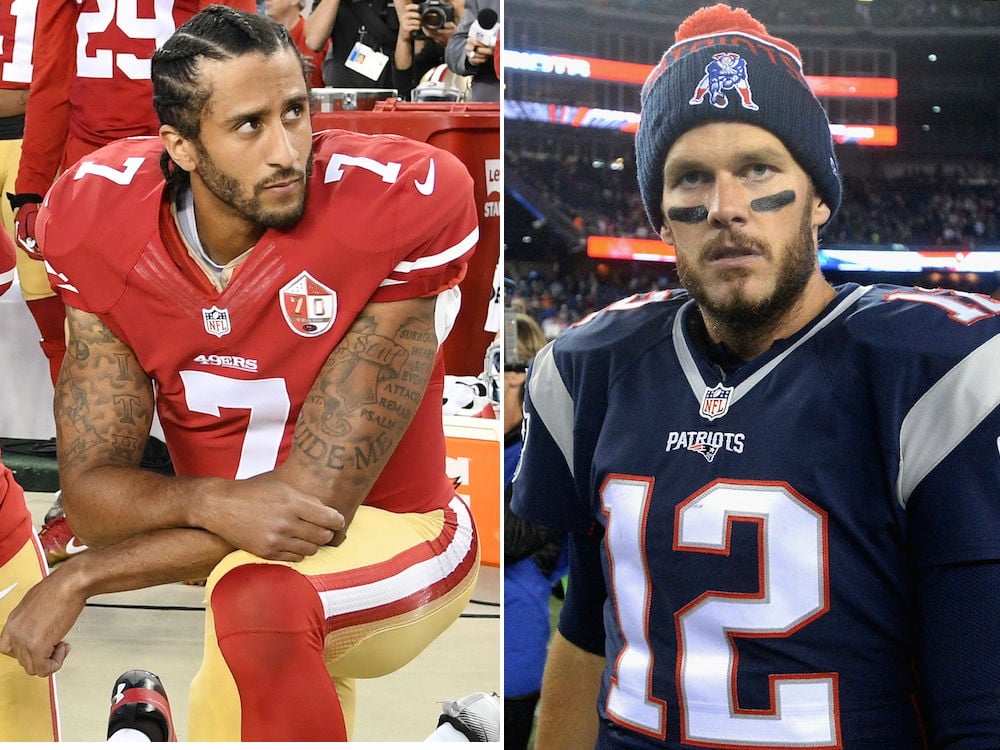 Two weeks into the NFL season, the calls to end the black-balling of former 49ers quarterback Colin Kaepernick are louder than ever. The latest, and most unexpected person to weigh in over the weekend, is Tom Brady. 
Asked Sunday if Kaepernick can play in the league again, the most famous player in the NFL said, "I certainly hope so."
"I've always watched him and admired him, the way that he's played," Brady added. "He was a great young quarterback, he came to our stadium and beat us, and took his team to the Super Bowl in 2012. He accomplished a lot in the pros, as a player, and he's certainly qualified. I hope he gets a shot."
Brady, as you may have noticed, did not mention the reason Kaepernick remains a free agent: His protests against police brutality and systematic racism that began in the pre-season last year. It's easy to think Brady avoided the topic because it's controversial and Brady has had enough controversy in the last year. 
But it's also possible Brady didn't mention it because it's become less relevant. Other players now protest the anthem without nearly the press coverage and subsequent outrage Kaepernick was subjected to. And anyone still angry at Kaepernick while Ezekiel Elliot is allowed to suit up for the Cowboys, has seriously misplaced priorities. 
More importantly though, so many teams are employing embarrassingly bad quarterbacks that the perceived PR problems Kaepernick could bring may begin to become less important if he presents teams a chance to win. 
One locker room is already ready to accept Kaepernick, according to the Pro Football Talk. The Bengals, who haven't scored a touchdown in their first two games, are reportedly being pushed by players to sign Kaepernick after Andy Dalton has already thrown four picks. 
https://www.youtube.com/watch?v=xa8cAaOAFPQ
Expect to see more stories like this as starting quarterbacks falter or fall to injury. Already, there are people pushing at the Colts, Rams, Jets, Dolphins, Bears, Bills and Broncos to sign him. That list will only grow, and not because Kaepernick is anywhere near a sure thing. But in the NFL, you don't need a sure thing at quarterback so much as you need a guy who won't lose the game for you. And right now there are way too many NFL  quarterbacks losing the game for their teams, while a guy who could be winning them is sitting at home on his couch.