10 Vintage Luxury Watches That Will Kickstart Any Collection
Here are the best high-end timepieces to invest in right now.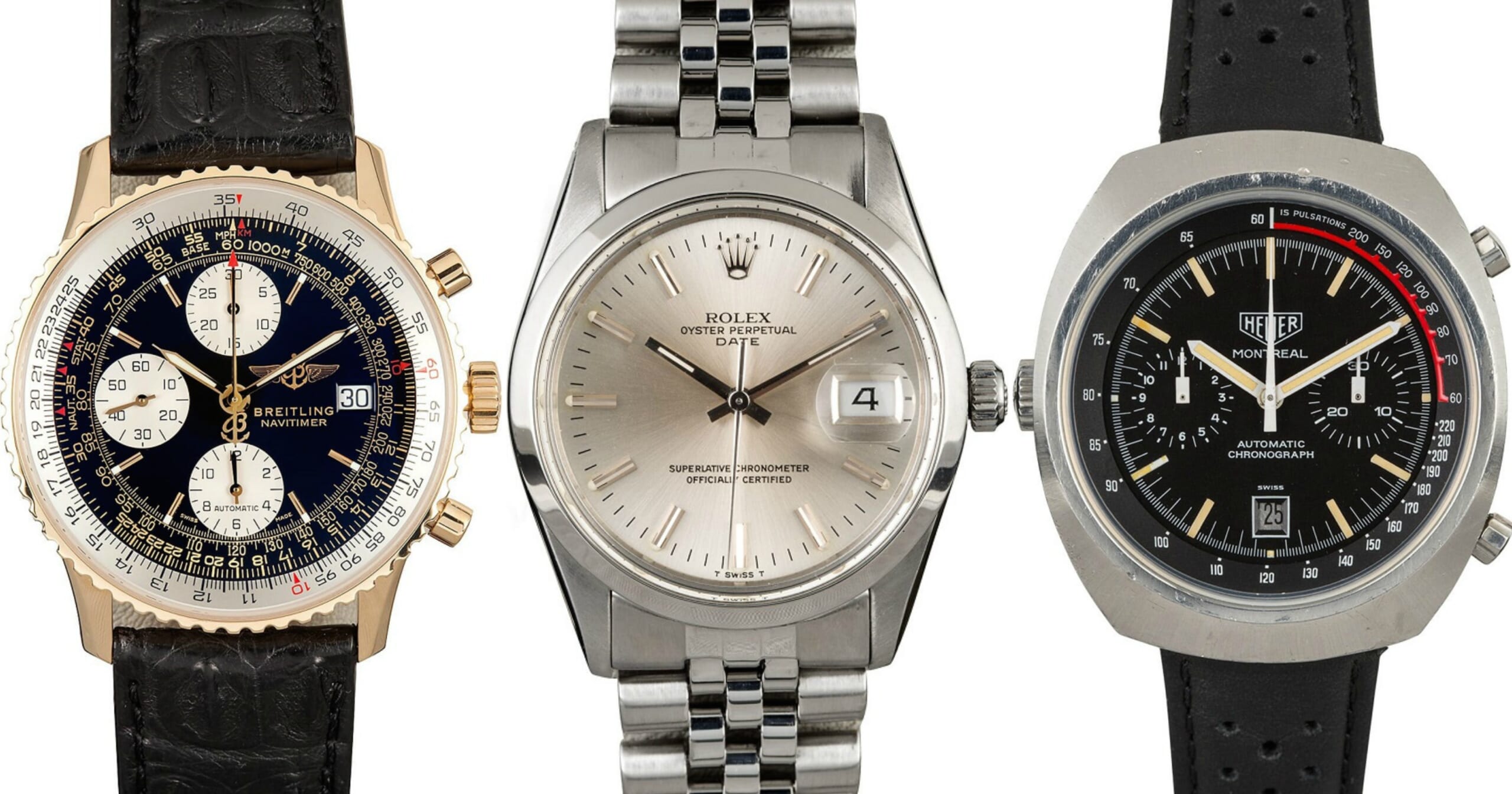 For the first time collector, deciding what to spend your hard-earned cash on, watch-wise, can be a bit of a challenge. Blow your budget on one incredible piece and wait years to acquire your next one? The smarter move is to start assembling more affordable vintage pieces that will increase in value, allowing you the option of trading up when you want to. The extra legwork will be well worth it.
But don't just take our word for it. We've consulted two top experts to help you choose which watches are worth the investment: Paul Altieri, founder of online luxury watch boutique Bob's Watches, which was the first to offer transparent pricing, and who's also one of the world's top Rolex collectors; and Blake Buettner, Director of Watches at StockX, the live "bid/ask" marketplace backed by Eminem and Mark Wahlberg where collectors can build their portfolios of luxury timepieces.
The best part about buying vintage? "If you shop around and get a decent deal, any watch on this list is almost certainly going to appreciate in value long term" Altieri says. "For one thing, they're not making any more of them. And historically vintage luxury watches, especially Rolex, have been an excellent investment. However I'd highly recommend buying pieces that you actually plan to wear. That way you'll get the maximum enjoyment from your acquisition."
"Don't just hunt for what's out there, put some parameters in place to keep your focus on a theme," Buettner adds. "This could be watches from a certain era, or even watches with specific complications, or perhaps both. This will ensure your collection grows in a cohesive manner, and provide a more manageable knowledge base to build within. Be patient and be consistent."
"This is one watch that's as solid an investment as gold bullion," Altieri states. "A beautiful, bulletproof, timelessly and effortlessly elegant timepiece that's an heirloom no matter when you acquire it. You don't have to be rich to own one, but an unmistakable air of wealth and good taste attaches to any man who straps one on." Most famous men of style have worn one at some point.
Around $3,500 and up
"Hailing from the golden age of recreational diving, the Sub 300 from DOXA came with some serious credentials, having been co-developed by the likes of Jaques Cousteau," Buettner says. "The funky case and relatively small dial give the Sub 300 a unique personality, while the thoughtful construction means this is an every-day wearable watch." And its popularity has soared so much StockX just announced a limited edition offering of 50th Anniversary model.
Around $3,000 and up
"Speedmaster prices have been skyrocketing, but there's still plenty of room to get in on the ground floor with 'newer' vintage pieces," Altieri says. "There are a few truly iconic watches like the Speedy whose design has essentially remained unchanged since it was first released. Wearing one is like wearing a piece of watchmaking history, but what makes the Speedmaster extra special is that it still looks as cool and contemporary as it did in 1957."
Around $5,000 and up
"Perhaps the most versatile of any vintage dress watch, the Cartier Tank can be had in a diverse range of sizes and materials from pretty much any decade going back to the close of the first World War," Buettner notes. "Cartier has done a masterful job of preserving the Tank's identity across generations. With its iconic rectangular body presented in a surprisingly accessible manner, it somehow remains instantly recognizable insomuch as it is ageless."
Around $1,500 and up
"The prices of vintage Heuers – precursors to today's TAG Heuers – in general, while still not up to Rolex levels, have increased exponentially in recent years," Altieri notes. "However there are still deals to be found on lesser-known or under the radar models like the Montreal. Launched in 1972, it exemplifies Heuer's racing heritage but in keeping with the era it's a bit more groovy, baby."
Around $4,000 and up
https://www.instagram.com/p/BgU88I6A9EN
"The Tri-Compax from Universal Genève is an example of transcendent design that can't be pinned to a single era," Buettner says. "The Tri-Compax was first brought to life in the 1940's, and its design remains remarkably relevant today. The dial features a unique layout consisting of a full suite of complications from a chronograph to a triple calendar with the phases of the moon thrown in for good measure. The Tri-Compax is a watch that will hold its own in a room full of Pateks and Vacherons."
Around $7,500 and up
"For many years vintage Breitlings were overlooked by all but a small group of enthusiasts," Altieri says. "For one thing they didn't have the name recognition of brands like Rolex and Patek Philippe. However the combination of rugged elegance and technical perfection that all vintage Breitlings share has won them a new legion of fans."
Around $2,500 and up
"The Sea Wolf may not enjoy the same notoriety as the Rolex Submariner, but when Zodiac first presented it in 1953, it was every bit as capable," Buetter says. "The design has never been updated to modern tastes, and that's just fine by me. The Sea Wolf is a great alternative dive watch for those looking to stand out in a crowded genre that's growing by the day. Best of all, these can reliably be had for under $1,000."
Around $900 and up
"For a long time Tudor, which is owned by Rolex, lived in the shadow of its famous older sibling," Altieri notes, "and many of the designs were simply less expensive versions of Rolex watches. However the Monte-Carlo, as this particular version of Tudor's Oysterdate chronograph came to be called, immediately gave the brand its own distinct style when it debuted in 1971."
Around $10,000 and up
https://www.instagram.com/p/Bf_8GaXAlkc
"File this one under irresistible dive watch oddities," Buettner notes. "The Bulova Oceanographer Snorkel begs for a closer look, with some versions sporting a 'coke' bezel and oversized hands mixing with features you might not expect. This one's not short on charm. The squared away cushion case really ties this whole package together."
Around $1,000 and up