How Artisans de Genève Makes the World's Most Coveted Custom Rolexes
Absolutely stunning.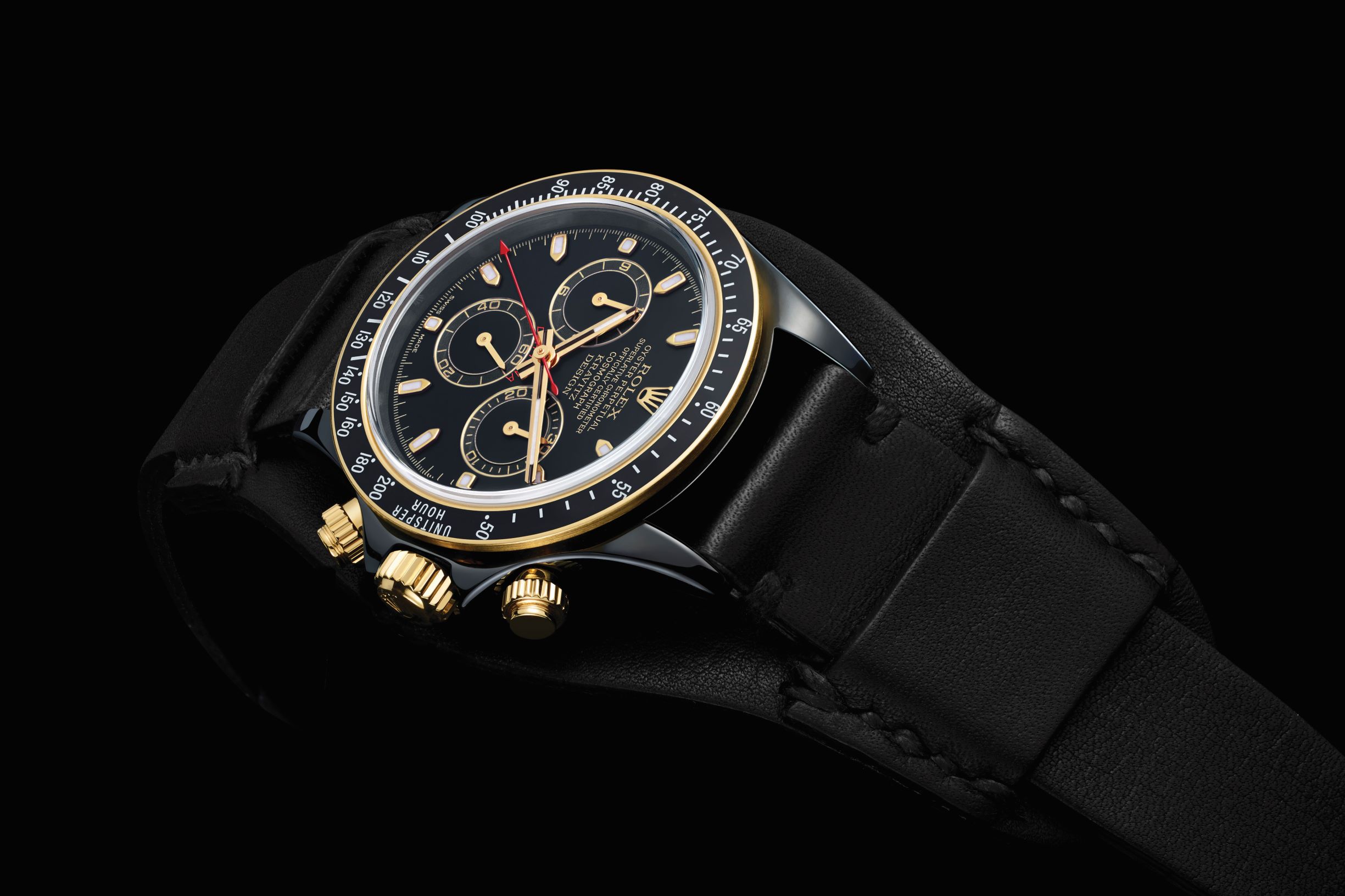 Spike Lee and Lenny Kravitz are not ordinary men, nor would we ever expect them to wear ordinary watches. To say that they are individuals who put their unique stamp on everything they touch is understating the case. Even a rare vintage Rolex Daytona would be a bit too quotidian a timepiece for a pair of idiosyncratic geniuses and true icons who have had such a profound effect on our culture. 
 A unique, bespoke Rolex Daytona with one-of-a-kind design details that acts as both an homage to classic watchmaking and a contemporary expression of timekeeping, however, is the perfect accessory. 
Of course, there are very few horological design houses that could, or would, carry out such a commission. Bamford Watch Department and MAD Paris spring to mind. 
But there is only one that could execute it with the panache, style and painstaking attention to detail that is the hallmark of Artisans de Genève, the Geneva-based watchmaking workshop that has been involved in some of the most coveted customized Rolex watches in the world. 
The supremely beautiful customized Daytonas they offered in collaboration with the world-famous director (Spike Lee's Cool Hand Brooklyn) and even more renowned rock star (the Lenny Kravitz LK01) were milestones in a watch customization juggernaut that now debuts several designs a year— and which goes far beyond mere finishes and color changes to achieve something entirely new yet unmistakably Rolex. 
Rolex never has, and may not ever, officially endorse customized versions of its watches; any alteration voids the warranty, for one thing. But we have to think that even the stoic gentlemen in their signature Rolex green neckties appreciate the work of their fellow Genevan craftsmen, not to mention the association with the likes of Lee and Kravitz. 
"Having always had a profound admiration for Spike Lee's body of work, personalizing his timepiece to reflect his image was a great challenge," Artisans de Genève notes. "In our opinion, this fine balance between future and past is one of Spike Lee's most notable characteristics." 
Born out of a chance meeting between Lee and Artisans de Genève's Creative Director, John Isaac, at an Apple Store, the watch case is an homage to the iconic Rolex Daytonas of the 1960s and the timepiece itself pays tribute to Brooklyn, the borough that looms so large in Lee's oeuvre. 
Its key features are a reworked dial and bezel—while the general blue and orange color scheme is reminiscent of Lee's beloved New York Knicks basketball team—and a custom blue alligator NATO strap, while the name is a reference to the famed Paul Newman film Cool Hand Luke. 
"This watch encompasses excellence, tradition, style and love," Lee, who notes that he "owns several [Daytonas] from back in the day," enthuses. "John and I have often talked about what if one of us [had] not decided to go to the Apple Store in Soho that fateful day, we would have never met, there would be no watch. The fact is, the powers in the universe made our meeting possible and I believe it was meant to be." 
Among other timepieces, the mods to the Lenny Kravitz LK01 also pay homage to an iconic 1960s "Paul Newman" Daytona, the "John Player Special," so called because its black and gold color scheme resembles that of the Lotus Formula 1 cars sponsored by the British cigarette brand in the 1970s.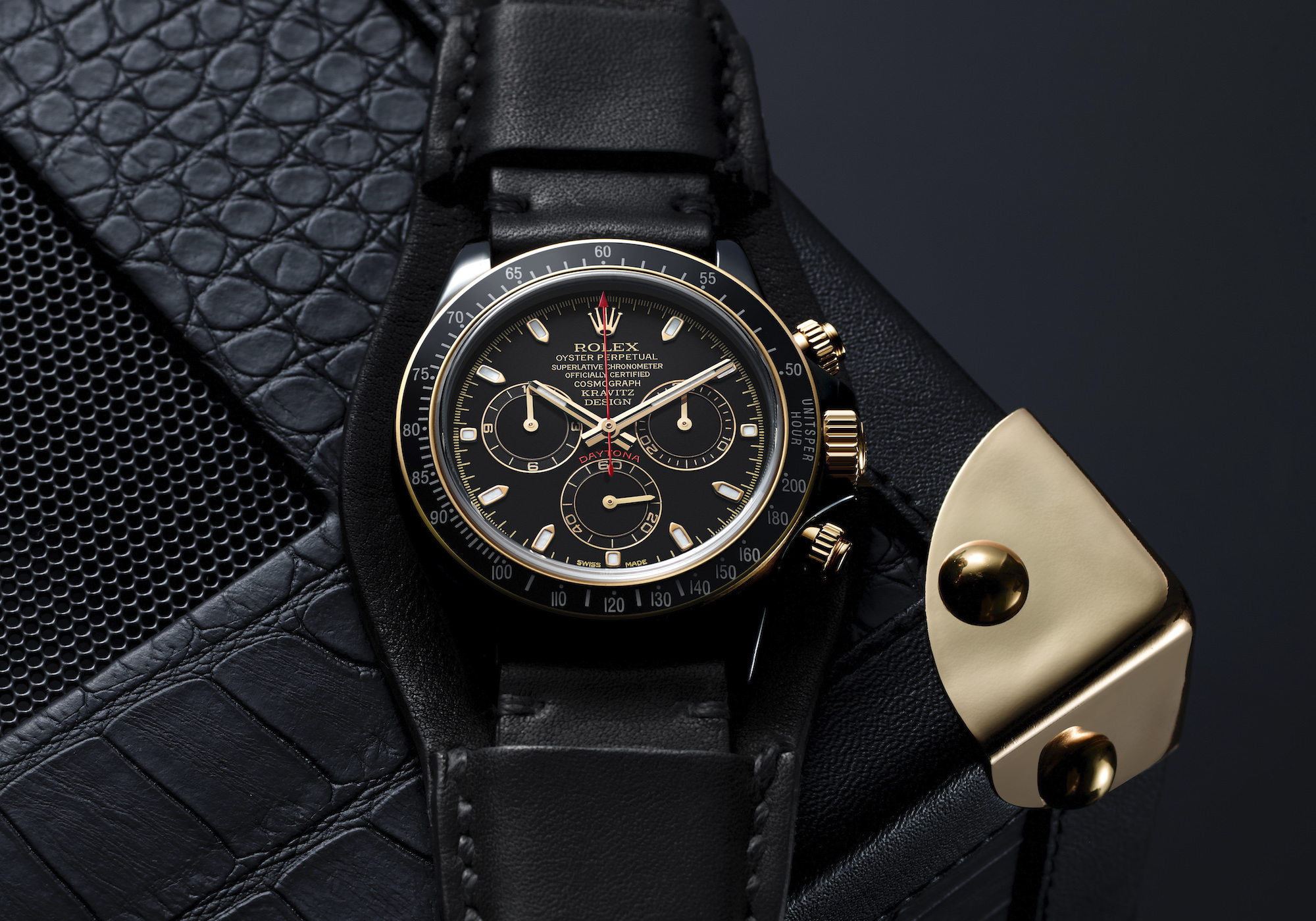 To achieve the effect, the LK01's case was given a blacked-out DLC (diamond-like carbon) treatment while the custom bezel is made of golden Bakelite. The final touch is a decidedly rock-and-roll black leather bund cuff-style strap. 
"I've been collecting watches for more than 20 years now and have always had a special affection for classic timepieces," Kravitz noted, "loaded with history and life. When I met Artisans de Genève, I immediately seized the opportunity to create my own version of the classic [Daytona]. It was also extremely important that the timepiece was to be made by true experts without any compromise in the quality." 
John Isaac tells us that Artisans de Genève's expertise is hardly incidental, calling the company formed in 2005 a "reunion of retired watchmakers who have worked for the greatest watchmaking houses"; one can only speculate that Rolex itself might be one of them. 
More recently ADG has evolved its retro-modern Daytona design ethos in collaborations with a pair of motor racing legends, Juan Pablo Montoya and Rubens Barrichello. Montoya has not only won Formula 1 races including the Monaco Grand Prix and Italian Grand Prix, but the Indianapolis 500 and the Rolex 24 at Daytona as well. 
Barrichello meanwhile is one of the highest points scorers in F1 history, with an impressive 11 race wins and six years as a Ferrari factory driver to his credit. Both watches are extremely cutting-edge thanks to their openworked "skeleton" dials, a feature of higher-priced models offered by several top luxury watchmakers, but presumably too avant-garde for Rolex (so far). 
The dials not only add a contemporary flair to the timepieces but reveal Artisans de Genève's modified automatic movements as well; their artistry does not end on the watch's surface, another trait which sets them apart from most other top watch customization houses.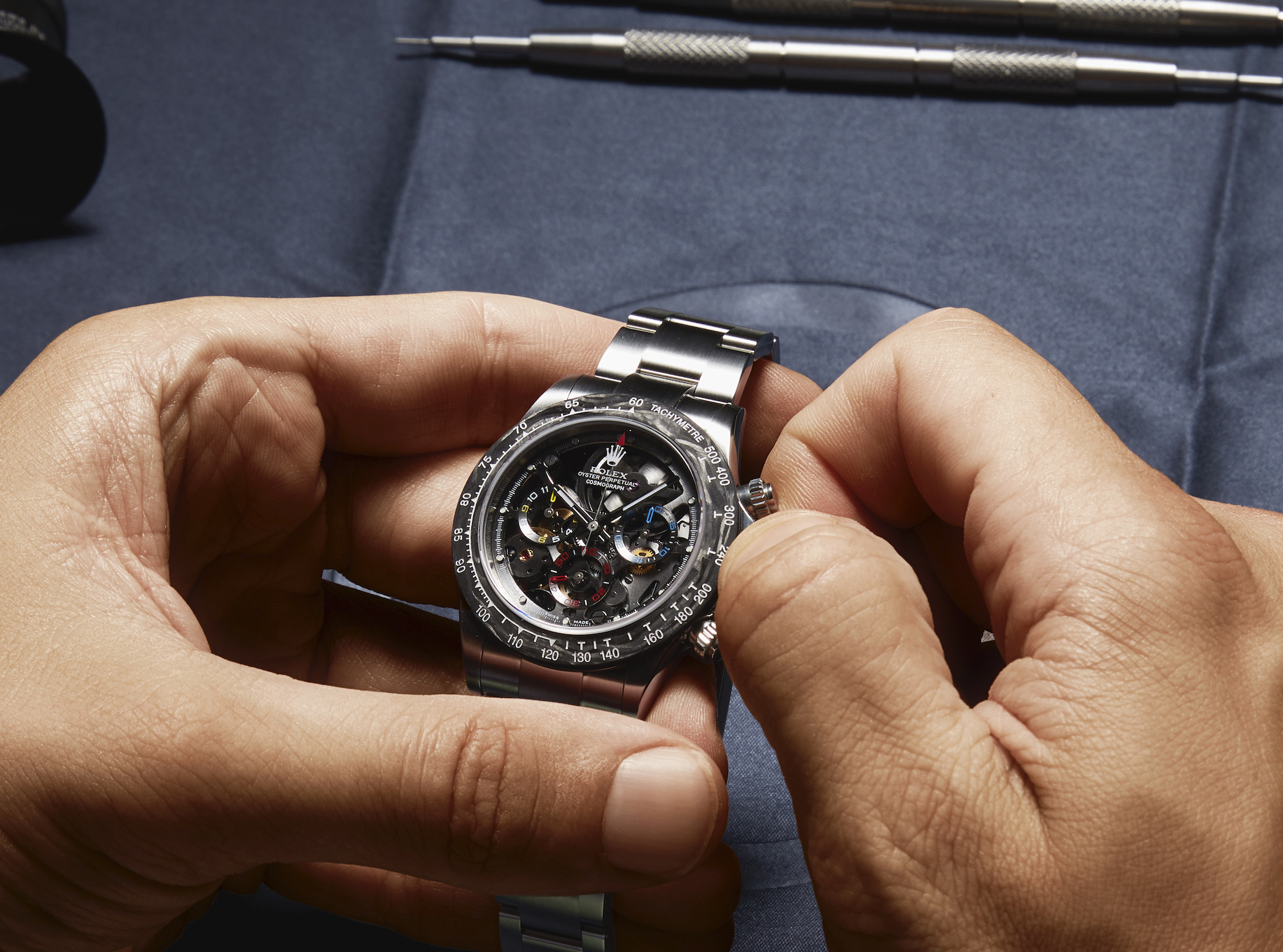 Both watches were made in gold as well; the La Montoya Gold, as it's called, will be made by available special order priced at about $70,000 apiece. 
As Rolex's own contemporary Daytona model with its black Cerachrom bezel is it itself an aesthetic homage to the Paul Newman era, upping the ante with a skeleton dial—a first for a bespoke Daytona—has shown beyond a shadow of a doubt that Artisans de Genève's workmanship is truly world-class.  
"Artisans de Genève bring an artful personality to the Daytona and their other designs, changing the character of the watches entirely by opening the dial to reveal newly refinished movements underneath," Blake Buettner, Director of Watches at StockX, the live bid/ask luxury marketplace backed by the likes of Mark Wahlberg where collectors can build portfolios of iconic timepieces, tells Maxim Online.
"As far as Rolex modification goes, Artisans de Genève is in a league of their own both in creativity and execution. These watches may be niche in their appeal, but their utterly unique take on an icon will make them relevant for generations to come."