Exclusive First Look At Rolex Daytona Customized by Ferrari F1 Champion
This ultra-exclusive watch is as high-octane as it gets.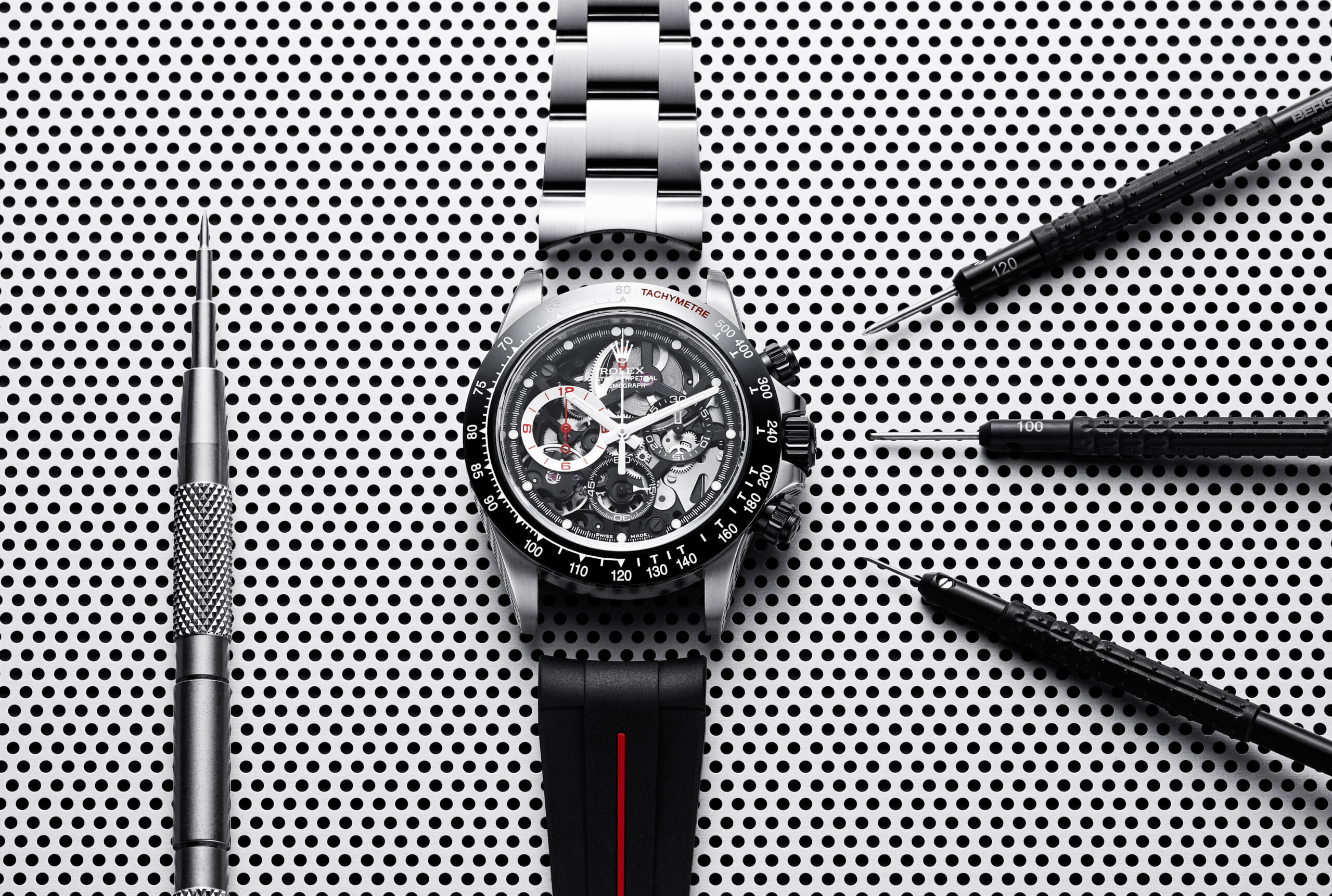 Artisans de Genève, the Geneva-based master craftsmen who came out with the world's first skeleton dial Rolex Daytona last year, have collaborated with another world-famous racing driver on their latest creation, which is bound to become one of the most coveted custom Rolexes ever. 
Maxim.com can exclusively reveal that the limited edition La Barrichello, as the wickedly cool watch is called, will cost $58,000 apiece and was designed in tandem with Rubens Barrichello, the Brazilian racing driver who competed in Formula One between 1993 and 2011, scoring 11 Grand Prix wins and 68 podium finishes. 
Most impressively, Barrichello drove for Ferrari from 2000 to 2005 as the legendary Michael Schumacher's teammate, and he holds the record for most race starts in Formula One history.
To create the watch, Artisans de Genève first developed a bespoke ceramic bezel with numerals and markers in white and the iconic "tachymeter" inscription painted by hand in in red, matching the red highlights on the chronograph seconds hand and the subdial at 9 o'clock. 
They then added sandblasted lugs, inner angles, and DLC black pushers, setting off the asymmetrical, beveled, and hand-skeletonized matte-finish dial meant to evoke the machinery of a race car.
The openwork dial reveals the modified Rolex 4130 movement, each part of which was disassembled one by one with an "extreme precision," then skeletonized and beveled entirely by hand. The inner bevels in particular are the result of an "extremely meticulous technique" that requires many hours of handwork.
The rotor, made from a piece of 21ct gold, is inspired by the shape of one of Barrichello's race cars and is treated with a black DLC coating. The watch comes with a custom finished Rolex oyster steel bracelet as well as black rubber racing strap with red highlights.
The skeletonized caseback is engraved with Barrichello's name twice as well as the limited edition number. 
"I have always had a thing for the Daytona," Barrichello says. "My timepiece is unparalleled, it bears details that make it unique as a Formula 1 car, as my car. A different movement, particular shapes, exceptional curves and an extraordinary mechanism."
"Artisans de Genève has managed to achieve a technical prowess, each detail is perfectly executed with the same concern for extreme perfection that we find in the racing world." 
If you're in the market for a remarkable watch with one-of-a-kind looks and a great backstory, it might well be worth cashing in those bonds in order to strap one on. Check out the official product page here.