First Look: Luminox Reveals Rugged Master Carbon SEAL Automatic Watch
An exclusive sneak peek at Luminox's latest Navy SEAL-approved timepiece.
Only a select few watches can stand up to the rigors of what Navy SEALs deal with on the daily–in fact, you might say there's only one watch brand up to that tall task, and that's Luminox.
The Swiss watchmaker's DNA shifts and responds to extreme conditions, and the new Luminox Master Carbon SEAL Automatic is but the latest timepiece to rise to the occasion.
It's a highly appealing prospect: A watch that can withstand almost anything, with the real-world experience to prove it. It wears impossibly light yet remarkably tough on the wrist, as we found out during an exclusive early review of the rugged timepiece, and it's available now to Maxim readers before it launches to the public on April 3rd.
The Luminox Master Carbon SEAL Automatic carries on the company's hard-wearing lineage in impressive fashion, further deepening the Luminox partnership with the Navy SEALs (and with extreme adventurers like Bear Grylls).
You might even call the watch a downright steal at $1,195, considering the durability and rugged appeal of its go-anywhere design.
The key here is the proprietary CARBONOX case, which boasts subtle texture under the right light and is nicely complemented by a vivid green Luminox logo strap.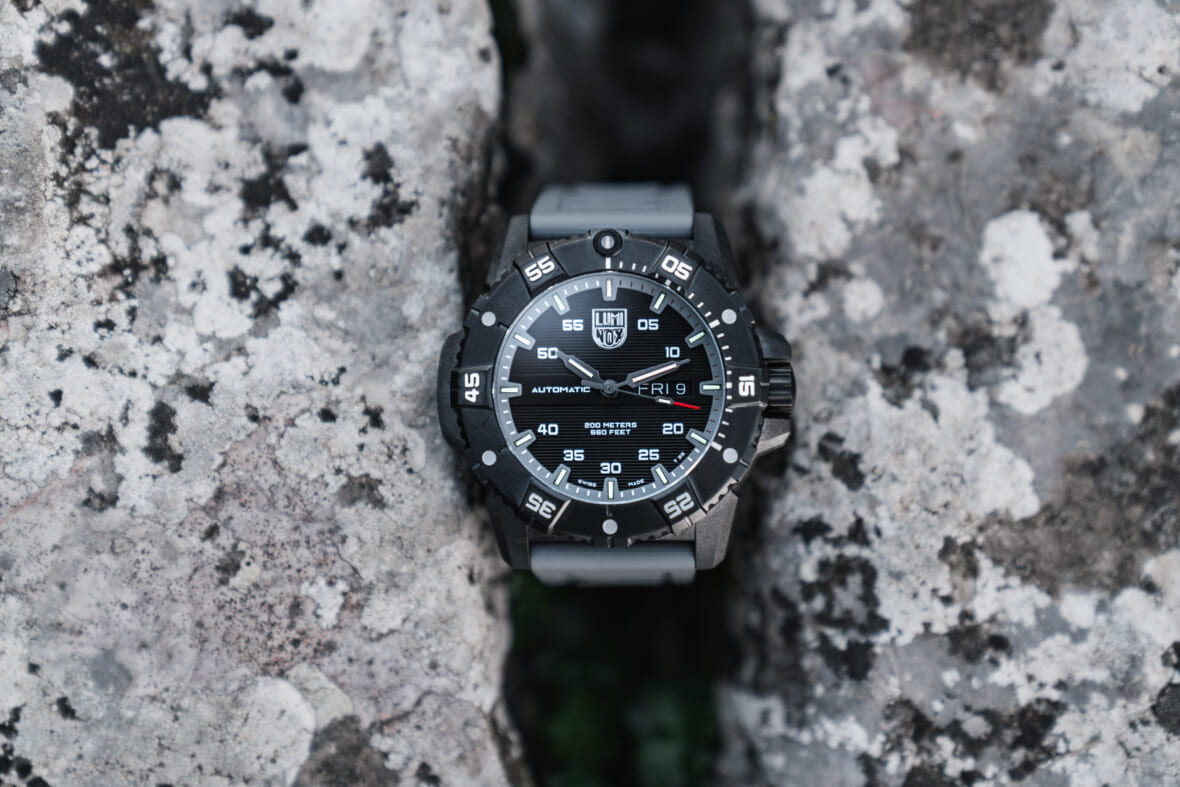 For good measure, two variations of the Master Carbon SEAL Automatic are available, one with an army green dial ring (and matching strap) or a gunmetal-grey dial ring variation with corresponding strap.
Its performance-ready nature is further bolstered by design touches like Luminox Light Technology, which the brand says guarantees watch visibility in any light conditions for up to 25 years.
Perhaps the most remarkable thing about the Luminox Master Carbon SEAL Automatic is the fact that it wears lighter and feels more subtle on the wrist than its 45mm case diameter would indicate.
As Luminox fittingly says, it's a watch "built for dependability to withstand the test of time."
660 feet of water resistance speak to that dependability, while the Swiss automatic SELLITA SW 200-1 movement boasts a power reserve of 38 hours.
When a brand is trusted by the Navy SEALs (for three decades, no less), consider it a watch worth having on your wrist–before the general public gets its hands on one, no less.