G-SHOCK Debuts Two Rugged Digital Watches For Luxe Mr. G Line
The maker of some of the world's toughest watches introduces two cobalt-chrome alloy models that range from $3,500 to $4,000 apiece.
Rugged style and luxury watches can be tricky to square up if done wrong, but not when the hard-to-find combination comes to life in the capable hands of G-SHOCK which just dropped two new timepieces that epitomize both qualities seamlessly. The duo join its MR-G line of hard-wearing, yet premium-quality, horological accessories.
Both the MRGB5000D-1 and the remarkable MRGB5000B-1 are enough to make you rethink what you thought you knew about the delicate art of luxury timekeeping.
Each impressive watch has field-ready design and yet boasts a bezel made with COBARION, a proprietary cobalt-chrome alloy that somehow manages to amplify G-SHOCK's already-impressive shock absorption qualities. Better still, both watches pay homage to the original G-SHOCK watch, the DW5000C, with its signature square shape and exceptional performance in adverse conditions.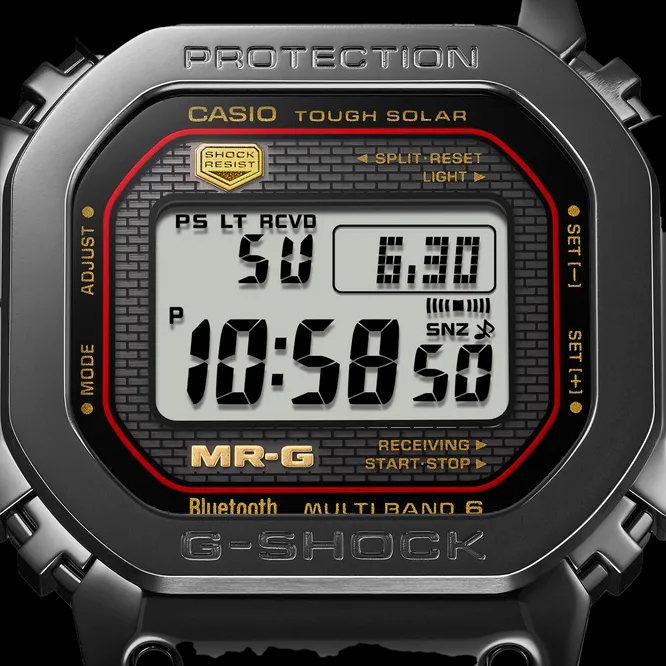 In matters of looks, the sleek all-black DLC coating of the MRGB5000B-1 — accented with a thin red dial line and gold ion-plated buttons on the bezel — is our personal favorite, but each watch has plenty of functional specs worthy of adding to a curated collection of G-SHOCK watches.
The bezel on each timepiece also elevates the unique blend of style and performance the MR-G line brings to the table: Both watches deliver on toughness with a bezel featuring 25 individual components that's finished off with Sallaz polishing for what G-SHOCK calls an "elegant finish" (they're absolutely correct).
The sharp MRGB5000D-1 has a dressier look and feel, with a bezel made of high-hardness Ti64 titanium alloy and a band made of DAT55G titanium alloy (it's three times harder than the titanium made on your go-to dive watch right now).
As if that wasn't enough, each watch comes equipped with astounding Bluetooth communication capabilities in a design that puts most smartwatches to shame.
Both watches are built with G-SHOCK's Tough Solar Power to provide optimum performance in extreme conditions (or on the tranquil confines of a secluded beach after a diving excursion — G-SHOCK watches really can do it all).
The utility and the blend of rugged good looks and ingenious design can clearly be seen in areas big and small with both new MR-G watches, and they're priced accordingly.
Get the MRGB5000D-1 for $3,500 via pre-order right now, or pony up $4,000 starting today for the MRGB5000B-1 — either are well worth the investment in time for a getaway that takes you anywhere you can dream up.