These Rare 'Tropical Dial' Retro Rolexes Can Be Yours
Bid on a coveted '60s or '70s-era retro Rollie from Sept. 8 to 14.
To say the market continues to boom for vintage Rolex watches is an understatement, but despite the plethora of ways to get a retro "Rollie" onto your wrist, there are still some timepieces proving exceptionally hard to track down.
That's where Bob's Watches comes into play: The pre-owned luxury watch marketplace is giving watch enthusiasts four chances to win four exceptionally cool, rare vintage Rolex timepieces, each with its own unique "tropical dial" patina.
The lust-worthy "tropical dial" effect is coveted among watch collectors for its authenticity, as the black Rolex dial fades to brown over the years, and it's in plain view on auction models like the Rolex GMT-Master, among others.
"We are happy to offer these four, rare and beautiful watches with tropical dials," said Paul Altieri. CEO and Founder of Bob's Watches, noting that the dial color change is "highly sought after."
The latest Bob's Watches auction should have no shortage of delights for collectors, including the covetable 1972 Rolex ref. 1665 "Double Red" Sea Dweller.
It's not hard to grasp the appeal of the Sea Dweller, especially when considering the once-matte black "Mark II" dial developing that visually striking tropical patina, and that's but one reason it could go for as much as $80K (the highest estimate in the auction).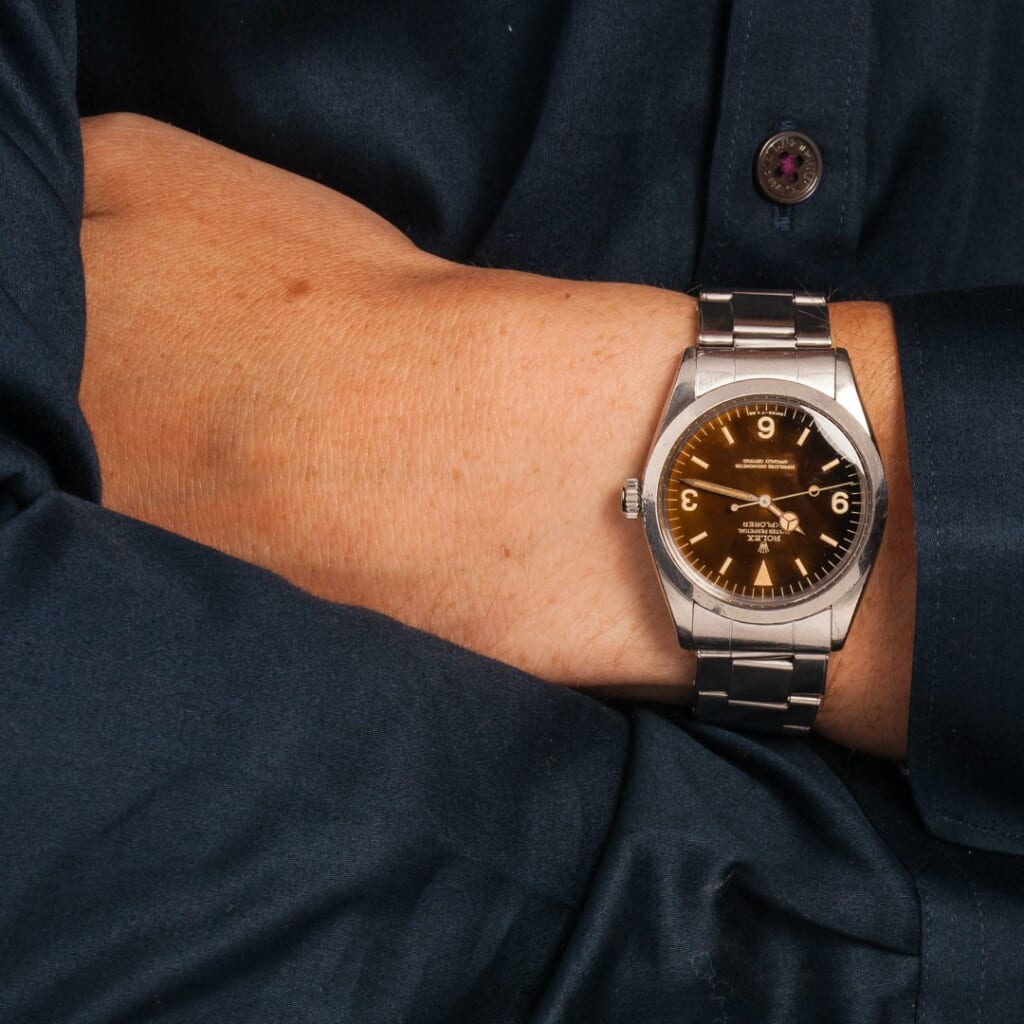 The three other watches slated for auction are impressive in their own right, and that's just the tip of the iceberg.
The auction also features a 1966 Rolex ref. 1016 Explorer Watch (as seen above), which is expected to fetch anywhere from $30,000 to $50, 000, thanks to that tropical dial finish.
The 1969 Rolex ref. 1675 GMT-Master notably features a two-tone fuschia bezel and a "Mark I, Long E" dial that's — of course — taken on beautiful signs of aging, complete with an estimated auction price of as much as $45,000.
The auction is rounded out by a 1970 Rolex "Red" Submariner, complete with a tropical "Mark II" dial and, most notably, its original box and punched papers. Bob's Watches expects the timepiece to sell for anywhere from $20,000 to $40K.
"These are all fresh to market watches and each is one-of-a-kind, because no two tropical dials age the same exact way," said Brandon Frazin, Director of Vintage at Bob's Watches.
Enthusiastic watch collectors need to mark their calendars now: The auction runs from September 8th to September 14th, with winners notified thereafter.
Bids can be placed online at Bob's Watches, but chances to secure a piece of watch history are few and far between (until now, that is).