IWC Launches The G-Wagon Of Watches With Big Pilot's AMG G 63
IWC's AMG-inspired "Armor Gold" and "Ceramic Matrix Composite" watches clock SUV-inspired style.
The Mercedes-AMG G-Wagon is a legendarily luxe off-roader, and IWC is honoring the opulent German bruiser's legacy with a pair of hefty Big Pilot's Watches.
The first, measuring a large-and-in-charge 46.2mm, boasts a case and crown crafted from 18-carat Armor Gold—a proprietary type of gold alloy that is significantly harder and more wear/water-resistant than conventional 5N gold. The fortified precious metal is paired with a black dial, completing a color scheme inspired by the recently launched Mercedes-AMG G 63 "Grand Edition.
For a more technical look, IWC is also offering the Big Pilot's Watch AMG G 63 with an even larger 46.5mm case made from Ceramic Matrix Composite, or CMC.
Engineered in collaboration with the German Aerospace Center, CMC synthesis begins with a carbon fiber-reinforced polymer that's then heat treated over several days, converting the polymer to carbon and leaving behind a dense weave of fibers.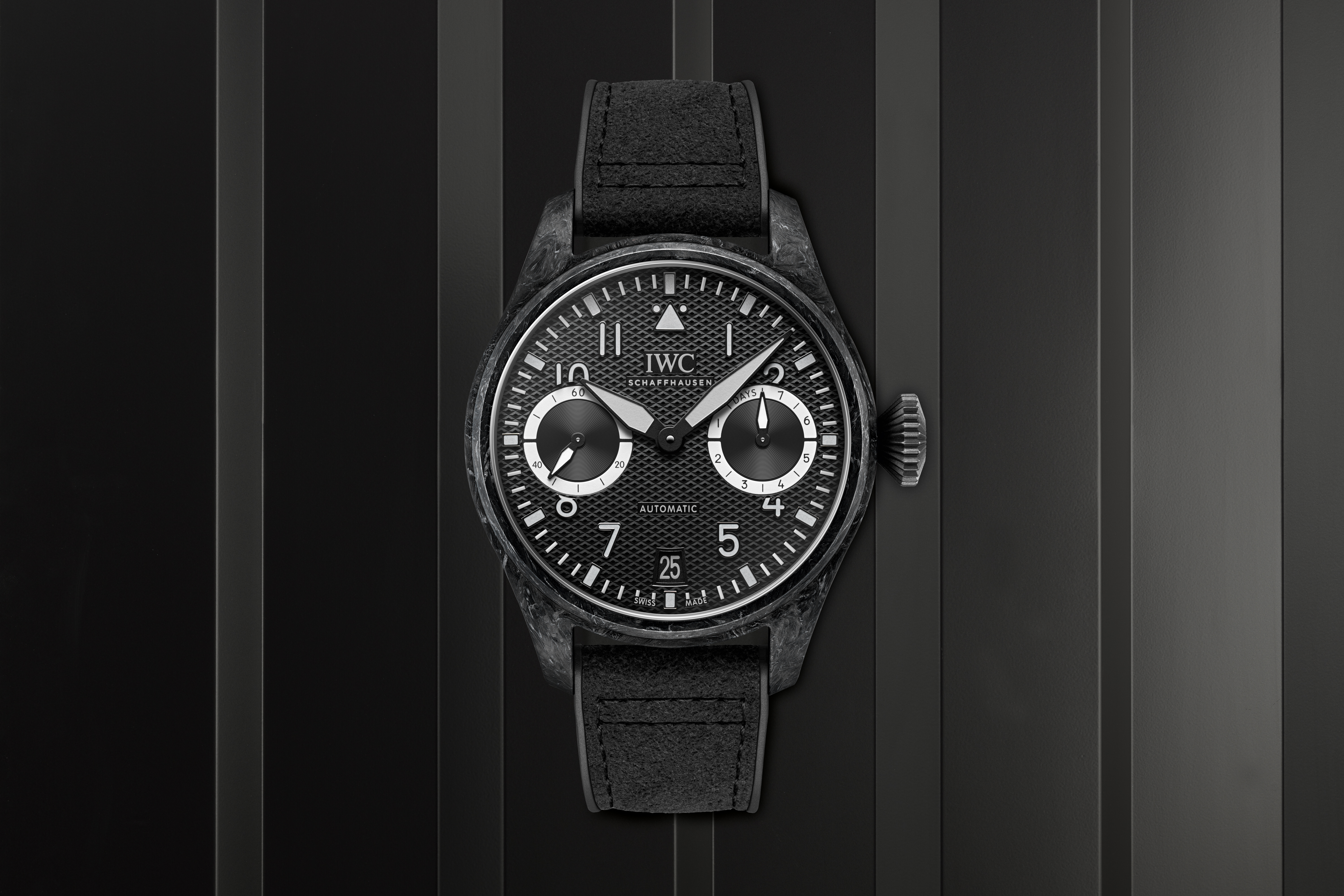 The material is then covered in silicon and heated again, which causes the silicon to chemically react and form black silicon carbide ceramic. TL:DR, the case is incredibly tough and highly abrasion-resistant.
Aside from the case material, both watches feature a similarly striking design. Opposing subdials are wrapped in white rings in reference to the G-Wagon's headlights, and the dials' relief texture harks to Mercedes-AMG intakes.
Unlike the classic Big Pilot's Watch, which has printed numerals and indices, these special editions feature appliques that have been PVD-coated in black and filled with luminous material.
Power comes from an IWC-manufactured 52010 automatic movement, visible through the tinted sapphire caseback. The amount of seven-day power reserve left is visible on the dial at 3 o'clock.
The IWC Big Pilot's Watch AMG G 63 in Armor Gold is available to purchase now for just over $37,000. Keep your eyes peeled for the CMC edition, which is due out soon.