Marilyn Manson Says Justin Bieber is 'a Real Piece of Sh*t' For Stealing His T-Shirt Design
This is one fashion feud we didn't see coming.
Photos: Getty Images
Kendall and Kylie Jenner aren't the only ones getting slammed for peddling re-purposed rock t-shirts. 
In an interview with Consequence of Sound, Marilyn Manson roasted Justin Bieber for stamping his name on the back of the shock rocker's Bigger Than Satan t-shirt and selling it at fancy department store Barney's for a whopping $195. 
Fear of God designer Jerry Lorenzo indicated in an Instagram post from last year the company had Manson's consent to re-interpret the design. According to the interview, that's not how things went down.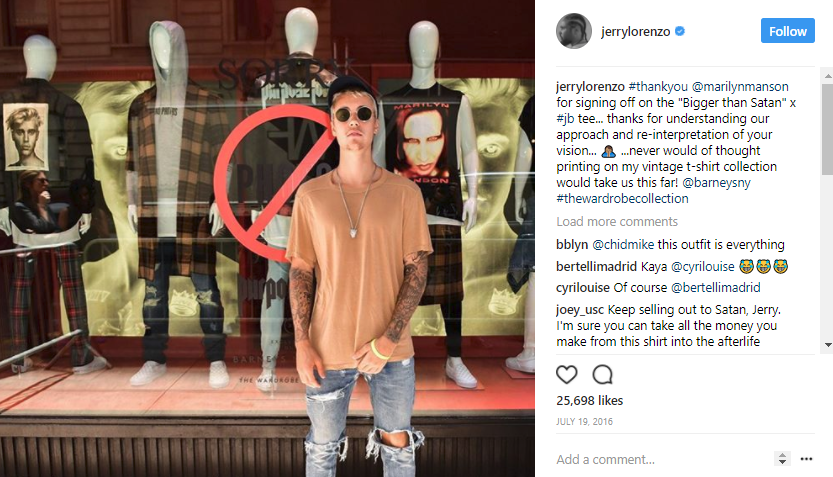 During his first encounter with the pop star, Manson says "he was [already] wearing the shirt that had his name on my shirt, and he said to me, 'I made you relevant again.' Bad mistake to say to me."
Indeed. The self-dubbed Antichrist Superstar hasn't spent his entire career pushing boundaries and dressing like a total freak because he wants to be "relevant." 
"He was a real piece of shit in the way he had the arrogance to say that," Manson added. 
"He was a real touchy-feely guy, too, like, 'yo yo bro!' and touches you when he's talking. I'm like, you need to stand down, you're dick-height on me, OK?."  
The self-proclaimed "God of Fuck" even had a little fun at Bieber's expense.
"The next day I told him I'd be at his soundcheck at Staples Center to do 'Beautiful People'," Manson recalled, at which point Bieber admitted that the t-shirt "was his idea."
"He believed that I'd show up, because he was that stupid."  
Ultimately, Manson claims that they handed over all of the profits from the shirts. 
"They didn't even fight, they were just like, 'yea, we already know, we did wrong, so here's the money.'" 
Alas, whatever relationship the two had is over. Perhaps it's for the best, as the Biebs' new church friends surely wouldn't want him associating with satanic rock stars, anyway.  
h/t: Bro Bible