Mission Workshop Goes High-Tech With Latest Rugged Chore Coat
The new Travail Chore Coat from Mission Workshop features weather-ready Schoeller NanoSphere technology.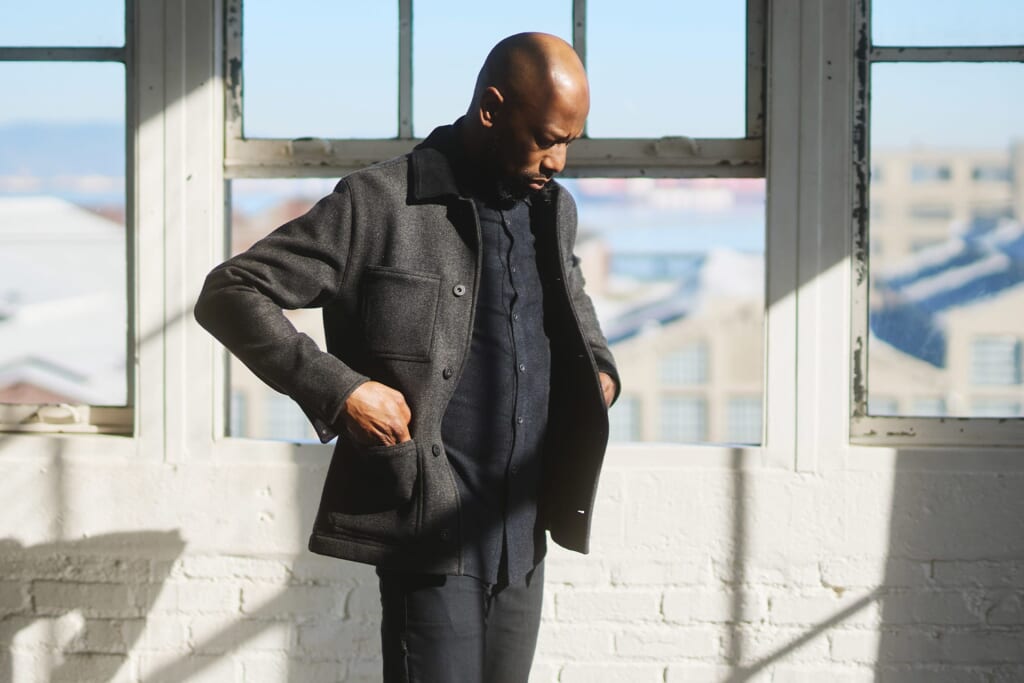 Although the chore coat is a traditionally rugged piece with humble origins, it's launching into a new level of the atmosphere with the latest technology via Mission Workshop and Schoeller NanoSphere®. The Mission Workshop Travail Wool Chore Coat blends a classic French chore coat silhouette with next-level fabric innovation, resulting in your new go-to coat for the rest of winter.
Mission Workshop rather famously sits at the intersection of the past and the present, with San Francisco roots and a decade-plus-old design ethos that takes classic pieces and punchs them up with tech-savvy stretch fabrics.
The brand's gear is commute and weather-ready, informed by the steep hills of San Francisco and the need for day-to-night style. The Travail Wool Chore Coat is the latest launch to carry on that legacy, and they're but one of a select few brands — like Mack Weldon — that merge seamless, modern tech with go-anywhere pieces, be it chinos, shirting or outerwear.
Designed with four front patch pockets and a five-button front a la the first workwear jackets, the difference is in the details, below the surface, thanks to that NanoSphere® technology. Nanotechnology mimics the "self-cleaning" mechanism of plant leaves, allowing water to roll off, along with dirt.
The result is a rugged jacket with a textured look akin to charcoal wool, but as with Mission Workshop's everyday carry gear and more, the Travail Chore Coat offers more than meets the eye.
It's actually constructed from three layers of fabric, starting with a micro-fleece liner — optimal for winter warmth — plus a softshell membrane and the NanoSphere®-treated wool exterior. Unsurprisingly, it's a highly rugged yet mobile fabric imbued with four-way stretch.
Like more traditional chore coats, it features a corduroy collar — able to be turned up against the chill. Sleek hardware carries through a minimal look and feel — this jacket can be paired with slim blue jeans, stretch chinos, wool trousers or, very possibly, tapered joggers for a crosstown commute.
The black option is even more sleek and city-minded: Footwear picks like tan Chelsea boots will stand out handsomely against the backdrop of an inky black city skyline (and the deep colorway of the Travail Wool Chore Coat, naturally).
It's the perfect merger of classically rugged style and modern technology. Remarkably, you can find this jacket for well under $500 ($425 at Mission Workshop, to be exact), so we'd urge you to make a move and amp up your outerwear rotation right now.