10 Tips To Stay Stylish From The Coolest New Men's Shop in New Orleans
"Culture-driven style tips" to close out summer in style.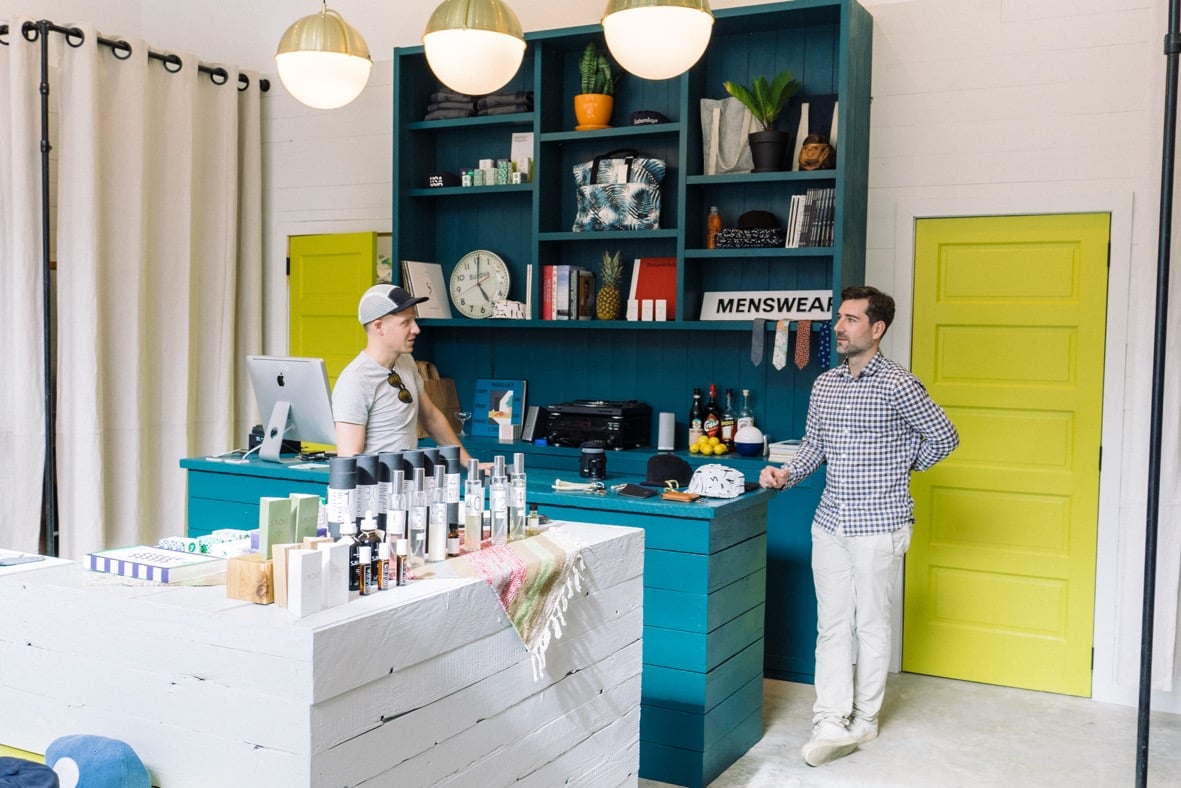 Friend New Orleans, Parker Hutchinson's "culture-driven" contemporary menswear shop in the styish new Ace Hotel, is the go-to spot for the Big Easy's most dapper denizens and visitors alike. It's slogan emblazoned on the front window, "Never-Ending Good Times", says it all.
Here, Hutchinson shares ten tips for achieving a timeless wardrobe and envious glances:
1. "Wear a dark, indigo-dye button-up over almost any solid, color tee. Add olive, sand or khaki pants. This combo will get you lots of mileage through the week with only small changes and minimal thought. Plus, the more you wear and launder the indigo, the more character it develops."
2. "Take home a ring or bracelet from your travels and wear it to work for a mid-week psychological boost. Related: Tune in to classic reggae during your toughest times at the office."
3. "Master the "Italian cuff" method of rolling your shirtsleeves."
4. "Trends in menswear are long lasting. If a newer look doesn't sit right with you initially, be willing to revisit it a season or more later. The trend (for instance, the cut) may evolve as different designers try their hand at it, or your eye may just grow more accustomed to a new look."
5. "Don't lean so hard on denim in your casual life. Chinos are a versatile lifesaver, especially in warmer spots (and a must if you're even thinking about tossing on a blazer)."
6. "Pick up a new cologne each season, and retire it at the end, bringing it back only for occasional use. Scent is the sense most closely linked with memory, and when you demarcate your year in this way, you'll retain many more fond ones."
7. "Score a slightly oversized, vintage short-sleeve shirt — the softer the better— and roll the sleeves once or twice over."
8. "Find inspiration in classic film. The Criterion Collection has over 900 of the best-styled movies of all time on Hulu, and you've likely seen only 2% of them. Try a title older than you and keep your remote handy. It's OK to pause and snap a picture of the stylish male lead (unless you're on a date)."
9. "By the end of summer, you've likely spent some time in the gym and the sun. Show it off with a classic white tee."
10. "Plan a season-closing beach trip this October. Bring a secondhand hardcover book, a big sweater, a shaggy hairstyle, your new glasses, your dog. Embrace the whole catalog-ready cliché. It exists because it's one of the finest feelings there is."