Steal Paul Newman's Classic Style with These Custom Rolex Daytonas
Watch what happens when you wear one.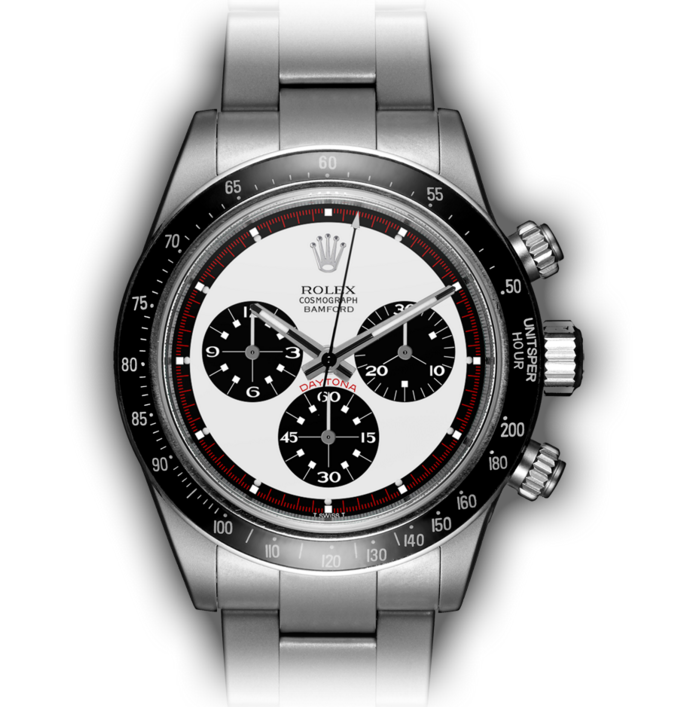 George Bamford is our kind of guy. The dapper British designer, photographer and car collector founded the Bamford Watch Department in 2003 to give the ubiquitous stainless steel Rolex a style upgrade with custom flourishes and finishes. 
They've since become cult classics and BWC has collaborated with various artists including Marc Quinn and Wes Lang as well as designers like Karl Lagerfeld and BAPE. Bamford's bespoke creations will run you several thousand over standard Rolex models but the cognoscenti will recognize you as a man for whom "off-the-rack" won't do.
One of Bamford's latest designs is a spot-on tribute to the great Paul Newman, from whom one of the most highly coveted vintage Rolex models – the iconic Paul Newman Daytona – takes its name. 
The rarest examples can go for $500,000 at auction these days. Part of a new Bamford collection devoted to the history of sports watches that also includes a black and orange Rolex Explorer, the Bamford Heritage Daytona ($26,250) replicates details of the original '60s models down to the bakelite bezel and vintage markings and numerals. 
Coated in titanium it comes in five different colors, and in true George Bamford style, it has already been tested while racing a Porsche GT3 on ice in Finland. Make that five flying colors….