Swiss Watchmaker Ollech & Wajs Unveils Tool Watches With Steel 'Beads of Rice' Bands
These beautiful bracelets were designed with comfort in mind.
If you've never heard of watchmaker and stainless steel bracelet supplier Ollech & Wajs, there's a good reason. After launching in the mid-1950s and selling military and dive watches through the early 1980s the company for a time focused on the aviation industry, making cockpit chronometers.
Ollech & Wajs relaunched timepiece sales in 2019 with the leather-banded OW-P101 and now they've leveled up with stainless steel "beads of rice" bands inspired by finely-designed vintage mid-century models.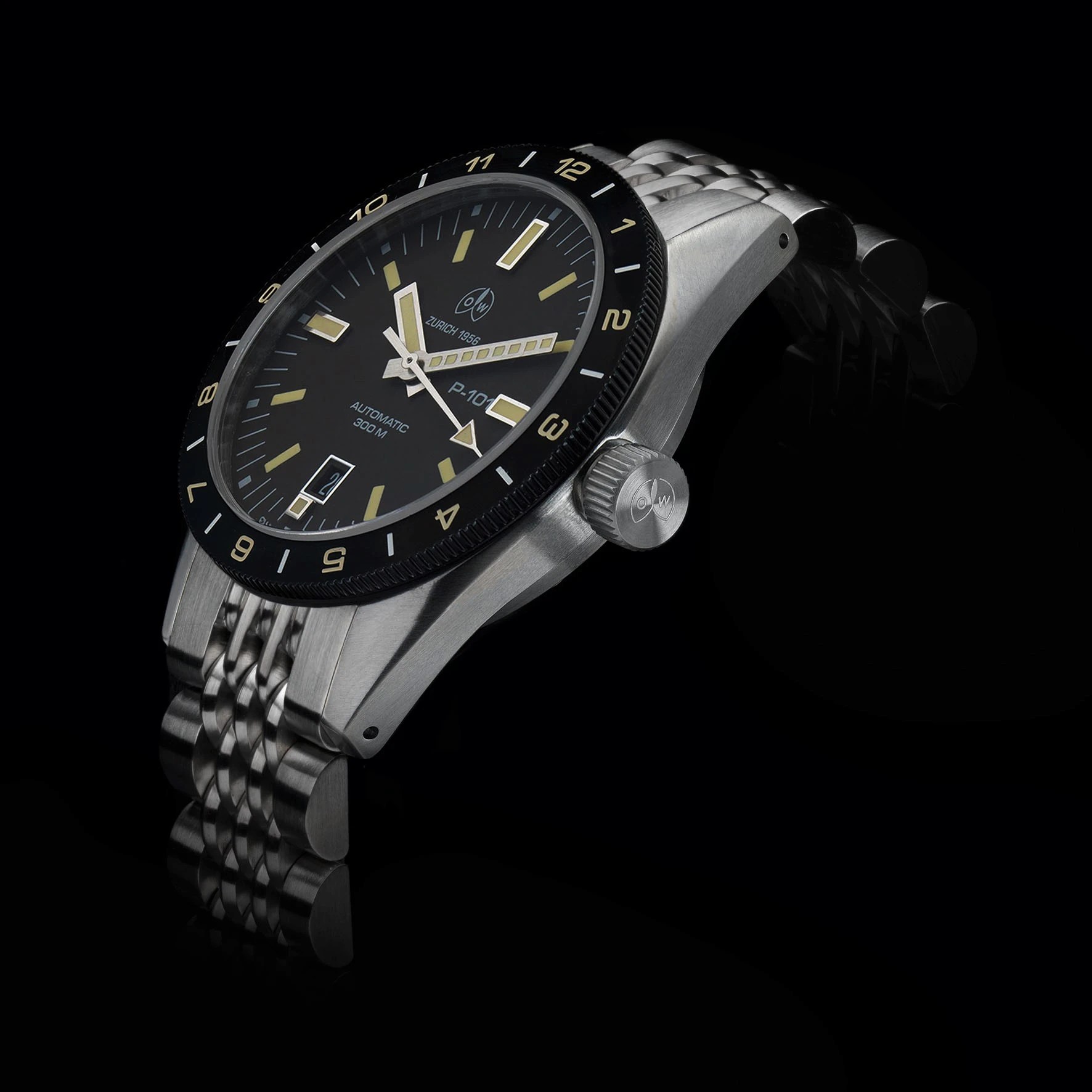 Adorning Swiss-made O&W tool watches such as the OW P-101 S and the OW C-1000 S, the "beads of rice" bracelet has what seems an obvious name but its function and what makes it unique isn't obvious at all. 
Ollech & Wajs details their inspiration for this unique band:
The bracelet of the OW P-101 S was inspired by those found on past Ollech & Wajs models of the 1960's. Its links are individually machined in a solid block of 316L stainless steel, before being carefully brushed, assembled and screwed by hand. This process prevents from the usual stretching common among pressed steel bracelets. It ensures both longevity to the bracelet and comfort to the wearer. The bracelet's double lock deployant clasp prevents any accidental opening.
A secret many watch collectors probably don't want to admit to is just what a pain steel bracelets can be. Sizing them correctly can sometimes require professional assistance from a jeweler or horologist and even then there can be plenty of play that makes wearing a heavy dive or pilot's watch a distraction. 
Ollech & Wajs seems determined to change this experience for the better.
They're a luxury brand for sure, but Ollech & Wajs timepieces are still on the reasonable side—the model above, the OW P-101 S, retails for anywhere between $1,126-$1,639 USD.
Check out their larger collection here.