Lamborghini and Roger Dubuis Team For Racy Watch Collab
Dubuis made 11 different versions of its acclaimed Excalibur skeleton-dial watch inspired by the world's greatest Lambos.
When it comes to watch and sports car partnerships, some brands play it too safe, while others treat the timepieces more like souvenirs whose buyers will never actually own the vehicles they're supposed to evoke. A notable exception is the collection produced by Swiss watchmaker Roger Dubuis, part of the Richemont luxury goods group, in collaboration with Lamborghini. 
Dubuis, which combines both traditional watchmaking techniques and avant-garde horological engineering, produces 11 different versions of its acclaimed Excalibur skeleton-dial watch based on some of the fastest supercars in the Italian marque's stable.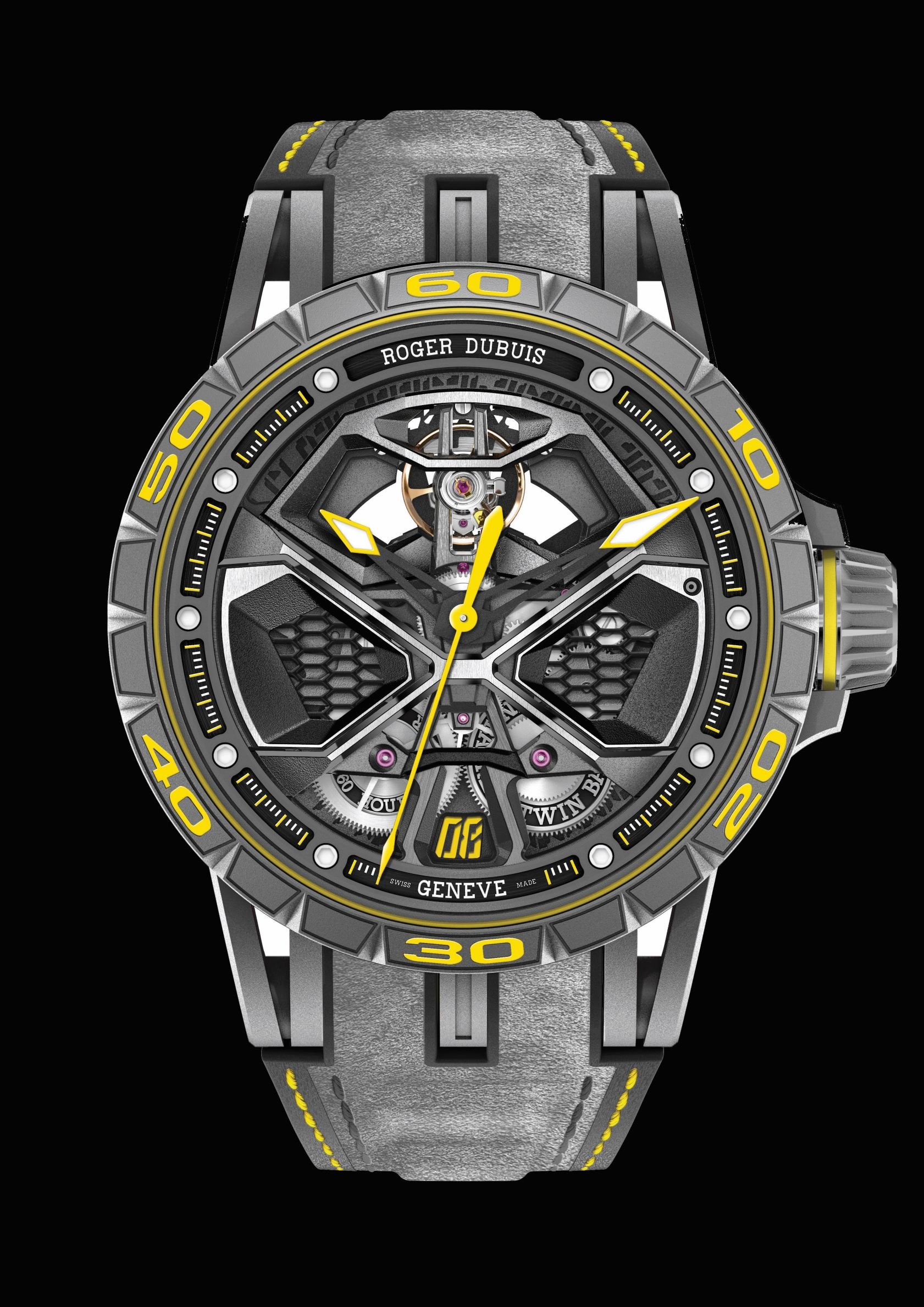 The Lamborghini Squadra Corse collection pays tribute to Lamborghini's motorsports division, which organizes its own competitions such as the Lamborghini Super Trofeo and also fields race cars in various events. There are Excalibur watches dedicated to the Huracán Spyder, Huracán Performante, and Aventador S, some echoing Lamborghini's paint schemes. 
Also in on the act is Pirelli, the high-end Italian tire company that supplies Lambo's race cars with their competition tires. In this instance Pirelli has collaborated on a custom rubber watch strap inlay for the Excalibur Huracán Performante, limited to just 88 pieces, which completes the motorsports homage (the company produces Pirelli-branded watches as well).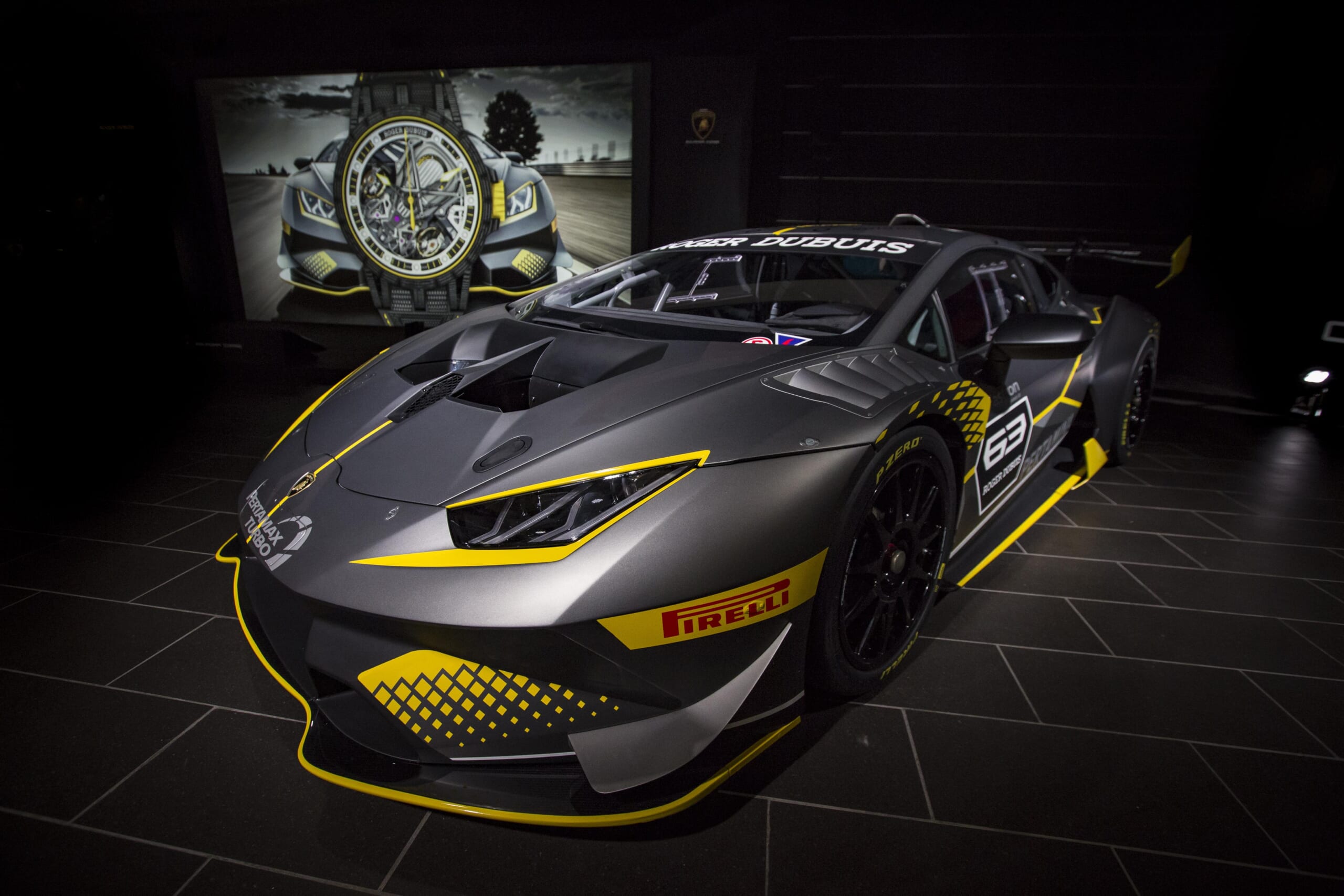 Also unique to the Lamborghini collection is an in-house automatic movement from Dubuis, the caliber RD630, which powers the Excalibur Huracán model and was developed specially for these pieces. Most strikingly it features a distinctive 12-degree tilted balance wheel and a strut barshaped bridge echoing the design of the roaring V10 engine found in the Huracán road and race cars. 
A honeycomb structure also echoes one of Lamborghini's signature elements, while the date window is styled like the ones on the Italian marque's digital speedometers. The skeleton dials display Dubuis's horological feats to advantage, while the oversized 45mm case and razor-sharp looks are fully in line with the gorgeous lines of the Huracán itself. 
Materials including titanium, rhodium, and PVD-coated 18K gold are on par with the high-tech components used by Lamborghini, such as carbon fiber, to make its cars lighter, stronger and faster. While the timepieces in Dubuis's Lamborghini-inspired collection start at around $47,000, a one-off version was reportedly sold to a collector in Singapore for $1 million—sight unseen—after a prototype was shown at the SIHH (now Watches & Wonders Geneva) watch show in Switzerland. 
Dubuis's devotion to beautiful cars isn't purely theoretical. The watchmaker is one of the main sponsors of the Lamborghini Super Trofeo, a Lamborghini-only race series, and helps stage the annual Run to Monaco. Last year's exclusive supercar rally took drivers, including several Lamborghini owners, on a thrilling and scenic route from Paris to Monaco. One of the pilots was "friend of" Dubuis Saúl "Canelo" Álvarez, the quadruple middleweight boxing world champion from Mexico, who drove a Lamborghini Aventador SVJ. 
"Like Lamborghini Squadra Corse, [we are] firmly committed to cutting-edge performance, ferocious groundbreaking technology and super-sleek aesthetics," the brand declares, "all fueled by a high-impact R&D [research and development] vision and focused on delivering bold customer experiences." 
Mission accomplished.