Exclusive First Look at Solid Gold Skeleton-Dial Rolex Daytona
Dream watch alert.
Back in November we told you about the world's first skeleton dial Rolex Daytona, made by horological geniuses Artisans de Genève in collaboration with famed race car driver Juan Pablo Montoya. 
Now Maxim.com can exclusively reveal that an even more eye-popping version of the watch is on the way, in 18k solid gold with a tachymeter bezel machined out of a forged carbon block.
Only 42 specially engraved examples of the "La Montoya" Gold will be custom made in Switzerland, priced at about $70,000 apiece. Montoya is a longtime Rolex Daytona devotee, and was awarded three of them for winning the legendary 24 Hours of Daytona race sponsored by Rolex in 2007, 2008 and 2013. He has also won the Indianapolis 500, the Grand Prix of Monaco and the Italian Grand Prix, among others. 
The one-of-a-kind watch, based on the Rolex Daytona Ref. 116508, took over two years to develop. Every single piece of Rolex's Caliber 4130 movement, some of them minute, was dismantled, refinished and angled so it could be put on display behind a polished piece of sapphire. 
Artisans de Genève also added its signature solid 21k gold rotor, polished with a circular finish, while the watches 18k gold case and bracelet get ADG's patented dual finish, a mix of brushing and sandblasting on the case and lugs. The watch's sub-dial counters are painted with the colors of Montoya's native Colombia.
"Artisans de Genève embodies what I wanted in somebody who would build a watch for me," Montoya says. "They are that somebody that was happy to remove limits to how a watch should be built." And the end result is just as exotic and extreme as one of Montoya's F1 cars.
"The Rolex Daytona is probably the most coveted watch of all time," Paul Altieri, founder of online luxury watch retailer Bob's Watches and owner of one of the world's top Rolex collections, tells us. 
"And a customized Daytona is something very few people, even most collectors, will ever own, but I can certainly see this appealing to some watch guys."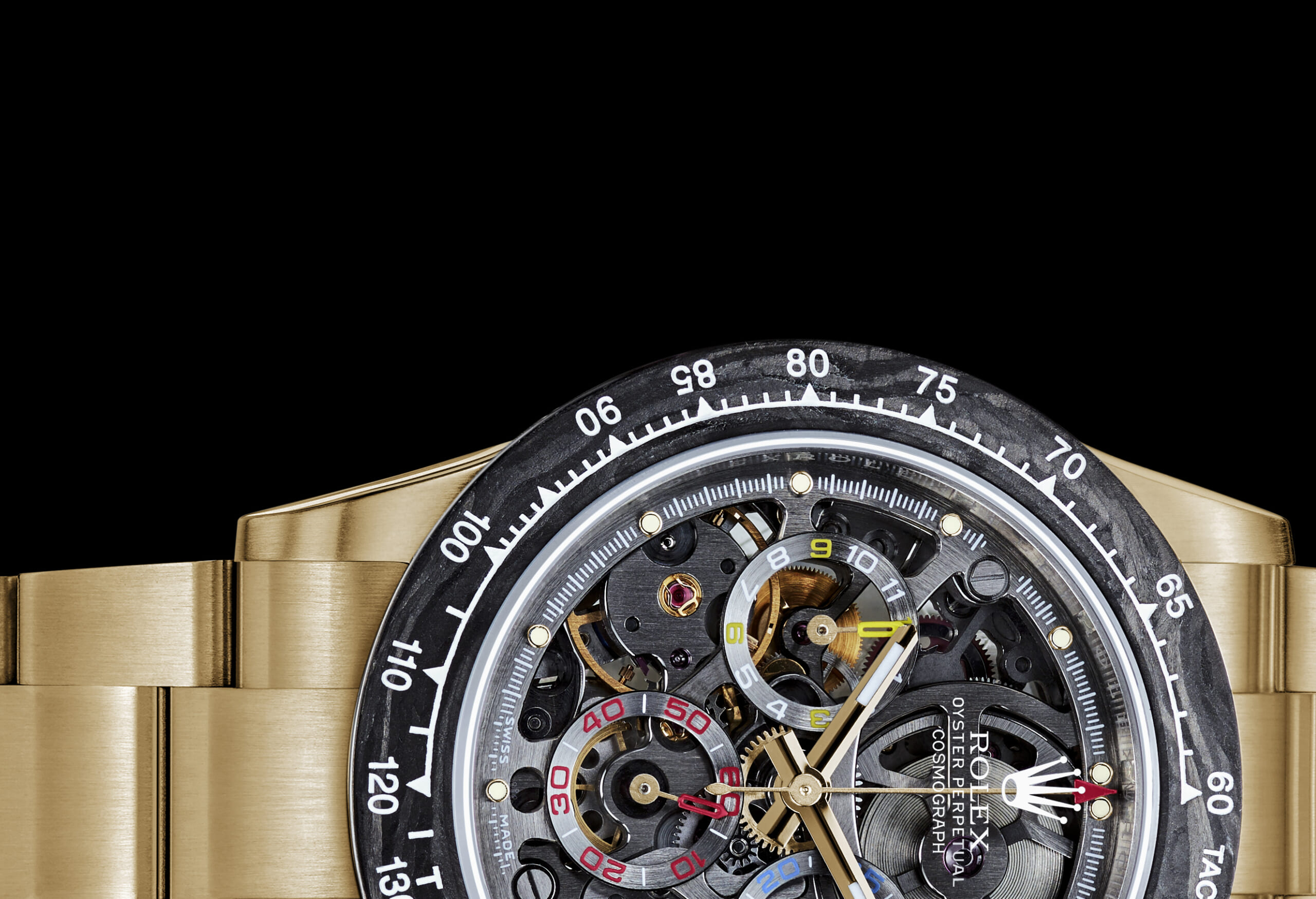 That's because "the skeleton design is totally unique, and the fact that a true motorsports legend was involved in its creation makes it even more of a collectable piece. " Altieri notes. 
"Montoya's career is far from over, and if he goes on to even bigger victories that could affect the value of this piece exponentially, potentially making it a great investment and an heirloom."
So there you go – we've effectively helped justify spending 70 grand on this thing. Your accountant may not thank us but someday your grandchildren might. Get your name on the waiting list by clicking here.