Shinola Gets Big And Bold With Detrola Watch
The Detroit-based watchmaker unveiled a colorful new line of timepieces.
Shinola
Shinola, the Detroit-based watchmaker and all-around lifestyle brand, just launched a limited-edition Detrola watch that comes in a veritable rainbow of colorways. 
In the wake of the popular Todd Snyder x Timex collaborations, which have produced a slew of small-faced watches inspired by mid-century heritage designs, Shinola's Detrola is comparatively living large with an oversized 43 mm case, an assortment of vibrant hues, and a silicone rubber strap. The $395 Detrola is considerably cheaper than Shinola's recent $1,095-plus Runwell Automatic, and would seem to take aim at the "affordable cool watch" category that has lately been dominated by Timex's budget Snyder collabs.
An examination of the Detrola "Daily Wear" colorway, a navy blue number with a transparent caseback, reveals a lightweight, minimalist watch with a youthful design aesthetic. It could serve as both an entry-level Shinola and a durable everyday watch for loyal fans of the Motor City brand.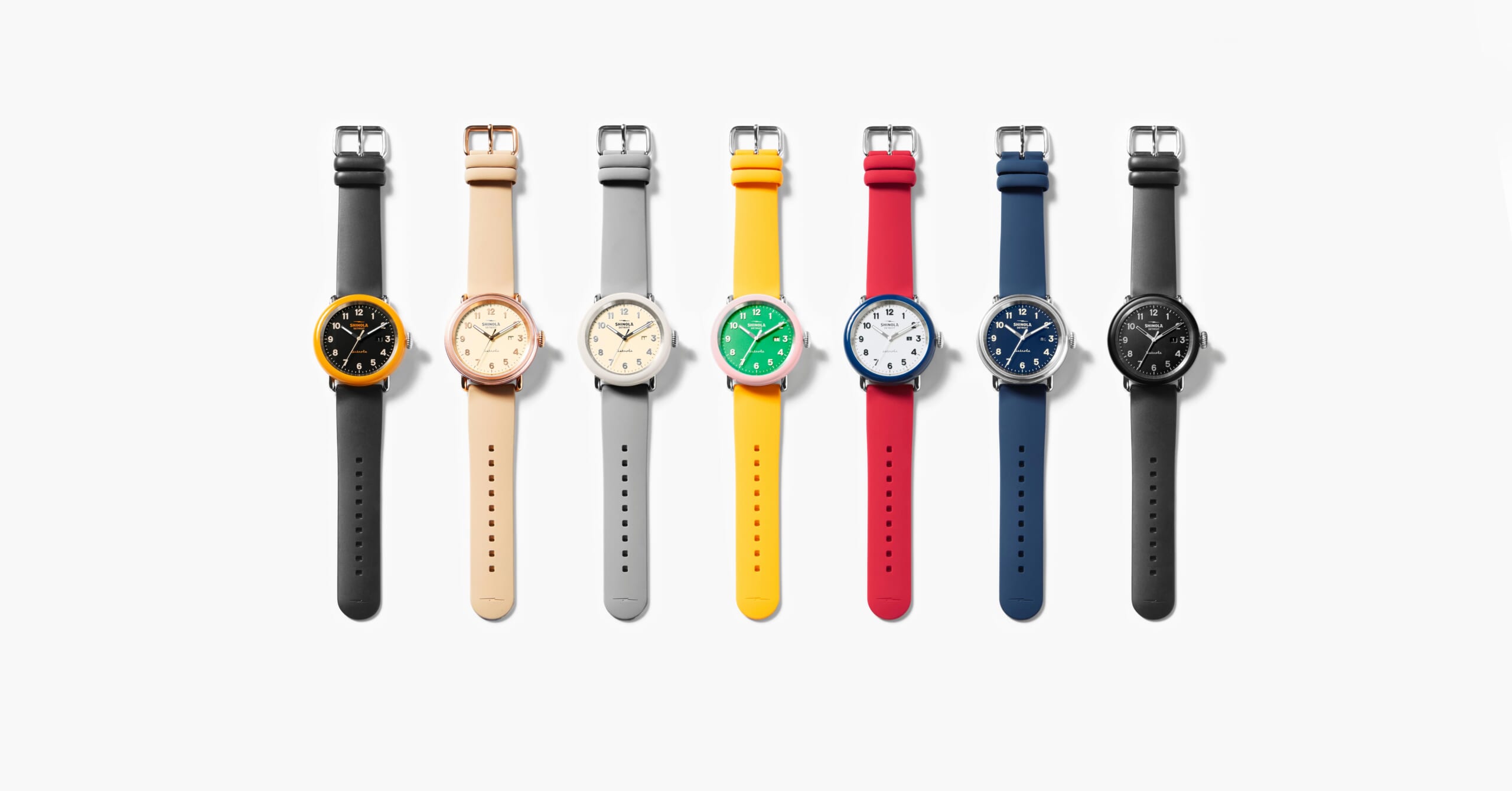 Other standout colorways include the blacked-out Model D, the icy gray Pine Knob, and the pencil-inspired No. 2 for those looking for a little extra pop.
Each Shinola Detrola watch features a springy, quick-release silicone rubber strap, a case made of TR90 high-grade resin, and a Detroit-built Argonite 705 movement. The Detrola also boasts K1 crystal on the dial cover, which the brand says is "the hardest and most durable scratch-resistant mineral crystal" on the market. 
The Shinola Detrola is limited to just 250 units per colorway at Shinola stores and on Shinola.com beginning August 22.