Timex Reveals Q Timex 1979-Style 'Batman' Automatic Watch
It's the latest Timex watch re-issue inspired by vintage 1970s styles.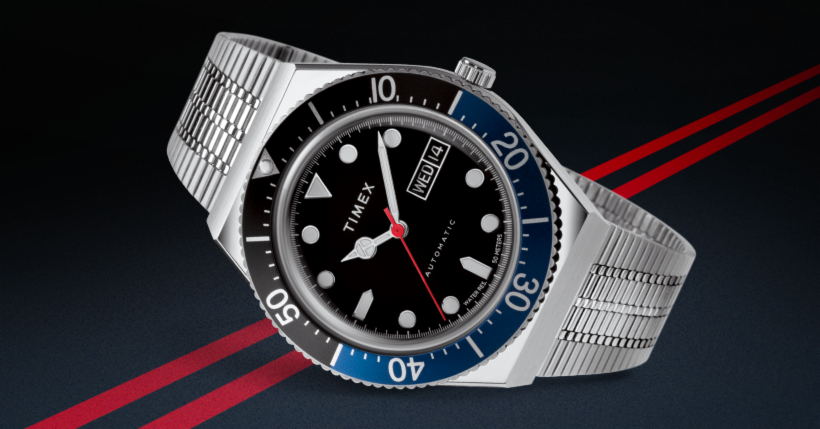 Timex
Timex knows what their customers want, and they apparently want more 1970s-style watches. So after the wild success of a pair of reissues that Timex put out in 2019—the Rolex-inspired "Pepsi" Q Timex 1979 and its stylistic sibling originally designed during the same period, the Q Timex Falcon Eye—the American watchmaker just unveiled the all-new M79 Automatic. 
The "Batman"-style color scheme again suggests a nod to Rolex (specifically, the GMT-Master) but while the M79 has lines familiar to fans of the reissues, it's been upgraded to an automatic movement. The up-to-date elements don't stop there. More from Timex's blog:
The bezel is of the ratcheting unidirectional variety, and since there's no battery involved, there's no functional battery hatch in the case back. When you flip this new watch over, you'll see instead an exhibition case back that displays the Japan-sourced self-winding movement within, a stunning array of levers, gears, springs and jeweled pivot points, all working together to track the passage of time.

One detail you may not see in the images here is that while our Q Timex 1979 Reissue measures 38mm across the case, the M79 is ever-so-slightly larger at 40mm. This design choice helped accommodate the larger automatic movement while maintaining a 50m water resistance rating.
If you're casually collecting this particular set of watches, though, it's obviously the next logical acquisition. 
And it may be yet another entry alongside the Timex American Documents series in what seems like a bid to edge into the higher-end collectible market, even while maintaining relatively modest prices. 
As the M79 blog post notes, "we're delivering something that squarely addresses the renaissance sweeping the watch industry today: a return to automatic and mechanical watchmaking, and a real appreciation for timepieces with presence, soul and character."
The M79 Automatic arrives soon, head to Timex's website for further details.