Zodiac Celebrates 140th Anniversary With Super Sea Wolf Pro Diver Titanium Watch
The lightweight titanium watch pays homage to the importance of Arctic Sea ice in a vivid seafoam green design.
The bar is always being raised in the world of innovative precision watchmaking, something Zodiac has worked tirelessly at since the company's founding in 1882 — that legacy of Swiss watchmaking just added another chapter with the launch of the new Zodiac Super Sea Wolf Pro Diver Titanium.
The Zodiac Super Sea Wolf line is already impressive in its own right, blending rugged appeal with sleek style, but the latest addition to the lineup goes even bigger, nodding to 140 years of timekeeping heritage and history.
It took until 1908 for Zodiac to patent its name, followed by the 1924 launch of a pocket watch featuring a patented movement — the Super Sea Wolf line arrived in the 1950s, and the rest, as they say, is history.
The new Super Sea Wolf Pro Diver Titanium carries on that legacy in rather stunning fashion, using lightweight titanium for extreme durability.
Meanwhile, the crisp, cool color scheme that nods to the importance of Arctic Sea ice in balancing the Earth's energy and cooling the polar regions through the reflection of sunlight.
The seafoam green phosphorescent lume bezel and contrasting orange inner bezel ring deliver striking style, while the Swiss-made Sellita SW200-1 automatic movement carries on Zodiac's promise of crafting remarkably precise timepieces.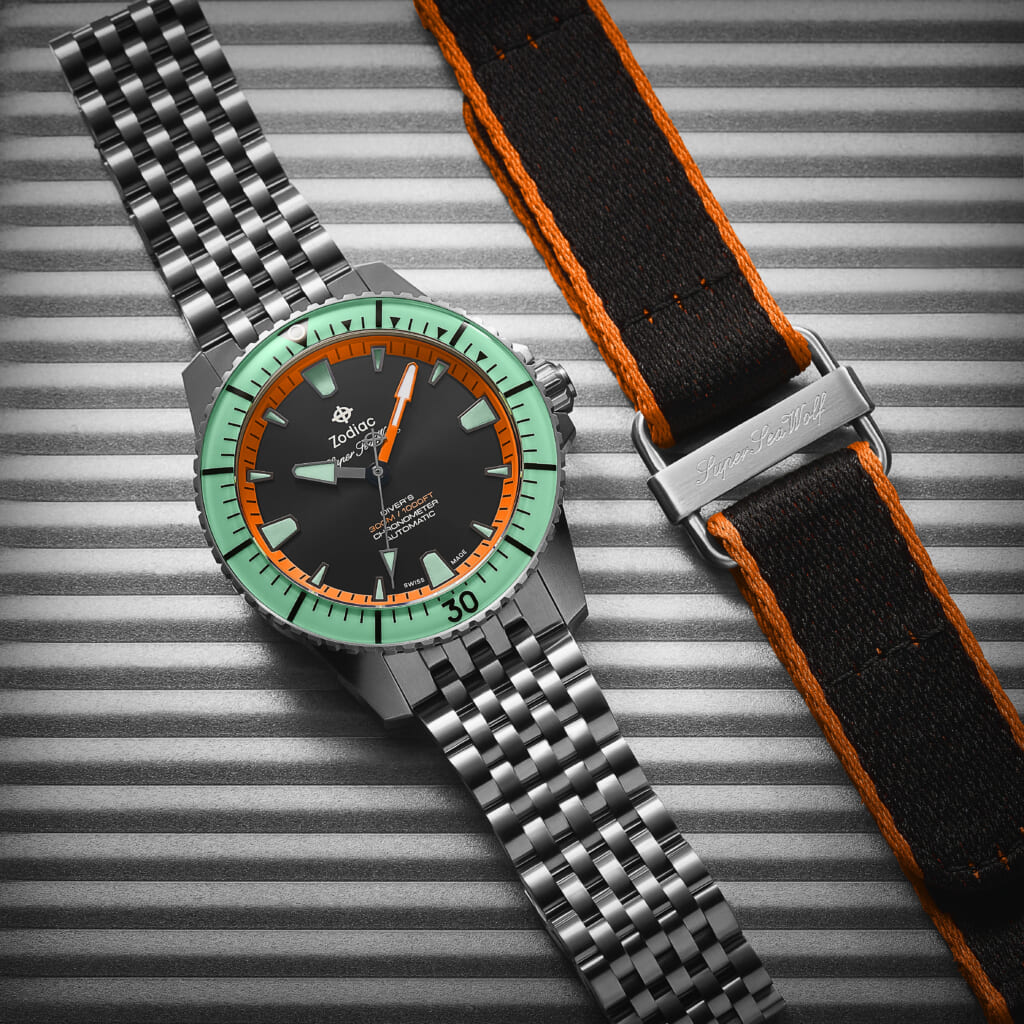 For good measure, the titanium is strong enough to resist corrosion and scratches, while the build itself can withstand depts of up to about 1,000 feet (or 30 ATM).
To provide even more bang for your buck — the Super Sea Wolf Pro Diver Titanium retails for $2,495 — you can also pair up this stunner of a watch with a sporty black-and-orange strap for extra contrast.
It almost feels like a downright steal to be able to snag such an illustrious watch at such an agreeable price, let alone one that celebrates a legacy of 140 years and counting — make the Super Sea Wolf Pro Diver Titanium your next standout timepiece purchase.