Zodiac Gets Colorful With Latest Super Sea Wolf Skeleton Watch
An eye-popping evolution for the famed Super Sea Wolf.
Well over 100 years of watchmaking history tends to lend itself to a keen eye for innovation, especially if it involves Zodiac updating a timeless classic and fan favorite like the Zodiac Super Sea Wolf. And rather incredibly, the Zodiac Super Sea Wolf Skeleton 6-15 might be one the most daring attempt yet by Zodiac at revamping the iconic dive watch.
At the heart of the watch is a Swiss-made, all-new STP 6-15 skeletonized movement, which is impressive enough in its own right. The skeletonized design of the case and the dial takes things to the next level: The 6-15 movement can be viewed from the front and the back of the watch, thanks to the exhibition caseback.
Things only get cooler and more distinctive from there, with the vibrant addition of a multi-colored rainbow bezel (all the better to spot when diving into the murky depths).
"Color has always been a pillar of the Zodiac design," Zodiac Creative Director Ryan White says. "The Super Chroma bezel was our most daring use of color to date and a nod to our rebellious roots."
In keeping with the watchmaker's history, this is a timepiece that's not just built for show.
Helpfully, the Super Sea Wolf Skeleton 6-15 carries on Zodiac's penchant for diving performance, with 200 meters of water resistance and a durable stainless steel case.
Accordingly, the watch nods to the Sea Wolf's 1953 design and features other characteristic Zodiac touches, like a five-link Jubilee bracelet that delivers a streamlined look and feel.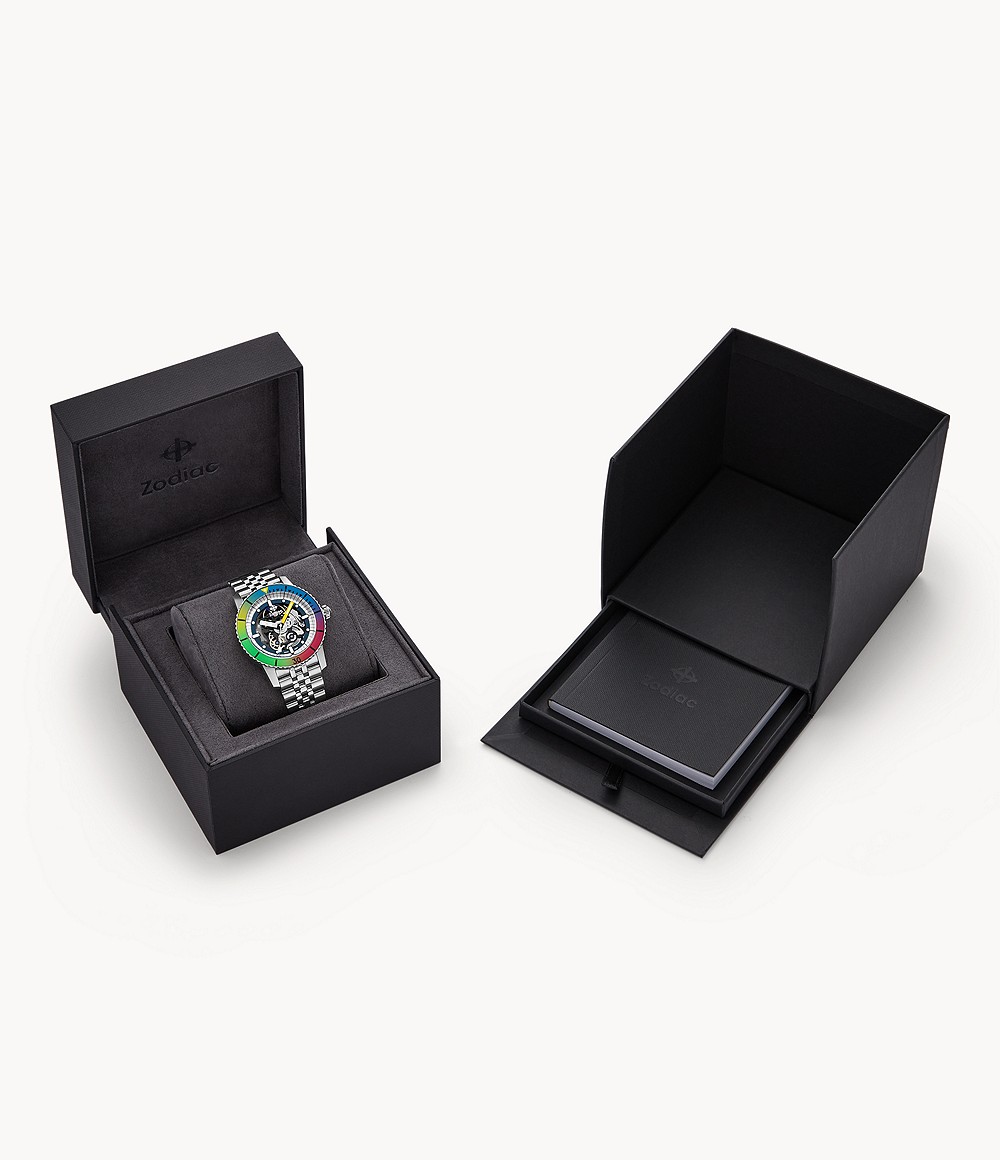 The watch is both a performance timepiece and a bit of a collector's edition, and Zodiac notes the watch is "designed to perform for the modern-day maverick."
Accordingly, it's priced at an agreeable $1,895 and only 300 hand-assembled units are available online at Zodiac. Sounds like a vivid watch worth having on your wrist for your next global jaunt or deep-sea excursion.