Check Into These Luxury Hotels In San Francisco and Sonoma, California
The Clift Royal Sonesta hotel in San Francisco and The Cottage Inn & Spa in Sonoma epitomize California cool.
On a recent trip to investigate Sonoma wine country–more on that coming soon—we found ourselves with the inevitable, unenviable task of making travel arrangements to facilitate our visit. This involved, initially, flying into San Francisco for one night, and rather than choosing the easiest option, we decided to make it a memorable one.
Hence we booked into The Clift, one of San Francisco's most storied hotels, now in its latest incarnation known as The Clift Royal Sonesta, originally built to house visitors to the 1915 Panama-Pacific International Exposition. And for their artfully-executed redesign under new ownership, the designers have included many a nod to the Exposition, which was world renowned at the time.
Interiors have been made lighter and brighter overall, as the previous hotel had gotten dark and dated. Oak panels in the soaring lobby are are meant to evoke "being on a sturdy ship out in the Bay," as oak is typically used in shipbuilding, and there's a towering fireplace that perfectly suits the large-scale space and adds an instant welcoming note when you walk in.
The terrazzo on the floor throughout the lobby is a nod to the 1920s and 30s, while the lobby lounge features plush upholstered banquettes and custom wood pieces made for whiling away an afternoon. There's a hint of Art Deco without overdoing it, and the feel is still airy and contemporary.
Nothing compares to the Redwood Room bar and event space, one of the most iconic interior in all of San Francisco. While the original redwood paneling—said to have been carved a century ago from a single, massive tree—and school-of-Gustav Klimt paintings have been restored, upholstery and carpeting have been redone in tones of grey, black and cream, with patterns inspired by the original light fixtures. The bar itself was custom made from an 800-year-old redwood tree.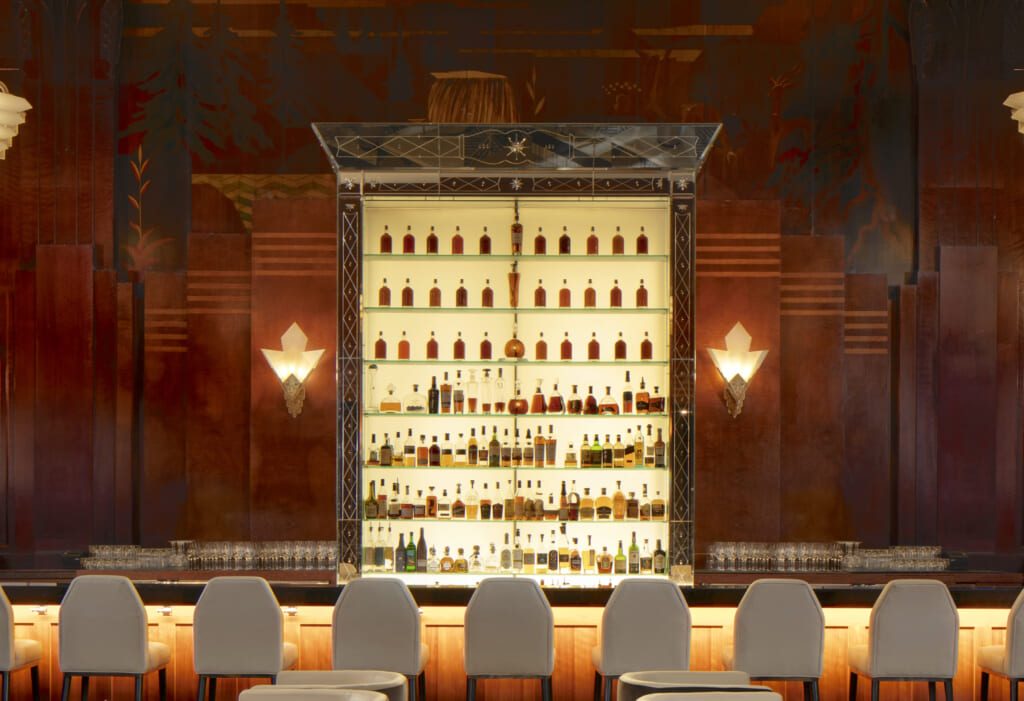 The Redwood Room is well worth a sip-and-see even if you're not staying at the hotel. It originally opened on December 6, 1933, the day after Prohibition was repealed. These days some of the artisanal cocktails feature honey from the hotel's rooftop beehives.
In similar fashion to the public areas, the palette of the guest rooms and suites is meant to be more residential in feel. Setting off incredible views are plush furnishings, art referencing the Pan Pacific Expo, and black-and-white tiled baths. The newly-renovated, 1,175-sq.-ft. Private Apartment is the hotel's most spacious suite, with wood paneling, a living room and full dining room.
Another new feature of the iconic hotel harking back to its past is the restaurant Fredericks, inspired by the Art Deco period. Featuring cuisine by chef Dan Corey, formerly of Michelin-starred LUCE at the InterContinental, it offers brasserie-style fare and elevated comfort food along with wine, beer and cocktails on tap.
Around the corner in Chinatown are even more earthy delights worth seeking out. Most notably Empress by Boon, which the San Francisco Chronicle called "S.F.'s toughest reservation." Michelin-starred Chef Ho Chee Boon serves up an elegant seasonal menu of modern Cantonese fare in the former Empress of China space.
The interior is a mix of modern elements alongside restored features and architectural elements from the landmark Empress. The bar and lounge are particularly beautiful, and Boon's team has proven they are just as dedicated to the arts of distillation and fermentation as the master chef is to the culinary arts.
Once we had left the Bay Area and traveled up to the town of Sonoma, and were on our own time, we switched gears completely and checked in to The Cottage Inn & Spa.
Sonoma is well-known for, of course, for world-class wine; but also farm-to-table cuisine as well as the various farms, cheesemongers and the like who supply the ingredients. And the town itself is a charming mélange of historic buildings, great bars, bakeries, restaurants, shops, and a perfectly-preserved 1930s theater, where we of course had to take in a showing of The French Dispatch.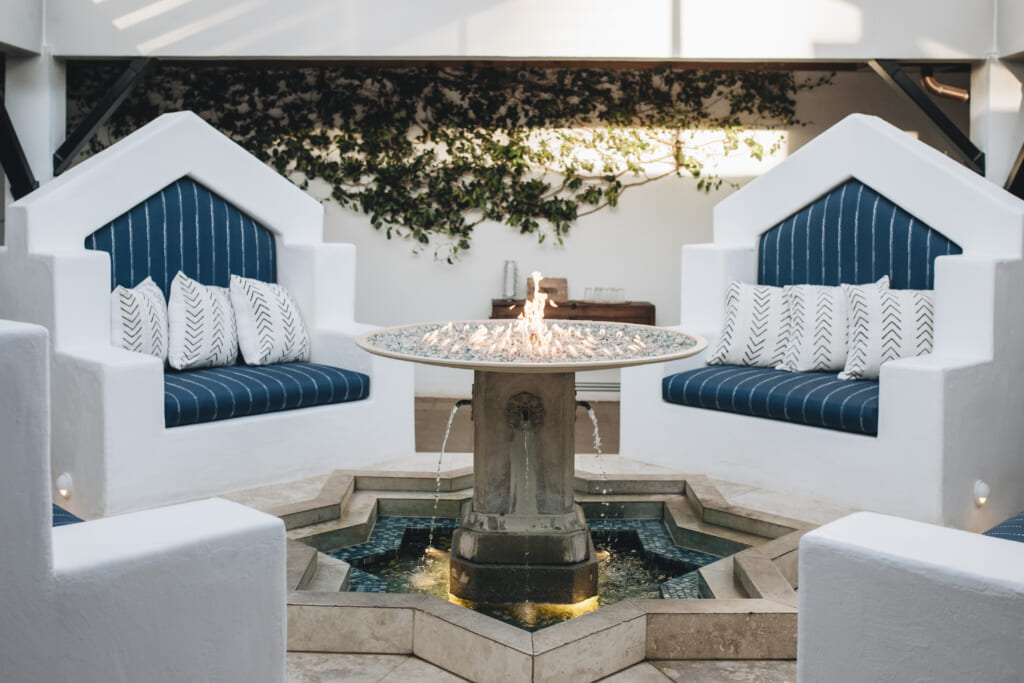 Located a block away from historic Sonoma plaza, the Mediterranean-meets-Mission-style Cottage Inn & Spa is a tranquil place to establish your wine country HQ, with nine suites as well as a small but excellent spa. Some of the suites have gas fireplaces, and a bottle of local pinot noir and an amazing cheese and charcuterie plate greeted our arrival. Olive trees shade the property and its interior courtyard with a fountain and firepit was inspired by Santorini..
Architect Robert Behrans built and designed it in the 1990s, but it feels like timeless, thanks to the materials and decor. The North Suite is the property's largest at 820 square feet, and features a cathedral ceiling with a skylight, a gourmet kitchen, wine fridge, gas fireplace, private patio, and a California King bed.
The Alta Suite on the second floor, the most luxurious offering, is 750 square feet and boasts picture-perfect views of the mountains, a double jacuzzi, soaring ceilings, and a gas fireplace. Wood, leather and natural stone set the tone for this elegant retreat.
And the Inn's Calm Spa, also open to non-hotel guests, is not to be missed. The day spa offers seven different by-appointment massage treatments, including Swedish aromatherapy, deep tissue (our pick), and reflexology. As the Inn's Insta puts it, Lead Therapist Stephanie Smith "combines years of practice [and] equal parts art and science" to cure what ails you with an hour on the massage table. She also has excellent restaurant recommendations.
And anyone who knows the area will direct you to Folktable at Cornerstone Sonoma. Last year the Michelin Guide added Folktable to its California list of Bib Gourmand picks. Quite a feat considering the casual eatery opened during the pandemic. Of course it has something to do with the fact that Top Chef star Casey Thompson is at the helm; her seasonal menu "represents some of the most modern, innovative wine country cuisine in the San Francisco Bay Area," as the experts have it.
Pictured above is Thompson's take on the classic lobster roll. "Housed within a charming outdoor marketplace is a kitchen brimming with ideas," as the Michelin men put it. "To wit—beef tartare is ground to order and served on hash browns; while broccoli is grilled, then showered with puffed rice, Thai basil and maple tahini."
Also at Cornerstone is the Obsidian Wine Co.'s boutique wine tasting room. It's something of a cult favorite, as "through decades of growing, coopering and winemaking," they have "sought farther, rockier and higher places to grow grapes and build wines," with results that are "complex, nuanced and delicious." In other words, Sonoma in a glass.