Indulge In Colombia's High-End Hospitality Renaissance
The buzzy South American travel destination has never been hotter.
Colombia's ripening cultural renaissance has never been more apparent, its vivid heritage of European, Indigenous and African influences is rich and runs deep. So go ahead and fall for the South American try-hard who's like that cryptic-but-lovable teen crush you still think about to this day. There's so much to love about the sheer effort.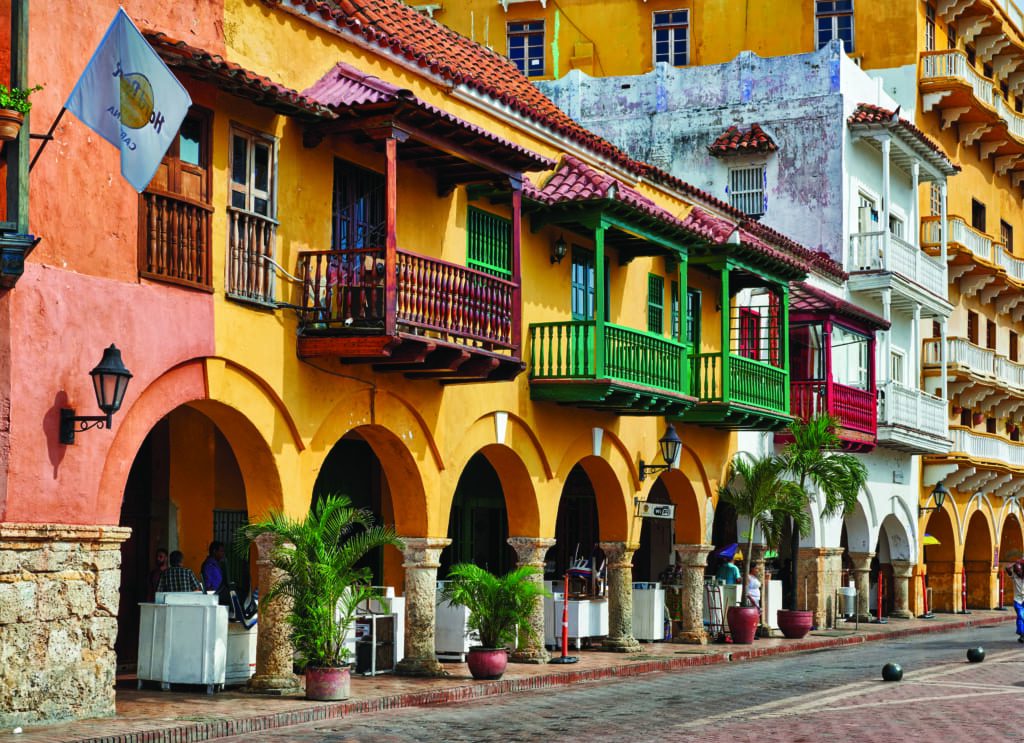 From her beguiling history rises an eclectic fusion of tradition and vanguardism in the thriving hotspots of Medellin and Bogotá. A land of extremes in Latin America, geographic diversity mirrors the myriad cultural influences, from soaring snowy Andean summits down to the arid plains of El Paramo.
From lively, pretty beaches to the lush Amazonian jungle and aromatic cache of homegrown coffee—this is the Colombia that you don't see on CNN.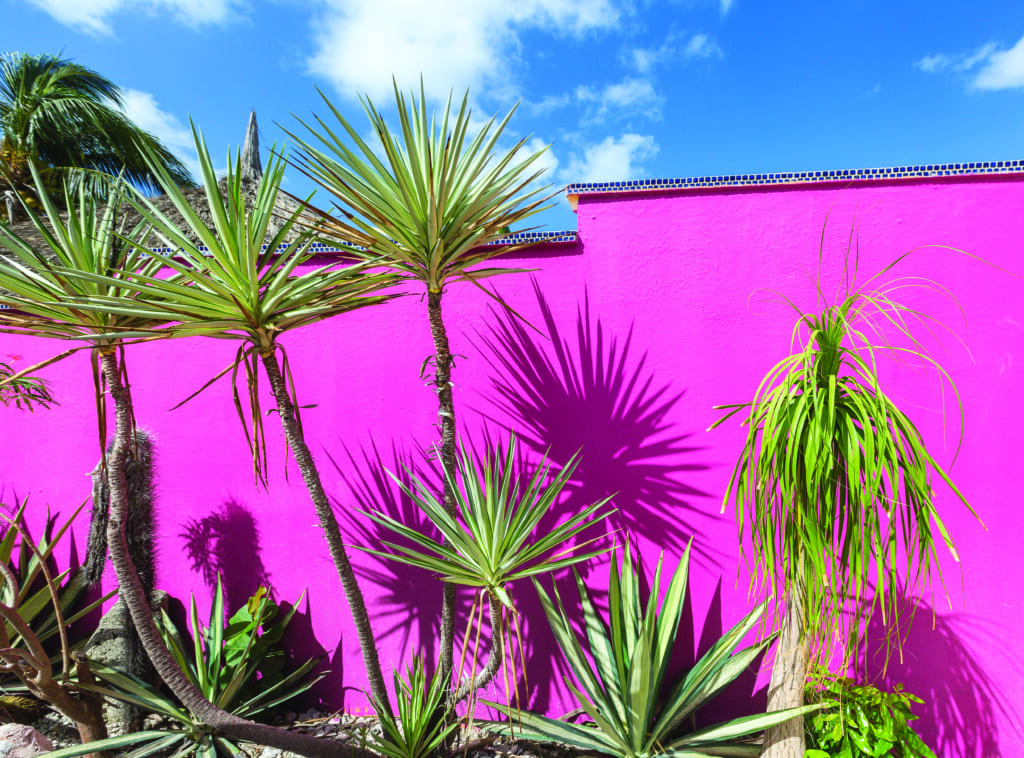 Despite only taking up a landmass roughly twice the size of Texas, Colombia's standing as the most biodiverse country per square mile in the world makes it an irresistible draw for bird, butterfly, and orchid enthusiasts. Meaning, there's much more to gawk at than local leggy lingerie models.
Throw in trekking, whitewater paddle sports, and diving on two oceans, and you've got quite a compelling hook for adventure travelers. While your more basic buddies may be stuck on Cabo or Cayman on repeat, don't count out Colombia—its plum sunshine spots are more accessible than people think.
Pre-pandemic, Colombia was clearly on a rebranding bender, appealing to Hollywood studio executives and producers to consider its star attractions as possible filming locations. To shake up its image as a travel destination, the Colombian government reportedly hosted entertainment-industry luminaries, drawing attention to Cartagena, Bogotá, and Medellín. We're in, after all, the birthplace of Magical Realism.
Colombia's biggest star export? Move over, Sofia Vergara. The nation's latest rising star is none other than Maxim cover model Daniela Botero, who proudly shares her insider insights on this compelling destination.
"My favorite city in Colombia is Cartagena, first because it is a safe city, and second, the old city is very special. Every time I go, I feel like I'm in one of the books by Gabriel Garcia Marquez," Botero muses.
"Small streets, music everywhere, old colorful houses, horse carriages, it's just magic. Cartagena makes me feel alive and happy, that's why I love spending New Year's there."
The walled town of Old Cartagena is impossibly romantic when magic hour hits; easy to see why cinematographers and ahem, Instagrammers, have fallen under its spell. Films shot in photogenic Cartagena over the years include The Mission and Love in the Time of Cholera. This venerable vacation paradise on the Caribbean sea hosts a buzzy international film festival, typically running every March.
The enchanting edifice of the Sofitel Legend Santa Clara Cartagena was originally built as a convent in 1621. Quite a departure from its pious origin, the place is glamorous and wildly sensual, with a divine, resort-style pool and spa. Their cool El Coro lounge is the place to take in live music and mojitos in equal measure. By bedtime, the extensive pillow menu will have both you and your better half snoozing in serene style.
More into clean, contemporary lines and LEED certification? The new Sofitel Barú Calablanca Beach Resort opened its doors on the island of Barú just this past December, a 25-minute yacht ride from Cartagena. Each of the property's 187 rooms and suites faces the sparkling Caribbean Sea.
The resort weaves in Sofitel's French savoir-faire through its service culture and culinary overtures. La Pérgola is the place to be as the sun sets, with its simply sublime rooftop terrace. Pack ample swimwear options as there are three poolside bar venues to unwind over creative cocktails and convivial chatter.
For a more intimate boutique hotel, check in to Casa San Agustín, located on Acasí Private Beach on Barú, where guests enjoy water sports or simply sunbathing in scenic splendor. The hotel consists of three Colombian-style houses; its 20 guestrooms and 11 suites beautifully express artisan style, with Frette linens to seal the deal. From the original frescoes at its library to centuriesold wood beam ceilings in guest rooms, Casa San Agustín evokes the city's spellbinding history.
Poolscape aficionados rejoice by escaping to the hotel's hidden oasis of calm—a romantic treefringed courtyard pool where whimsy is always in order. And should your snowsport-ravaged skin need a solid reboot, their onsite Aurum Spa has answers. It's a feast for the senses, from the Cartagena Coffee Body Treatment to the Lemongrass and Mimosa Body Scrub.
Bogotá, the nation's sophisticated capital, is perched high in the Andes at over 8660 feet. "For nightlife, Bogotá is great, I always recommend Andrés Carne de Res, a unique restaurant bar. Food is traditional Colombian and the ambiance is great," says Botero. Not your average "clubstaurant," Carne de Res' coal-fired kitchen pumps out belt-busting meaty, fatty, starchy tapas while the DJ drops the bass.
Aesthetically speaking, if Belle Epoque meets steampunk is a look, this is where you'll find it in Latin America. Needless to say, this is nightlife at serious altitude. Up here, the air contains less oxygen than at sea level. For virgin vacationers, two cocktails may feel like four; best to temper your bender with tapas galore.
In the life of Colombia's stunning sample-size siren, work and play seamlessly converges. When asked where she enjoys shooting on location in her native land, Botero responds playfully, "One of my favorite places to work is the Rosario Islands.
The private houses you can rent, like in Isla Rosa that I rented with my family last Christmas are unique, private, with the most beautiful ocean. You relax, take the sun on your private beach, and you can see the fisherman coming in a small boat offering fresh lobster and crab for $10 is just amazing!"
To sum up, Colombia is not merely a land of soulful novelists and beautiful women; there's simply a nowhere-else-like-this feeling here. While the coastline and nightlife may be the main draw on a first visit, historic haute hotels that defy the senses and dizzying chef-driven delights is what keeps many travel aficionados—including ourselves—coming back.