Jimmy Buffet's Mexican Beachfront Resort Celebrates First Anniversary In Laid-Back Luxury
New amenities make St. Somewhere's Holbox Island escape even more of a must-visit.
Last year Maxim.com was among the first media to make it to the new Margaritaville St. Somewhere in Punto Coco on Holbox Island, a first-of-its-kind new luxury resort from the hospitality brand inspired by singer and entrepreneur Jimmy Buffett. Now one year on, the picturesque retreat on the idyllic Mexican island is celebrating its anniversary with a number of new amenities and initiatives making it even more of a must-visit.
The posh property, part of the Karisma Hotels & Resorts portfolio of award-winning retreats spanning Latin America, the Caribbean, and Mexico, is the very first St. Somewhere (as in "it's five o'clock somewhere") in the world, establishing a new standard in laid-back luxury.
Holbox has long been an insider's escape—not all that far in terms of physical distance from Cancun, but worlds apart in terms of the mellow relaxation factor—and St. Somewhere enhances that ethos with its secluded location on the quietest end of the island. And with only 39 rooms, including plunge pool and swim-up suites, it has a high-end boutique feel that perfectly suits the location.
The architecture calls to mind Key West, with its striking lighthouse tower, but with an indigenous feel. The 3,000-ft. beachfront lot is one of the best in all of Holbox, and is near to the area where many people come to experience the bioluminescence that this section of ocean is famed for.
An ideal setup for a global lifestyle brand "synonymous with fun and escapism." Among the upgrades already in place or set for completion soon, the resort plans to expand transportation options with direct access from the ferry terminal on the mainland; and is introducing new seasonal programming, all-inclusive packages, and elevated food and beverage experiences.
Our favorite addition to the property's already considerable charms are the seasonal Lunar and Bioluminescent Bay parties, as well as weekly DJ'd pool parties with new food and beverage options including floating ceviche and taco bars, a beachfront bbq, Mexican spirits experiences, and more, designed so everyone has a good time.
"In celebration of our one year anniversary, we are thrilled to introduce these new programming options and property updates to Margaritaville St. Somewhere," says Daniel Lozano, Vice President of Operations at Karisma Hotels & Resorts. "These new elevated offerings will enhance cultural experiences and programming at the resort, allowing guests to immerse themselves in the best the island offers for a true in-destination experience."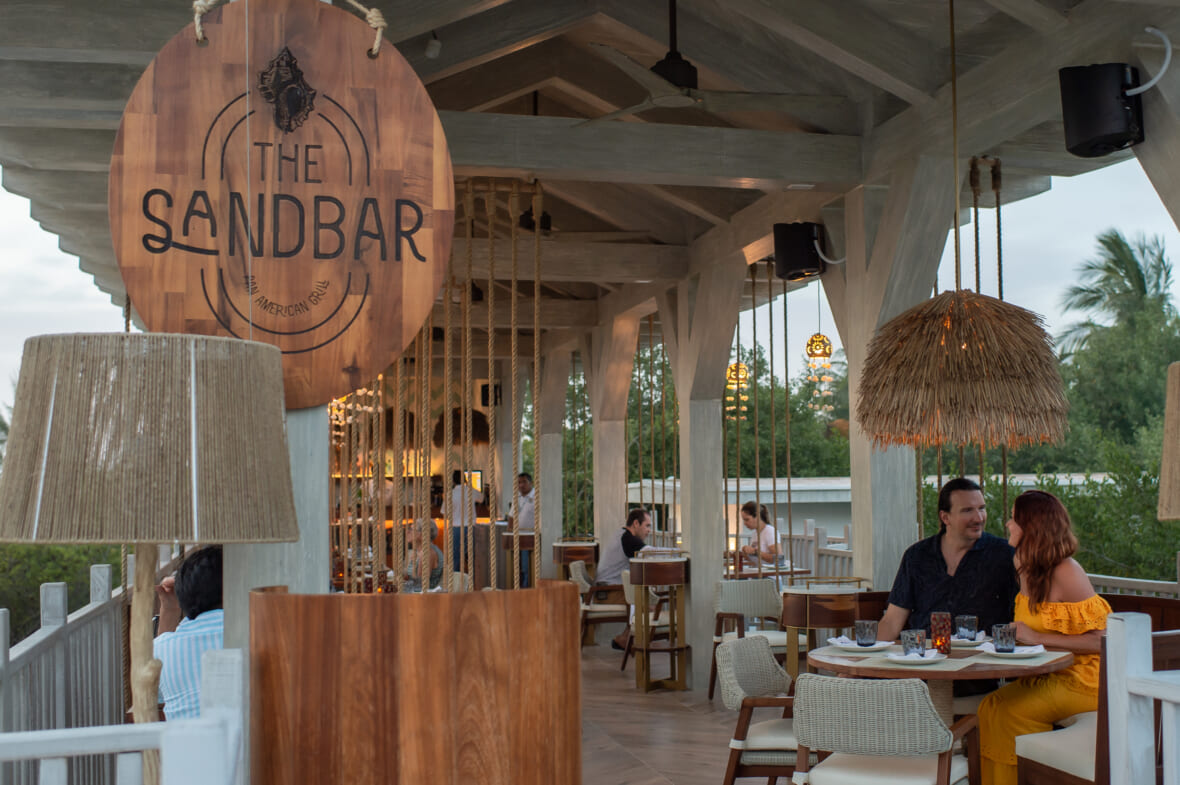 That's on top of the already impressive food and beverage options at The Sandbar & Pan American Grill and The Harbour House Peninsular Cuisine & Wood Stove Bar. A top feature of both are the handmade pizzas cooked over driftwood fires in a custom built oven. Everything on the property is made by hand, and the talented and hardworking food and beverage director Jesús Rueda expertly oversees every facet of it.
The resort is also introducing a new all-inclusive package as guests realize that they don't have to leave the property to experience some of the best food and drink on Holbox. Menus are kept fresh with seasonal ingredients and freshly caught seafood, while wine lists boast an impressive array of options from imports to vintages from the likes of Casa Madero, Mexico's oldest winery and one of its best.
Further enhancements to St. Somewhere are in progress, including a beach club with F&B elements, in addition to a wellness and fitness center located right on the powder-soft sand. A spa and temezcal, a type of sweat lodge or sauna which has ties to the local Mayan culture and makes for a singular Mexican-inspired spa experience.
When the beachfront compound is fully developed it will provide the perfect counterpoint to the picture-perfect pool complex, with its bali beds, loungers, swim-up bar, and proximity to the Harbour House restaurant which can even float food and drinks over to you (we recommend the taco and Tecate tray).
The addition of direct speedboat service from the dock in Chiquila, on the mainland where the public ferry departs from, which will be able to bring guests directly to the resort, saving them a bumpy 15-minute golf cart ride, will be a major enhancement. A private dock is currently under construction and is expected to be completed by the end of April.
In addition, helipad service is also underway and is expected to be available to guests before the end of the year. And the offering of seasonal excursion options, including deep-sea fishing, bird-watching trips, whale-shark swimming, kayaking through mangroves, and more, are going to be able to be ramped up with the addition of the new dock and helipad as well.
As one of the first branded resorts in Holbox, and the first to bear the name of a major franchise like Margaritaville, some sensitivity was required in building the resort, which also holds true for the upgrades, all of which must not alter Holbox's status as one of the last relatively unspoiled locales in all of Mexico.
As Karisma notes, the island's "natural wonders remain blissfully uncrowded thanks to their responsible tourism policies that preserve its magical atmosphere." Hence Margaritaville decided to debut the new St. Somewhere concept here and establish the ideal balance of hedonistic escapism and ecological harmony.
Having now visited twice, we can unequivocally state that the project has been a huge success on all fronts. Get your booking in soon as word is out, and the limited number of suites are being snapped up fast.