Porsche 911 Road Trip: An Epic Journey Along The Northern California Coast
Come along on a 750-mile Porsche road trip from San Francisco to Napa, Sonoma and Mendocino.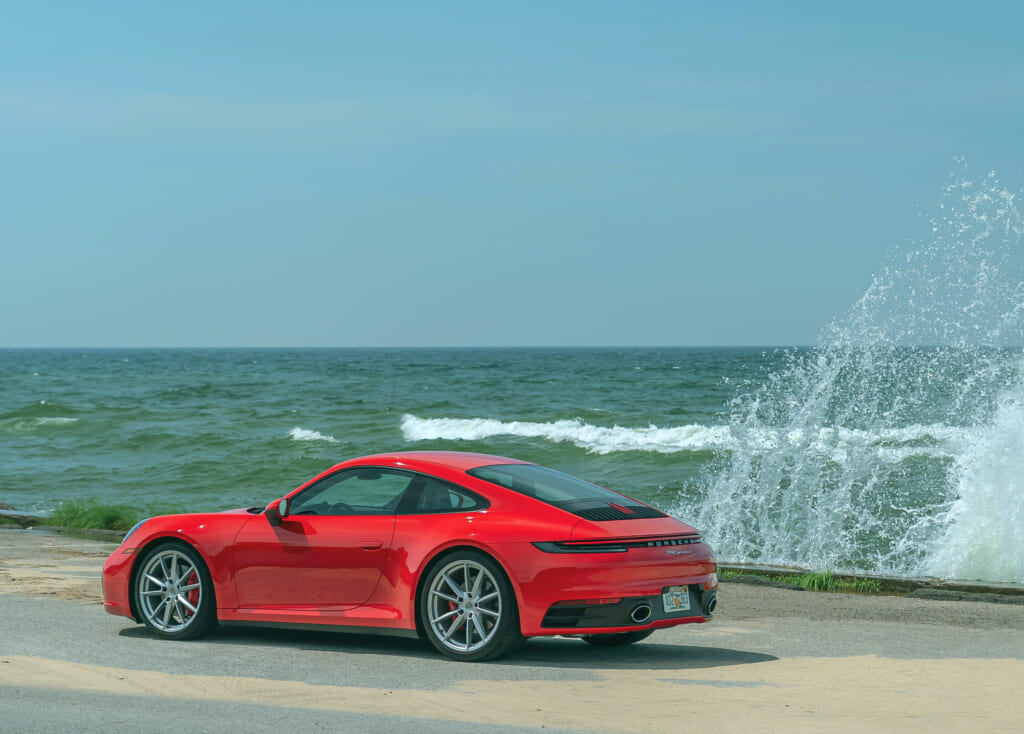 Ninety miles of rugged northern California coastline, thousands of acres of vineyards, 24 state and national parks, sublime cuisine, and some of the most scenic and adrenaline-pumping shoreline drives in the country; it's easy to see why we'd been planning a road trip to Mendocino County for quite some time.
Renowned for both its towering redwoods and world-class wineries—over 100 of them—many people have heard of Mendocino but have never made the trip. An error we had frequently resolved to correct at the earliest opportunity.
Plan the route right (never take the "fastest" one) and getting there is more than half the fun—especially if your means of conveyance is one of the last true European sports cars available with a manual transmission; and the only one with a pedigree going back more than 50 years.
We're talking about the iconic Porsche 911, a car tailor-made for carving up scenic coastal routes and hairpin bends, especially the latest generation (aka 992) in upgraded Carrera S trim. The looks are pure Porsche, sharpened over the years but unmistakably descended from the original 911 of 1963.
Back then of course they could only dream of the numbers this beauty can clock: 0 to 60 mph in four seconds flat and a top speed of 191 mph, thanks to its 443- hp, 3.0-liter twin-turbocharged flat-six. The seven-speed manual is both more work and more rewarding to drive, especially on the hairpins winding through old-growth forests that the Sonoma and Mendocino coasts are known for.
This is a grand tourer with guts, with the ability to whip you around the bends with an enhanced exhilaration that those who haven't learned to drive stick will never know. Some purists might disdain the newer 911s' automatic rev matching, which is lightning quick in Sport Plus mode, blipping the throttle much faster than you ever could.
Likewise they eschew the adaptive powertrain system as too much tech. But we were quickly won over by the ability to switch between drive modes and the way the car can go from raw to refined in the blink of an eye. And back again.
With its Guards Red paint job and the sport exhaust button on, we alternately roared through the redwoods and cruised scenic coastal stretches, many slower drivers pulling over in what we can only assume was sheer admiration. The 911 commands that kind of respect.
And the red devil started turning heads as soon as it was delivered to the stately Ritz-Carlton, San Francisco, our starting point for the journey, where it was quickly granted one of the coveted parking spaces directly in front of the imposing entrance. Dating to 1909, the impressive landmark is a neoclassical masterpiece with massive Ionic columns and other architectural details, occupying an entire block of Nob Hill.
The five-star property, which conjures images of the railroad barons who used to preside over the neighborhood, offers some of the most luxurious hotel suites in the city as well as a signature Ritz-Carlton Club Lounge for those who opt for an enhanced hospitality experience on their visit to San Francisco.
It's also home to a JCB Tasting Lounge that can be booked for sampling exclusive wine flights as well as a boutique by Krigler, the historic and legendary fragrance house which created bespoke scents for the likes of F. Scott Fitzgerald, Pablo Picasso, and Cary Grant.
Preparing for the 750-mile journey ahead, we dined lavishly in the Ritz's devastatingly elegant The Lounge, with its marble fireplaces, soaring windows, and upholstered leather banquettes, a counterpoint to some of the more rustic settings that lay ahead.
Getting off to an early start the next morning, we plugged in the coordinates for Calistoga, the Napa Valley town known for hot springs and mud baths, and our gateway to the coast. Arriving there we checked into Dr. Wilkinson's Backyard Resort & Mineral Springs, the recently renovated spa resort which first opened in 1952, and has been providing "wellness, relaxation, and good times" ever since.
Home to healing mineral waters, mud baths, a bar, restaurant, and more, Dr. Wilkinson's seemed a good place to gather our thoughts and soothe our nerves prior to putting the Porsche through its paces. To that end we also booked a deep-tissue massage at the property's excellent spa.
The retro-meets-modern vibe all 'round excellence of design, plus it's charming idiosyncrasy and pops of color, made it a one-of-a-kind stopover, which we'd highly recommend to anyone passing this way—regardless of their means of locomotion.
Dinner that night was in nearby Yountville, famed as the home of the iconic French Laundry, where we found a parking space for the 911 in front of RH Yountville, one of the most beautiful places in all of Napa Valley. A compound offering fine food, wine, art and design, it's planted with ancient olive trees and glimmers with multiple chandeliers and massive outdoor fireplaces.
We started off at the Wine Vault, housed in a historic stone building with a courtyard dotted with lounge areas upholstered in RH's signature Belgian linen. Dinner itself was in RH Yountville's glass-roofed restaurant, a perfectly-cooked 16-oz. charred ribeye accompanied by heirloom broccolini and a gorgeous glass of Napa cabernet.
Freshly massaged and mud-bathed the morning after, we revved the Porsche's engine and set course for the Sonoma Coast, and the terrific Timber Cove resort, some 60 miles away, the last half-hour of the drive taking us along the glorious oceanscape, where we just seemed to breathe easier.
Timber Cove, set on 23 acres of rugged coastline, comprising its own state park, along with two miles of hiking trails, first opened in the early 1960s and was recently renovated with an eye towards preserving its Mid-Century roots—achieved to admirable effect.
Like nearby Sea Ranch, it's an idiosyncratic, Northern California version of modernism, attuned to its rough-hewn setting and designed as a warm and welcoming retreat from the wind, fog and rain. Which makes it that much more alluring when you arrive, engine humming from those hairpin turns.
The main lodge's Great Room is dominated by a soaring stone fireplace, enormous wooden beams, an antler chandelier, a well-appointed bar, and a vinyl-record library you can borrow from for the Crosley turntable in your room. Most of these wood-paneled apartments also feature ambience-enhancing gas stoves, Smeg fridges, windows looking out to the sea, and camp blankets among other rustic-luxe amenities.
Back at the main lodge is the alluring Coast Kitchen restaurant, showcasing dishes with ingredients sourced from local farmers and fishermen, along with wine pairings from predominantly Sonoma-based vineyards like the ambrosial Aperture Cellars in Healdsburg.
Pressing on from there the next morning we soon crossed into Mendocino, the air through the Porsche's open windows redolent of pine, cedar, woodsmoke and salt spray, and immediately felt a calming influence—which in no way moderated our inclination to switch into Sport Plus and rip shifts along roads which rival the PCH for scenery, without all the annoying traffic.
Our destination was the capstone of the excursion, the incomparable Inn at Newport Ranch. Set on 2,000 oceanfront acres of clifftop, ranch and forest land, the five-star property includes three miles of ridge tops, panoramic coastal views, and 20 miles of world-class hiking and riding trails through redwoods and along the coast, replete with crashing waves and dramatic rock faces.
The Inn's interior spaces are designed to enhance the natural beauty of the location and each room is intended to be a "bespoke masterpiece" filled with roughhewn stone and wood accents, handcrafted objects and fascinating items from Inn at Newport Ranch owner Will Jackson's world travels.
In the main lodge, built on the bones of a century-old farmhouse, are two massive stone fireplaces—some rooms feature wood stoves as well—setting off recycled redwood trunks, cathedral ceilings and awe-inspiring views. That's also where Chef Adam Stacy, formerly of Gramercy Tavern and Per Se in New York City, and Saison in San Francisco, presides over some of the best cuisine north of Napa Valley; foraged fine dining, if you will.
This was the one time we were tempted to leave the Porsche parked for the day and just explore the property instead. Even motorized thrills were not lacking, thanks to the Inn at Newport Ranch's UTV (Kawasaki utility terrain vehicle) tour, a two-hour excursion that shows you the incredible diversity of the Inn's land, from secret seaside beaches to old-growth redwood forests soaring up thousands of feet.
And we were back in time for the Inn's daily happy hour by the fire in the main lodge. Checking out was carried out with extreme reluctance, but our next destination, the Brambles at The Madrones, inland near Philo in the wine-centric Anderson Valley, proved to be just as beguiling.
The Brambles is set apart from the main compound in a ten-acre grove of ancient redwoods, and has a private cottage feel. Yet it was just a couple of minutes away from The Madrones' well-curated assemblage of venues including wine-tasting rooms and a super-cool shop called Sun & Cricket with everything from coffee table books to grooming products.
That's in addition to the Bohemian Chemist, an upscale cannabis boutique with antique apothecary shelving imported from Europe and some of the most beautiful product design we've ever seen; and Wickson Restaurant, overseen by Alexa Newman and Rodney Workman, both formerly of Chez Panisse.
The focus at Wickson is on hyper-local cuisine, with seasonal favorites including black-cod stew, wood-oven roasted chicken and pizza topped with local squash. The decor is inland Mendocino done to perfection, with hand-hewn wood furniture and a comfortable farmhouse-meets-vineyard vibe.
From there we couldn't resist heading back out to the coast, and back towards Timber Cove, in defiance of Google's directions, to let the Porsche stretch its pistons once again, as our rip-roaring road trip was drawing to a close. But not before posing for a photo surrounded by The Brambles' magnificent redwoods.
We were received back at Timber Cove—there's simply no other place on the Sonoma coast that compares—with something akin to a hero's welcome, and a glass of the house cabernet awaited following a brisk climb on the rocks. Occupying a different room from our stay on the way up afforded another view of the eye-popping scenery.
Which stood us in good stead as we motored down to the Marin Headlands the next day, zipped back over the Golden Gate Bridge, and wound our way down to our final stop, the acclaimed Ritz-Carlton, Half Moon Bay, perched atop a bluff that's every bit as picturesque as the name proclaims.
The five-star luxury resort has one of the finest and most dramatic golf courses in California, along with two spectacular restaurants and an enormous terrace dotted with Adirondack chairs and fire pits overlooking the ocean; our suite had its own outdoor fire pit as well.
For our final dinner of the trip, we chose the coziest banquette at the Ritz-Carlton, Half Moon Bay's The Conservatory for a Mediterranean-influenced take on Californian cuisine, near to the eatery's impressive Wine Room with its 4,000 curated bottles—which inspired us to let the sommelier direct us in a miniature tasting of our own, exploring local vintages with gusto.
After all, the driving, all 750 glorious miles of it, was done….
This article originally appeared in the Jan/Feb 2022 issue of Maxim magazine.