Ride Along On The Ultimate Rolls-Royce Road Trip Through California Wine Country
A custom $450,000 Cullinan was the perfect ride for this Napa and Sonoma journey of a lifetime.
When planning our latest excursion to Napa and Sonoma, a locale we try to explore at least once a year, we felt it was time for something completely different. Pulse-racing sports cars—like the wickedly-fast Porsche 911 S manual—are our usual mode of conveyance on such trips. However this foray involved a wider variety of upscale experiences, from a luxury car rally and a food festival, to several high-end hotels and wineries with various stops in between.
Which vehicle, we asked ourselves, could handle every possible situation in sybaritic style, making us the envy of all we encountered while offering every conceivable luxury, along with enough power to keep pace and then some on the scenic roads the region is famed for—and off them as well should the situation arise?
It did not take long for the answer to present itself: the Rolls-Royce Cullinan, ne plus ultra of luxury SUVs, with its massively yet effortlessly potent twin-turbo V12 engine matched only by an incredibly luxurious interior. The Cullinan's base price is just north of $350,000, before you even get to the potpourri of bespoke flourishes that Rolls-Royce is known for, but as Car and Driver noted, the ür-SUV's "unrivaled refinement and richness more than justify its price."
With a supercar-worthy 563 horsepower—more than the Aston Martin DB11, Ferrari Roma, and Bentley Bentayga, and a considerable upgrade from that 911 S—the Cullinan crushes everything in its path with its regal bearing, imposing front grille surmounted by the iconic Spirit of Ecstasy, near-silent deployment of all that power, and an interior as beautifully upholstered and fitted out as any impossible-to-join London gentleman's club.
Saying that the Cullinan is impressive is akin to calling 007 a "decent shot." Those peering through the extra-thick, noise-deadening glazing might just get an inkling of the incomparable comfort within, and the graceful way, in true Rolls-Royce fashion, it wafts over any road surface as if it were made of glass. Even the navigation system speaks with an upper-class British accent.
Put your foot down—in a bespoke driving loafer, preferably—and despite its commanding size, the Cullinan can go fro 0 to 60 mph in about 4.5 seconds. Meanwhile the advanced air suspension is receiving information from a road-scanning camera and automatically adjusting the Cullinan's height to compensate for any impertinences in the pavement. Hit the button marked "Off Road" and the lack of tarmac will be of no more consequence than a fly on the windscreen.
The options on the Cullinan we used to cruise through northern California brought its price up to nearly $430,000, most noticeably the bespoke St. Tropez orange paint job, paired with a $20,000 Dark Exterior Package. That was set off inside by Mandarin orange stitching and piping, along with a pricey-but-worth-it fiber-optic Shooting Star Headliner mirroring a starry night sky.
We took delivery of the eye-catching ride at the famed Fairmont San Francisco, one of the Golden City's most iconic luxury hotels. The palatial Beaux-Arts premises sit atop Nob Hill across from the legendary Pacific-Union Club, which was once the mansion of James J. Flood mansion and the only other Nob Hill structure aside from the Fairmont to survive the great San Francisco earthquake and fire of 1906. It opened to the public in 1907 and was the first hotel to bear the Fairmont name, establishing one of the world's great luxury hospitality brands.
The hotel retains many of its staggering architectural details, including the lobby's imposing marble columns. Many famous movies have been filmed there in whole or in part in the years since, including Alfred Hitchcock's 1958 thriller Vertigo starring Jimmy Stewart and Kim Novak; 1971's Dirty Harry starring Clint Eastwood; 1974's The Towering Inferno starring Paul Newman and Steve McQueen; and 1996's The Rock starring Sean Connery and Nic Cage. And Tony Bennett first sang "I Left My Heart in San Francisco" in the hotel's Venetian Room in December 1961.
The very first hotel in America to offer concierge services, the historic edifice has hosted world leaders, diplomats, entertainment stars, cultural icons, earning the moniker "White House of the West" for having welcomed every U.S. President visiting San Francisco since the hotel's opening 115 years ago. Recognized by the National Trust for Historic Preservation, it is also home to San Francisco's most exclusive and expensive hotel suites, which continue to attract A-listers and heads of state.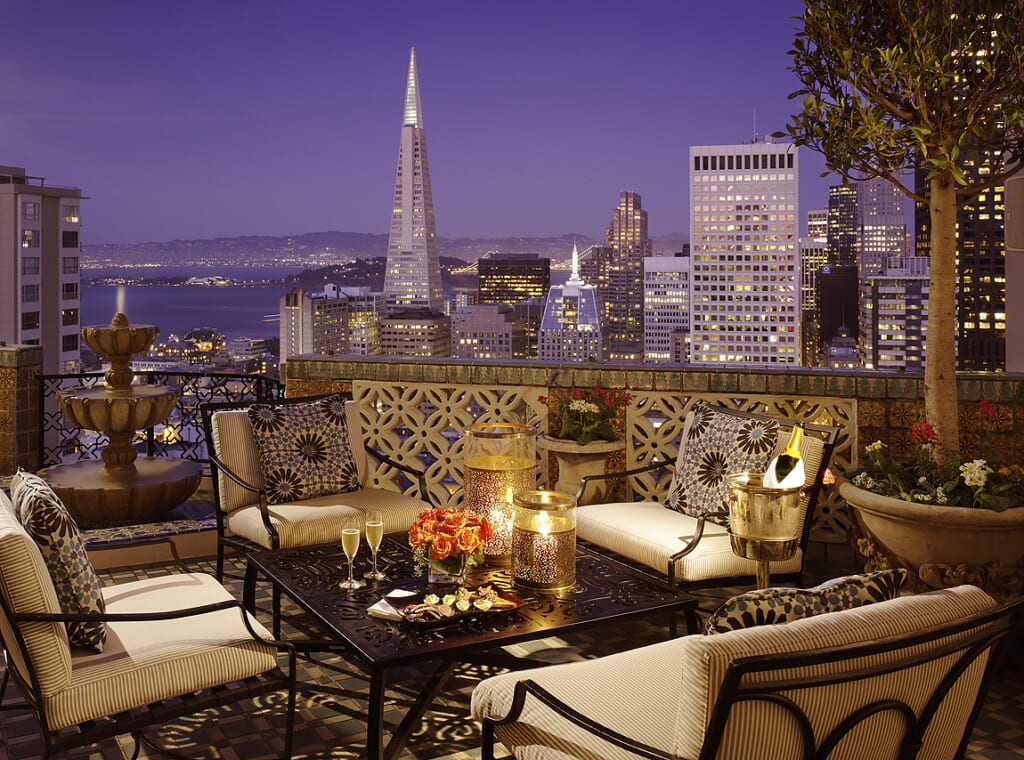 As the hotel notes, "If it happened in San Francisco, it probably happened here." Its collection of Legacy Suites offer incomparable views, with the Penthouse Suite featuring a tiled fountain on a Mediterranean-inspired balcony, a two-story domed library, and a Moorish-design billiard room. The 6,000-square-foot suite spans the entire eighth floor of the Fairmont's Main Building, and is decorated with original artwork by the likes of David Hockney.
The Fairmont's liveried doorman had the Cullinan polished and waiting under the porte cochère the next morning, and we set course for Wing & Barrel Ranch in Sonoma, the ultimate private sporting club located in the heart of Northern California's wine country. At Wing & Barrel Ranch the Cullinan was in its element: sporting clays, seasonal bird hunting, vintner member gatherings, fine dining, customized shooting and fly-fishing, and a well-curated sporting goods shop and gun vault can all be found on its scenic 1,000-plus acres.
You'll find our full report on Wing & Barrel Ranch in the Sept/Oct 2022 issue of Maxim magazine, but suffice to say this ultra-civilized retreat dedicated to the gentlemanly sporting life, where a love of fine shotguns, fresh air and exercise meets the world of fine dining and fine wine, all in an extremely relaxing and beautifully-designed setting, is not to be missed. If you can't join the club yourself, work your contacts to find someone who can take you as their guest.
The Cullinan was able to traverse all of Wing and Barrel Ranch's considerable terrain, thus enabling us to reach the most out-of-the-way and therefore best preserved sporting spots, while its orange paint scheme was perfectly suited to the need for visibility in the hunting field. And of course there was more than enough room for a pair of custom Purdey 12-bores and all the accessories in the cargo space—or the "boot", in Rolls parlance.
The next morning after brushing up on our fly-fishing skills a bit, we headed to the inaugural Healdsburg Wine & Food Experience, a three-day celebration featuring the best of Sonoma County focusing on its world-renowned food and wines. The region's makers, from farmers to growers, winemakers, and chefs were featured at a series of events, showcasing "the vibrant culinary diversity, sustainable farming practices and deep connection to agriculture" that Sonoma is known for.
Healdsburg in particular is home to some of the country's best chefs and winemakers, including Dustin Villette of The Matheson and Jesse Katz of Aperture Cellars. At The Matheson, his tri-level restaurant with a main dining room, craft cocktail bar, sushi bar, high-tech wine wall, private dining room, and rooftop cocktail bar and garden terrace, Villette held court on the top floor, home to the Ultra VIP Exclusive Rooftop Reserve Wine Lounge. There Villette and his team served up delicacies including some of the incredible gourmet pizzas they've become known for, alongside caviar tastings and other treats.
We intend to go back next year to sample more thoroughly, but this time we needed to press on to Napa Valley, and The Estate Yountville, nestled in the middle of the famed wine region's top-drawer town. A village-within-a-village on 22 acres of impeccably positioned and exquisitely landscaped grounds, it'scomprised of two wine-centric, design-forward luxury hotels as well as culinary and event venues, high-end retail, the area's best spa, and more.
Hotel Villagio is the more vibrant and social of the two properties, while its counterpart Vintage House is a sophisticated and tranquil sanctuary. Both have heated swimming pools, vineyard access, and rooms and suites resembling cottages and private bungalows, with wood-burning fireplaces and balconies or terraces. The top-class accommodations is the five-bedroom Villa at the Estate for the ultimate indulgence.
At Hotel Villagio, where we checked in for the first part of our stay, there's a chic lobby lounge where you can enjoy "garden-to-glass" cocktails from the property's own bar garden as well as a well-curated wine list; and lounge on a leather chesterfield sofa in front of the fireplace or play a game of pool on the bespoke billiard table. We had time to do it all plus take a plunge in the pool, capped with a soaking session in the hot tub overlooking a historic vineyard.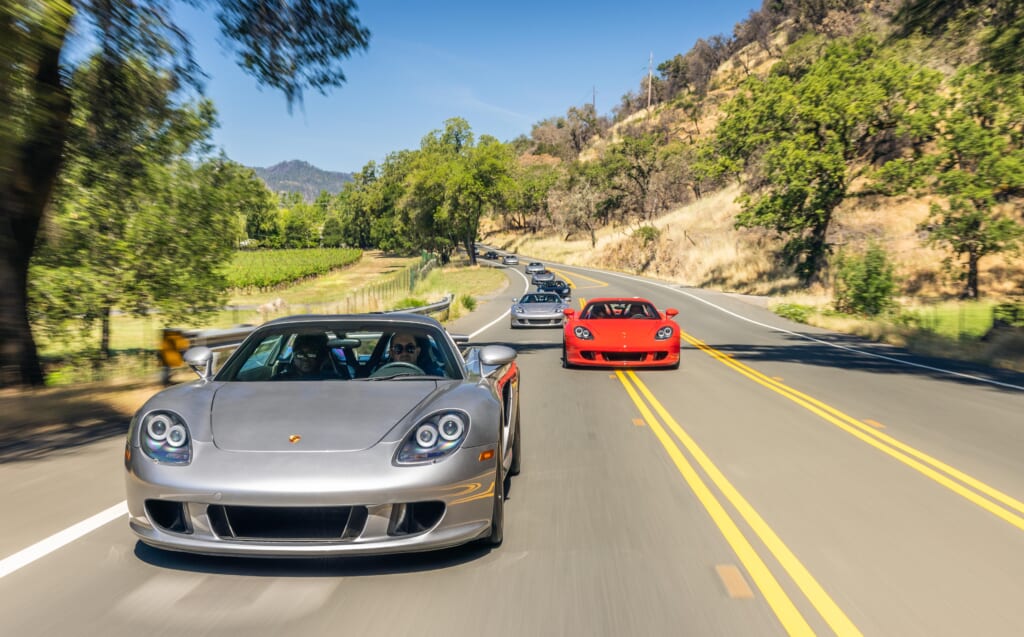 We needed to rest up for the days ahead as we were joining the Luxury Rally Club, producers of the ultimate driving experiences for owners of the world's top classic and collectible luxury and sports cars. LRC was staging its first-ever rally centered on the legendary Porsche Carrera GT supercar, in Napa and Sonoma, and they'd asked us along for the ride. The Cullinan, it seems, also makes the ultimate support vehicle when you are invited to accompany a fleet of million-dollar-plus cars to some of the region's best wine and food destinations.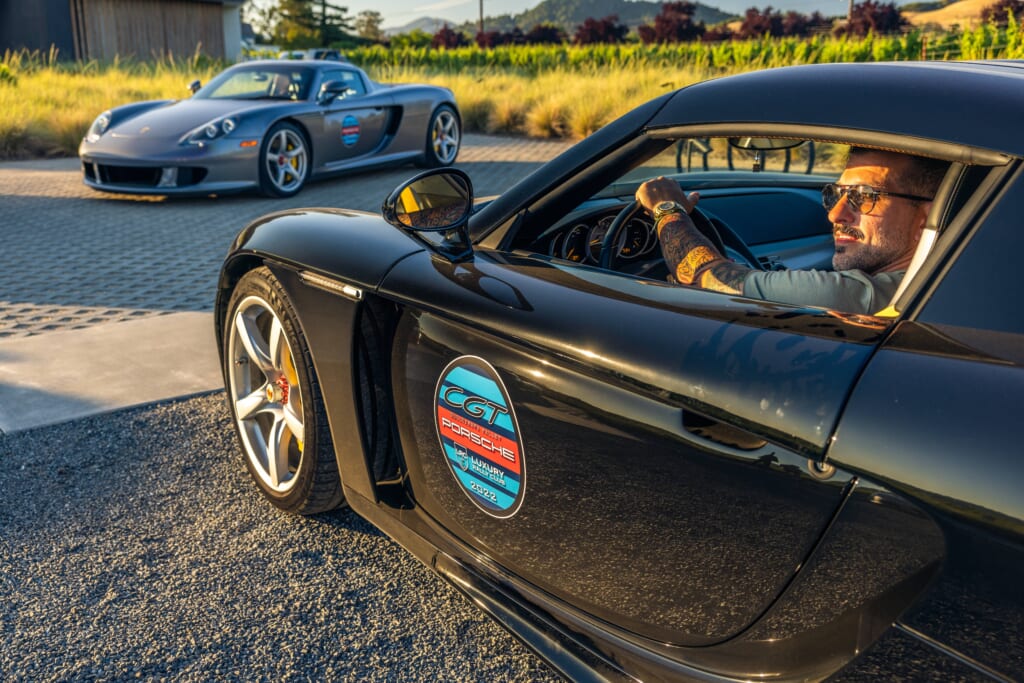 Which of course also means some of the world's best. You can read our full report on the Luxury Rally Club and the CGT Rally in the Nov/Dec 2022 issue of Maxim magazine, but we'll give you a little preview here. Some $15 million worth of collector Porsches gathered for the elite event, one of several LRC stages in the course of a year, by invitation only to those who are fortunate to own some of the most desirable cars on the planet.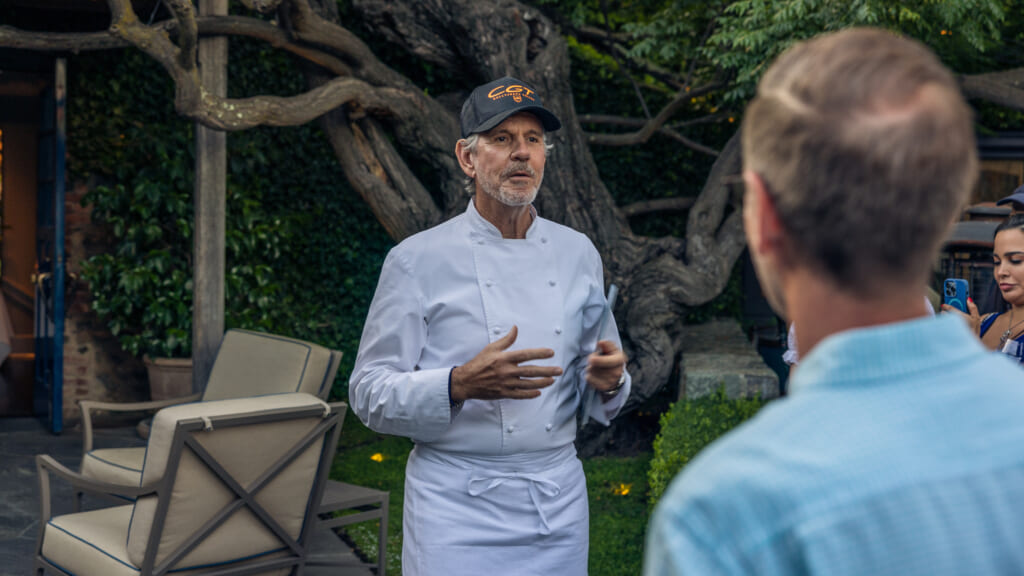 As just one of the amazing stops on the luxury tour, we had dinner at the iconic three-Michelin-star The French Laundry in Yountville, presided over by Chef Thomas Keller. Keller himself is a sports car enthusiast and Porsche owner, and he gave the LRC group a warm welcome, donned a custom CGT hat while he gave his a brief rundown of his world-renowned restaurant, and even signed a couple of electric guitars that LRC founder Trevor Johnson auctioned off for charity following an incredible nine-course menu with wine pairings. A night to remember, to say the least.
Stay tuned for Part II of our ultimate Rolls-Royce road trip to Napa and Sonoma on Maxim.com.