5-Star Mexican Eco-Luxury Resort Makes Splash With Stunning New Beach Club
Book the Fairmont Mayakoba's sleek 55-ft. VanDutch yacht for a truly over-the-top experience.
When the next super-stylish, megabucks spy movie is announced, we won't be at all surprised if it's shot on location in Mexico. Specifically at the new multimillion-dollar Maykana beach club at Fairmont Mayakoba, one of the top beachfront luxury destinations in the world. International men of mystery have a fondness for such places, and Hollywood producer types are sure to have their eye on Mexico's newest gem.
Last spring we reported that the five-star, 45-acre Fairmont Mayakoba, nestled in the Mayakoba development—an ultra-secure eco-luxe enclave that has achieved its icon status among elite travelers who treasure beautiful, natural surroundings as much as A-list amenities—had embarked upon a truly impressive property-wide revamp.
Now Maykana has made its debut, "marrying sand, sea and luxury on the coast of Riviera Maya." Surrounded by a lush mangrove forest intersected by water canals, Fairmont Mayakoba offers over 46,000 sq. ft. of indoor and outdoor meeting space, an energizing Willow Stream Spa featuring 20 treatment rooms, and El Camaleón Golf Course, host to the only official PGA Tour event in Mexico.
Maykana "offers an elevated experience in a prime location with five food and beverage outlets, grand terraces with magnificent views, opulent private cabanas, seaside pools, sunken fire pits and an energy that can't be missed," the brand enthuses. "Giving beachside relaxation a whole new meaning, Maykana brings chic vibes to the coast of Riviera Maya while infusing the Mayan culture to all who visit."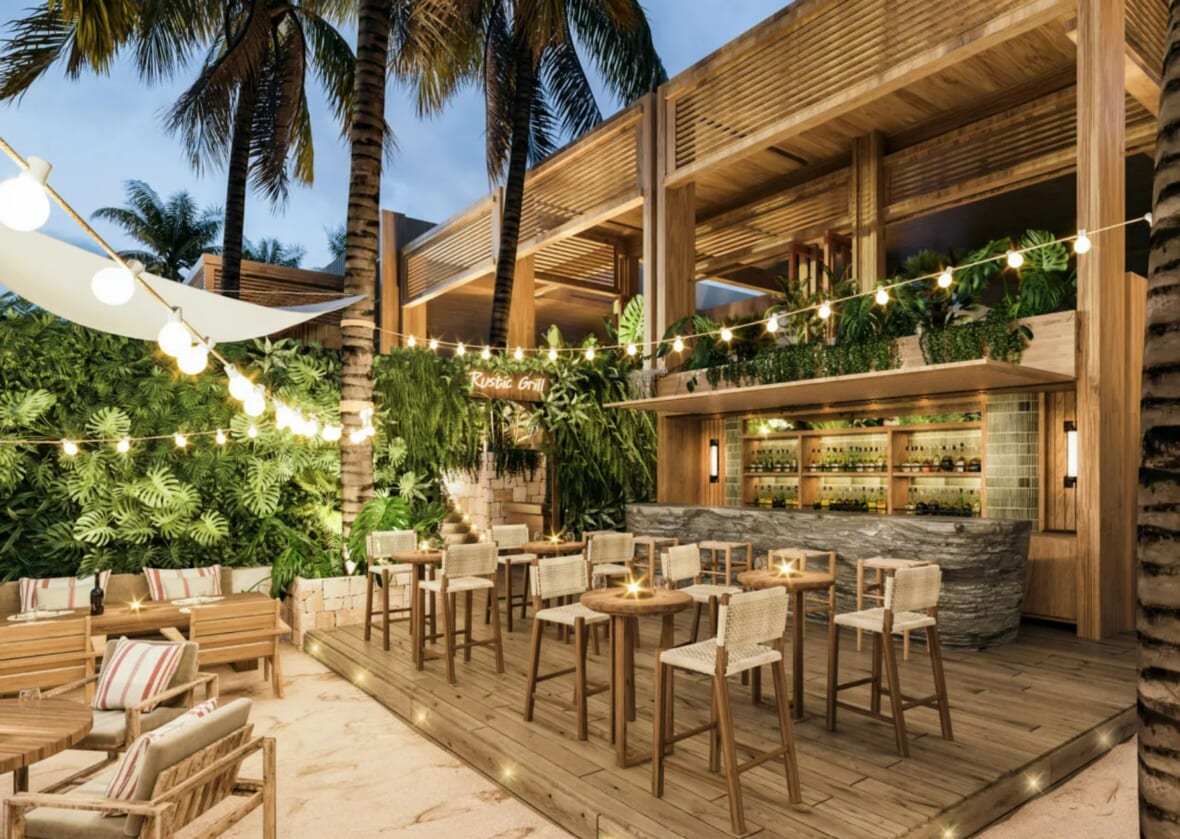 "Since the opening of our brand-new beach club we've seen many of our guests enjoy the space from day to night, from dining at Brisas for breakfast to sipping on a craft cocktail around one of Cielo's fire pits at sunset," Jacco Van Teeffelen, Fairmont Mayakoba's General Manager tells Maxim. "It's clear they don't want to leave—and they don't have to! There's something for everyone at all times of day but everyone loves wading around the infinity-edge pool with its stunning views of the Caribbean Seas and reserving one of our private cabanas."
Crafted with locally sourced materials, Maykana's luxurious and texturized palette is complete with touches of cool shades representative of the mangrove and canals that surround the property. With features like a rooftop bar, infinity pool overlooking the Caribbean Sea, and sunken circular lounge areas reminiscent of cenotes, it's designed to be nothing less than "a design masterpiece paying homage to Mexican heritage."
The beach club's new food and beverage offerings include the Mediterranean-influenced Brisas; Aqua, featuring Latin-inspired food and cocktails; Fuego, a laid-back, bohemian-chic restaurant; Maykana's signature restaurant, Gaia Seafood Restaurant; and Cielo Rooftop Bar. Each venue is designed to "offer an exquisite culinary experience as well and spectacular views of the Caribbean, both day and night."
The new beach club also makes the perfect departure point for an excursion on the $1 million, 55-ft. VanDutch yacht that's part of Mayakoba's ultra-luxury amenities for those who want to elevate their experience. As we noted last year, VanDutch's super-sleek craft are nothing short of "design-driven missiles for the modern-day Bond villain." With twin Volvo 900 HP diesel engines, the 55-footer has a maximum speed of 36–40 knots, which is pretty damn fast.
Fairmont Mayakoba guests can book various VanDutch excursions depending on how long they want to be on the water and how much they want to see. You can also arrange for lunch, wine and cocktails to be served on board and the yacht, which has a full kitchen and bath, can accommodate up to eight passengers in addition to the well-trained crew.
Back on land you'll want to check out the array of luxe dining options. Brisas "brings in the element of air" to Maykana with an à la carte breakfast transitioning to an all-day menu by noon. Highlights include mezze, Mediterranean-influenced shareable bites, and tropical cocktails, and the vibe is fun and casual to match the colorful fare.

Surrounded by private pool-side cabanas, Aqua features a large palapa bar specializing in Latin-influenced cocktails. It also transforms, into an intimate dining experience by night. Fuego meanwhile, inspired by the element of fire, is a "Tulum-inspired spot that captures an energetic yet bohemian feel." The outdoor dining experience features a wood fire grill.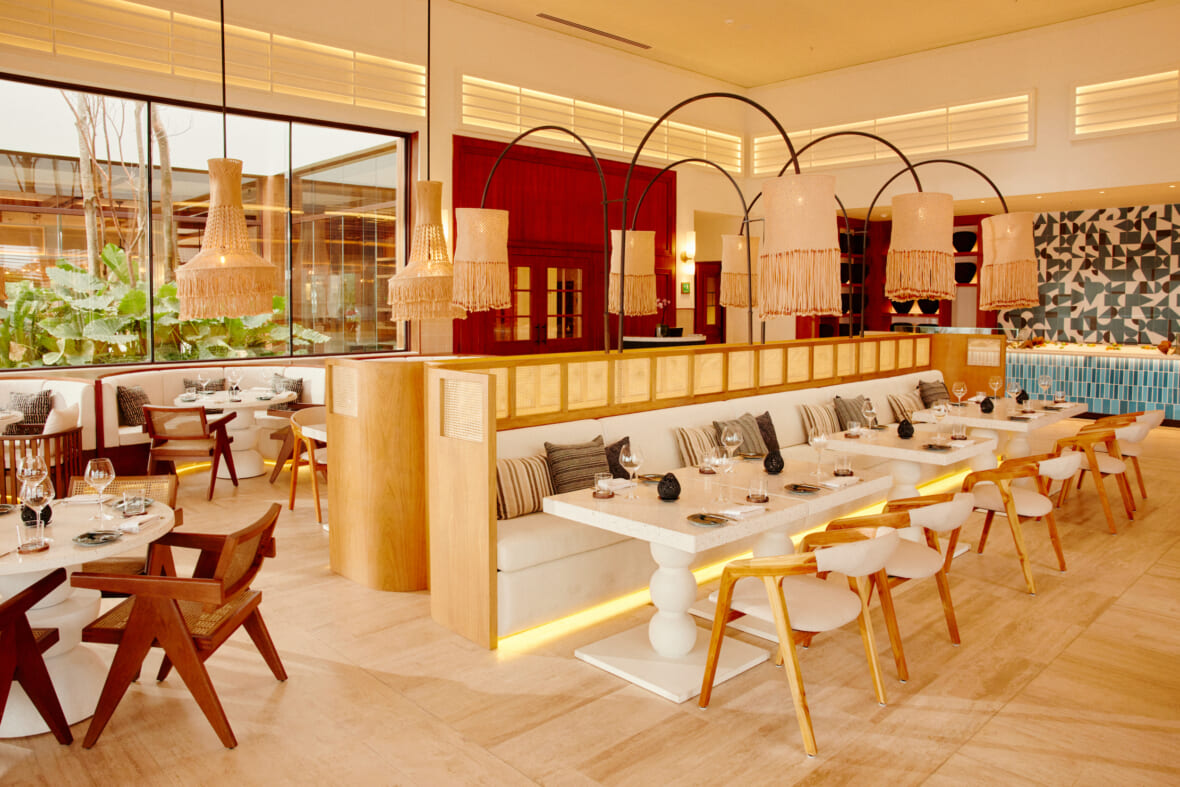 And the name of Gaia Seafood Restaurant, Maykana's signature eatery, translates to Mother Earth in Greek. It offers a large variety of fresh, local seafood from Mexico as well as other parts of the world, all prominently displayed on crushed ice at the entrance to the restaurant. 'International culinary preparations differentiate Gaia with less focus on traditional Mexican dishes," Fairmont notes.
And last but not least, Maykana's Cielo Rooftop Bar celebrates aether, the fifth element—are you sensing a theme here?—and is the beach club's adult only lounge. With an incomparable view of the Caribbean Sea and sensational sunsets, Cielo features five luxurious firepits surrounded by crystal clear water, and a bar that takes its craft cocktails very seriously.
Of course all this style is matched by the resort's upgraded accommodations. "We've seen that guests love our renovated rooms, whether they're staying in our Beach Area Casita Suites or our rooms along the lagoon," Van Teeffelen tells us. "These redesigned, sophisticated accommodations feature a calming, neutral palette, from updated furniture to more understated wall art. These changes only enhance the relaxed yet luxurious atmosphere we want our visitors to feel while staying at Fairmont Mayakoba."
And in addition to beachfront bungalows , "Our residences at Fairmont Heritage Place, close to the main Fairmont Mayakoba resort, are where groups tend to stay, as they're a bit quieter and these spacious private residences and penthouses are perfect for entertaining," Van Teeffelen points out. "Guests love the indoor-outdoor design of these accommodations to soak up their lush surroundings, while also appreciating the privacy that these spaces allow."
And all of this impressive innovation comes in addition to the numerous upgrades to the rest of the property that we previewed last year, such as the stunning Tauro steakhouse, an elegant combination of "savage and sophistication"—including prime cuts, an in-house dry-aging program, a raw bar, and a Martini Bar, with an interior design scheme intended to "evoke a modern speakeasy with Parisian influences."
Make ours a double.