Where To Eat, Stay & Play In Turks & Caicos Right Now
The gorgeous island paradise is more idyllic than ever.
In 2019 we visited the Turks & Caicos islands for a comprehensive feature on the very best the British overseas territory had to offer. Two whole years and a pandemic later, we felt it was time to update our take on the jewel of the West Indies. This time around we were after a more low-key experience, no less indulgent in its way, but with a bit more time spent off the beaten path; and we wanted to experience a wider variety of the accommodations and experiences, though not the typical touristy attractions.
"Within these 40 islands and cays, one can find everything from quaint resorts to luxurious penthouses and even more lavish private villas," as Sonia Simmons notes in the Turks and Caicos' Destination magazine. "Maintaining the theater of extravagance is no elementary task, but devoted industry professionals behind these scenes work arduously to bring the unexpected and unimaginable to life."
"Boasting the most luxurious accommodations and unrivaled beaches in the world carries with it much more than those breathtaking scenes that the eye sees," Simmons writes. "Behind the resplendence of these ceremoniously celebrated properties and shores are hardworking teams dedicated to providing an experience that is unrivaled in any other destination."
In spite of the relatively small size of the Turks and Caicos, it's one of the most loved destinations in all of the Caribbean. Simmons singles out "lush islands with glass-like turquoise water, immaculate shorelines, welcoming natives, sumptuous dining, and a soul-stirring cultural vibe" as the chief attractions, to which we'd add world-class hotels, resorts and private villas.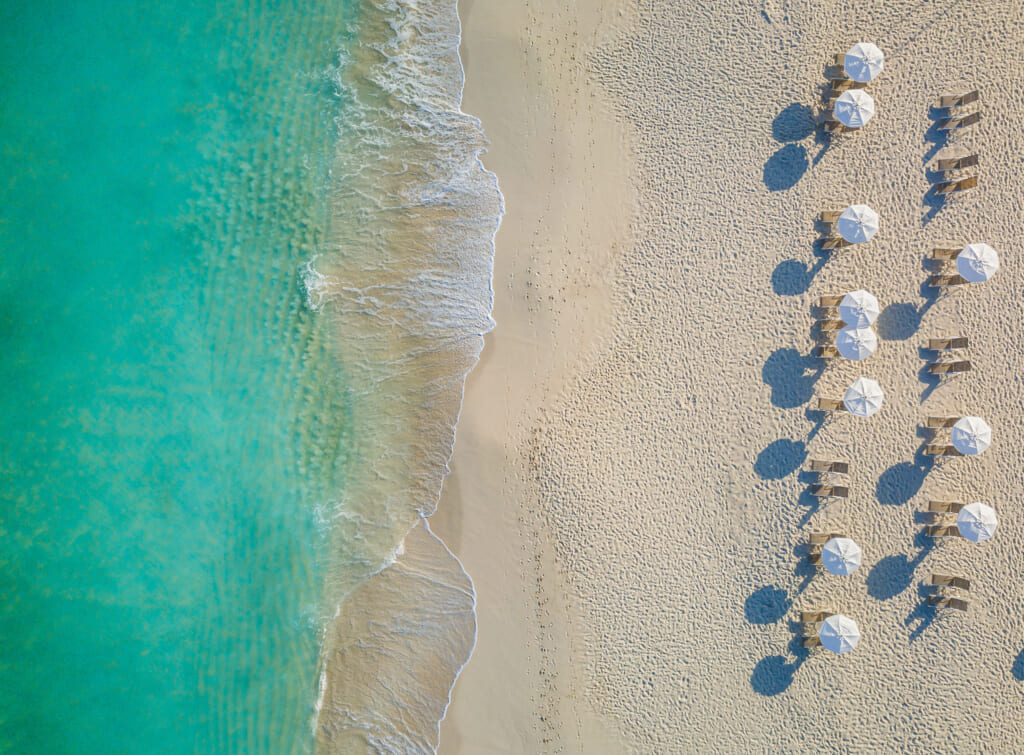 Celebrities ranging from Bruce Willis to Keith Richards have long owned property in the Turks and Caicos, while others can be seen on social media "exclaiming they have 'discovered' Turks & Caicos, sharing drone footage of our secret sandbars and uninhabited cays." Meanwhile, "stories abound of famed travel writers returning to Turks and Caicos post-lockdown and experiencing the islands again like it was their first time." Guilty as charged.
Keeping it all running as smoothly as silk, Simmons cites "housekeepers, pilots, villa managers, mixologists, catamaran captains, beach attendants, dive instructors, greensmen, chefs, wedding planners, and more," plenty of whom we encountered during the course of our journey, all of them extremely capable, genuinely pleasant, and seemingly even happy to see us.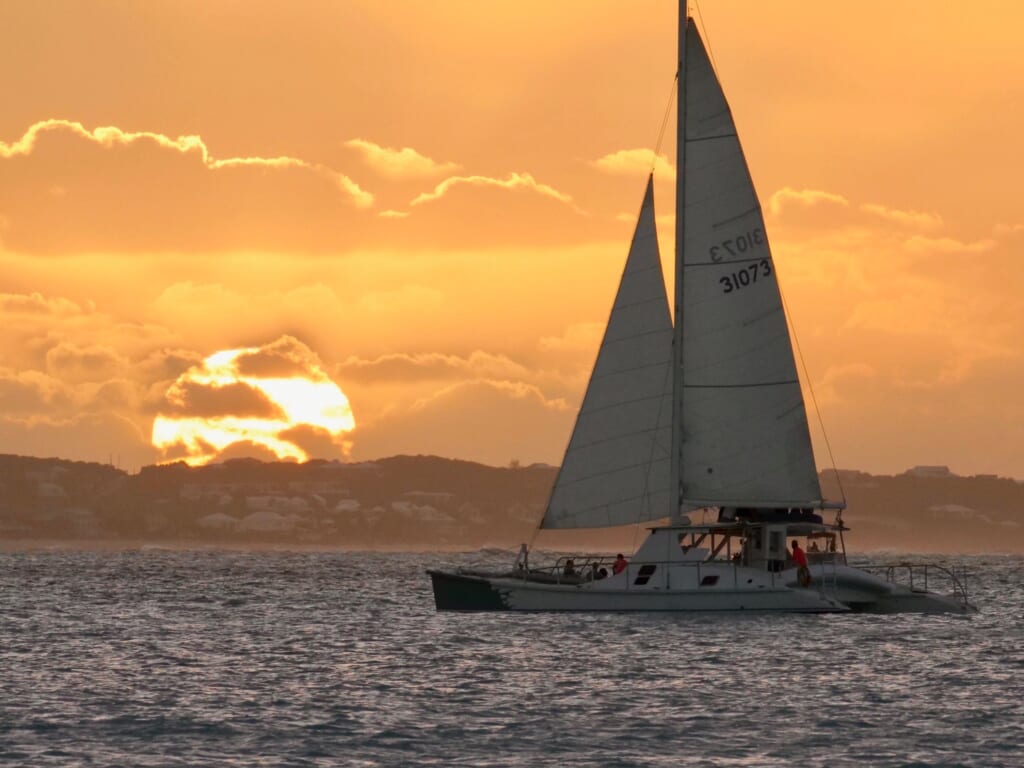 Grace Bay Beach on Providenciales, the Turks & Caicos most populated island and main tourist hub, is consistently named the best beach in the world, so we decided to spend most of our time there, at the incomparable Wymara Resort & Villas, the most stylish and luxurious property on Grace Bay Beach; and the alluring Ocean Club West, with its iconic pink beach umbrellas that are for many an image that defines the island paradise.
Ocean Club Resorts is comprised of two, all-suite beachfront properties located just one mile apart, Ocean Club and Ocean Club West, with the latter being the newest of the two. Home to 68 suites ranging from studios to three-bedroom, all steps away from the Grace Bay Beach, the property is known for its tropical landscaping, Caribbean-style architecture and island-influenced interior design.
Standout features at Ocean Club West include the signature Solana restaurant, a sinuous swimming pool with winding waterways that resembles a flower from above, competition-level tennis courts, and complimentary kayaking, biking, SUP boarding, tennis, and more. The ultra-convenient location also allows access to an array of in-town island experiences, including dining, shopping and more.
Ocean Club Resorts' "Stay at One, Play at Both" policy also allows guests access to the amenities at both resorts, including restaurants, spa services, pools, and activities. Ocean Club West and Ocean Club are located about a mile apart and the resort provides a complimentary shuttle service between the two every hour, or you can tyake a beautiful walk along Grace Bay Beach as it suits you.
Ocean Club is also home to one of the very best restaurants in all of the Turks and Caicos, Opus Wine Bar & Grill. Known for having one of the largest wine cellars on the island, Opus showcases the six major delicacies of the Turks and Caicos Islands: grouper, snapper, tuna, mahi, conch and lobster. Located at Ocean Club, the restaurant has a welcoming mahogany bar with a West Indies vibe, and garden-meets-beach style exterior terraces, as well as live music at certain times.
In addition to the super-fresh seafood, you'll find the choicest cuts of meat, handmade pasta, curries, and more. At the suggestion of Ocean Club Resorts' GM Wilbert Mason, a true expert in luxury hospitality and a gracious host, we opted for the surf and turf, pairing a Black Angus filet with a lobster tail in the classic combination. Opus' chef Rolyn Almonte has been in charge of the kitchen for 16 years, and of course has great relationships with local fishermen—including his brother—for getting the best of the best for his patrons.
When it originally opened in 2009, Wymara Resort & Villas, on the widest and most private section of Grace Bay Beach, immediately became the hotspot in the Turks & Caicos, and has remained the coolest and most stylish property on Grace Bay Beach. In November 2020 the resort, which is spread over four prime beachfront acres, completed a multimillion-dollar renovation, cementing its position as Grace Bay Beach's ultimate luxury destination.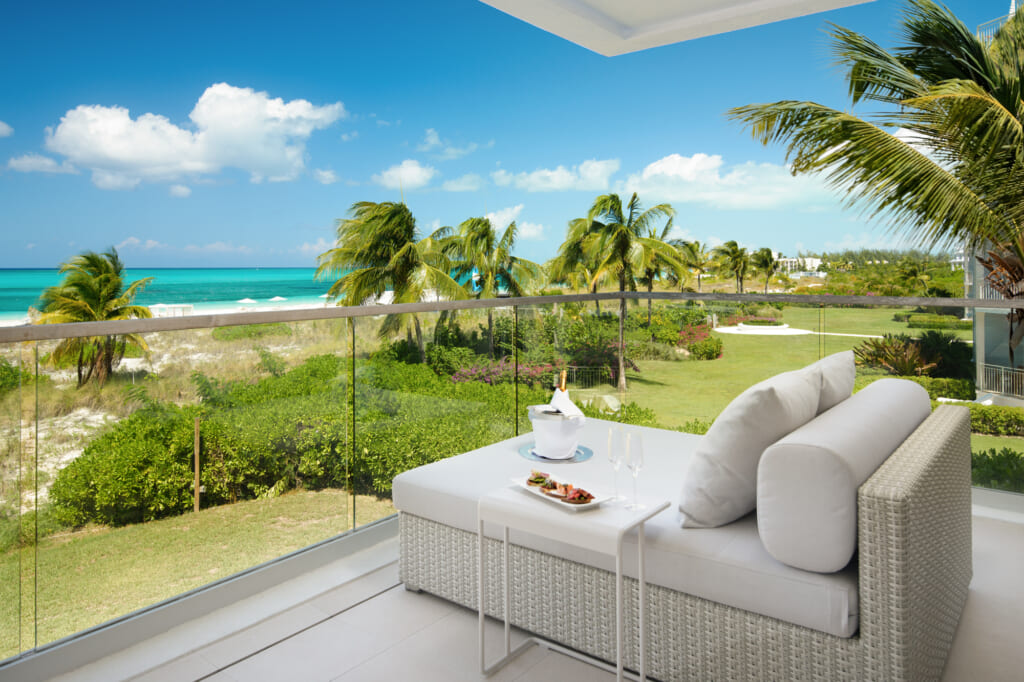 Wymara's signature style has always been simple yet elevated with a fresh, contemporary feel, and it offers 91 newly-renovated rooms and suites, all spacious and all boasting ocean views with large floor-to-ceiling windows making the most of the scenery. The all-white, minimalist decor is accented with pops of colorful Caribbean accents, and the accommodations range from studios to posh penthouse suites.
The Oceanfront Suites have expansive private terraces overlooking the beach and full kitchens and dining areas should you wish to do your own entertaining or host a catered affair. The whitewashed walls of the resort are bedecked in bright bougainvillea, and just beyond the open-air lobby is Wymara's iconic, 7,000 square-foot mosaic-tiled, infinity-edge pool that offers floating island pods and chaise lounges, and is the most exclusive pool scene in Providenciales.
More recently, Wymara has added seven brand-new four-and five-bedroom villas, located a short drive from the main resort building, that offer the ultimate private accommodation in Providenciales. Perched above the turquoise Caribbean in a sheltered bay that's ideal for swimming, villa guests have their own demesne, yet enjoy all of Wymara Resort's amenities, and then some.
Each villa is equipped with its own infinity-edge oceanfront pool, a courtyard waterfall pool, and an over-the-water swim platform with direct access to the shallow bay. The effect of the latter is truly magical. The decor is an even more elegant expression of Wymara's signature contemporary aesthetic, and adding to the sense of privacy, Wymara Villas have their own exclusive Sports Club. Wymara's GM Jorge Collazo, a man with serious luxury hospitality bona fides, has ensured every aspect of the Villas, and the resort, is truly impeccable.
The spa at Wymara Resort is not to be missed. The only organic-certified spa in Turks and Caicos, it features organic and biodynamic products by Eminence and holistic signature treatments to enhance your Caribbean escape. "Whether meditating in the relaxation garden or treating yourself to one of our signature treatments," as the resort puts it, "the Spa at Wymara awakens the senses and soothes your soul." The staff at the spa, and throughout the resort, are among the most personable and welcoming anywhere in the Caribbean.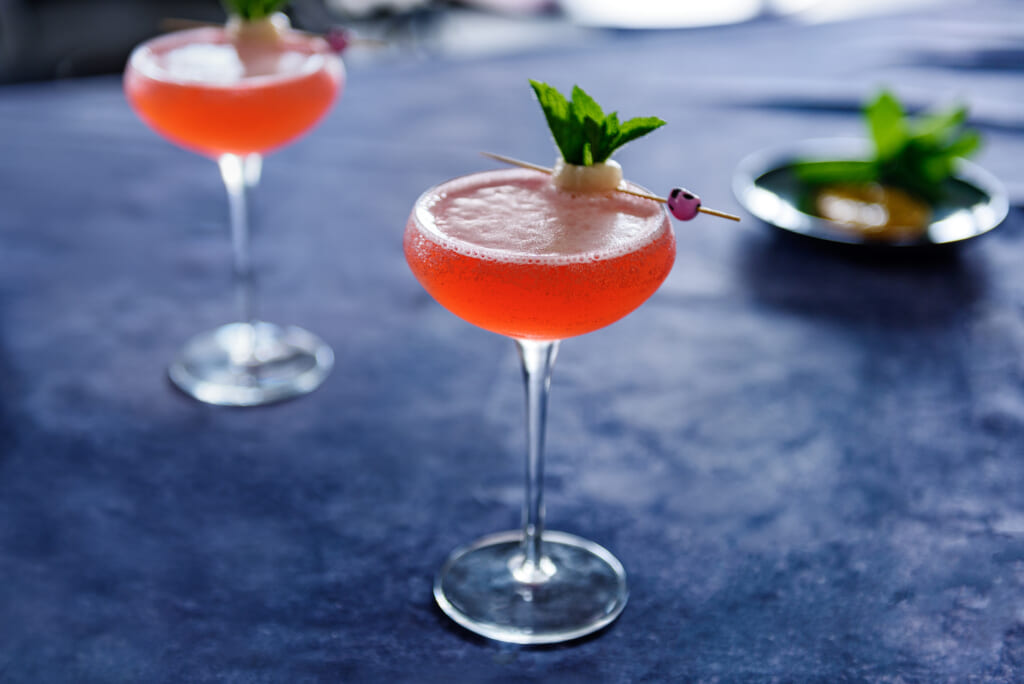 Last but not least, Wymara is home to Indigo, rated the best restaurant in the Turks & Caicos by many savvy travelers and locals. The Caribbean-inspired restaurant, helmed by Chef Andrew Mirosch, uses local cooking methods to "highlight the natural essence of premium ingredients to support our commitment to sustainability, quality, and wellness," with delectable results.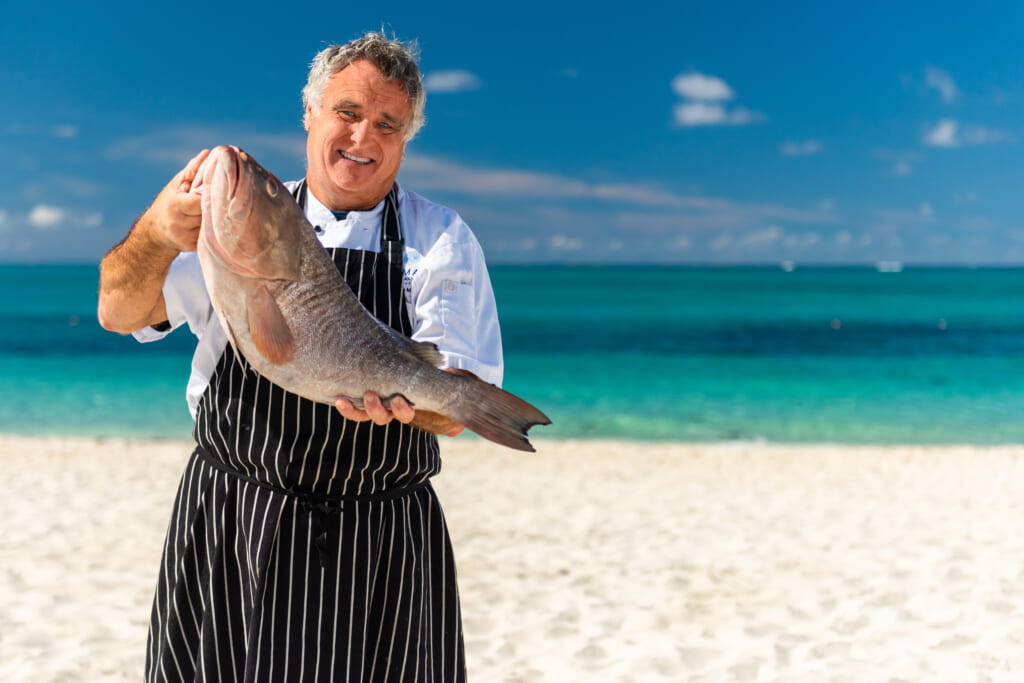 Mirosch, the award-winning Executive Chef and Culinary Director at Wymara, brings global specialties from his homeland of Australia to the Caribbean to "draw a unique combination of International influences and island sensibility and vibrance." Indigo features the "best of the best in terms of quality and sustainably sourced ingredients," says Chef Andrew. Indigo also offers an extensive and elevated Wellness menu, featuring gluten-free, vegan, and vegetarian options, if you're so inclined.
Indigo underwent a recent design refresh as well, and the newly-transformed venue is minimal, yet luxurious. Mirosch's menu highlights include White Sturgeon Caviar, Caribbean Mahi Mahi, Jumbo King Prawns, Rib Eye, and of course, local lobster. Indigo is a "deeply personal endeavor for Chef Andrew, a passionate fisherman," Wymara notes. "As a fierce advocate for local farmers and fishermen, Chef Andrew reaffirms his commitment to them by using only the freshest locally sourced ingredients and supporting local economies in the Caicos Islands.
A ferry ride, or a road trip over a causeway, will get you to Middle Caicos, the largest but least developed of the eight inhabited islands in the Turks and Caicos. Remote pristine white-sand beaches, turquoise water, rocky cliffs, ancient caves, plantations and lagoons can be enjoyed away from the crowds. Call it an escape within an escape, and one well worth seeking out.
Dragon Cay Resort, the only luxury property on Middle Caicos, sits on several oceanfront acres and consists of private cottages and villas nestled into a breathtaking landscape. Each is only a short walk to the private beach, restaurant, and hiking trail. Accommodations range from studio cottages to three-bedroom bedroom villas, each offering quaint beachy decor, ocean views, full kitchens, private patios, and more.
Adjacent to the Dragon Cay property is the enticing Mudjin Bar & Grill, which boasts some of the Turks & Caicos most spectacular views, overlooking Mudjin Harbor. Their acclaimed cuisine is made with locally-sourced ingredients. The Caribbean-inspired American and British favorites include their famed lemon-herb fries, fresh local seafood, and their famous Jerk Burger. The salty sea air is as refreshing as their signature cocktails.
Mudjin Bar & Grill's lovely and accommodating staff go out of their way to make sure guests of Dragon Cay have everything they need. Walking into the restaurant, which you'll want to do every day, you are truly treated like family. Spiny Caribbean lobster is of course one of their features. Local fisherman still dive for the creatures, snaring them by hand, one at a time, and it's a true delicacy.
A scenic drive away in North Caicos is the Barracuda Beach Bar, one of our favorite stops when exploring the more remote corners of the Turks and Caicos. Located at the Pelican Beach Hotel on Whitby Beach, a picture-perfect sandy swathe protected by the barrier reef that can be seen a short way offshore, this is a Caribbean beach bar in the classic tradition, and should definitely be added to your itinerary.
Back in Providenciales, there are some other spots well worth checking out. Grace's Cottage at Point Grace Resort is one of our favorite restaurants on the island. The suitably gracious dinner-only restaurant located at Point Grace Resort is a true architectural gem, with bright-white gingerbread trim and fretwork against shades of peach and coral with lime green touches, shaded by swaying palms.
You can sit indoors, on the porch, in the garden or under a gazebo, as the mood suits you. A stylish mahogany bar anchors the main room with antique yellow walls, a dark stained ceiling, and a tropical-hued floral mural on the back wall. Menu highlights include Grace's Cottage Fruits De Mer, a selection of West Coast oysters, clams, mussels, conch ceviche, and prawns; and Caicos Bouillabaisse, with grouper, mussels, snapper, shrimp, saffron potatoes, tomatoes and garlic.
Parallel 23 at The Palms resort is also not to be missed. This is classic West Indies architecture at its best, with Palladian windows, French doors, walls made of coral stone, black and white tiled marble floors, and indoor-outdoor dining surrounded by towering palm trees. The 72-room resort spans 12 acres at the heart of Grace Bay Beach and has an elegant, old-world feel.
The restaurant's main dining room has views of the display kitchen with a "wow-factor" wood-burning oven "so diners can enjoy the theater of food preparation." Guests can partake in an extensive selection of land and sea specialties, including coconut-marinated conch ceviche, pan roasted sea bass, and 21-day dry-aged steaks, along with a comprehensive boutique wine list.
Great casual spots for local cuisine on Providenciales include Da Conch Shack & Rum Bar and Omar's Beach Hut. Omar's is a popular beachfront restaurant located directly on the water at Five Cays, which specializes in fresh seafood from the local fisherman's dock next door, and classic Caribbean jerk dishes. At Da Conch Shack, conch, a sort of supersized tropical escargot, is obviously a star attraction at Da Conch Shack & Rum Bar, which was named one of the world's top 50 beach bars by CNN.
Also featured in the book 1,000 Places to See Before You Die, Da Conch Shack elevates the art of tropical beach bar fare. You can have your conch as a salad, chowder, fritters, stew or curry as you wish, and the place turns in to a full-on beach party on certain nights, with live music or a DJ. And of course the rum punch is truly addictive, though never sickly sweet.
One of our most beloved attractions anywhere in the Caribbean is riding horses on the beach, and in the Turks and Caicos Provo Ponies does it better than most. This small riding stable is located on the southeast end of Providenciales. You can ride their horses and ponies, matched to each rider's skill, along quiet dirt roads and trails to Long Bay Beach, a four-mile long secluded beach where the horses are free to wade into the water, making for a truly unforgettable experience.
Provo Ponies began as a rescue operation for horses and ponies in the Turks and Caicos islands, and many of its equine residents have been saved from maltreatment or worse. Provo Ponies is now home to 30 of them in all, members of a self-sustaining family. They offer group rides, private rides, and special occasion outings, if say, you would like to propose to your beloved on horseback against an extremely romantic backdrop.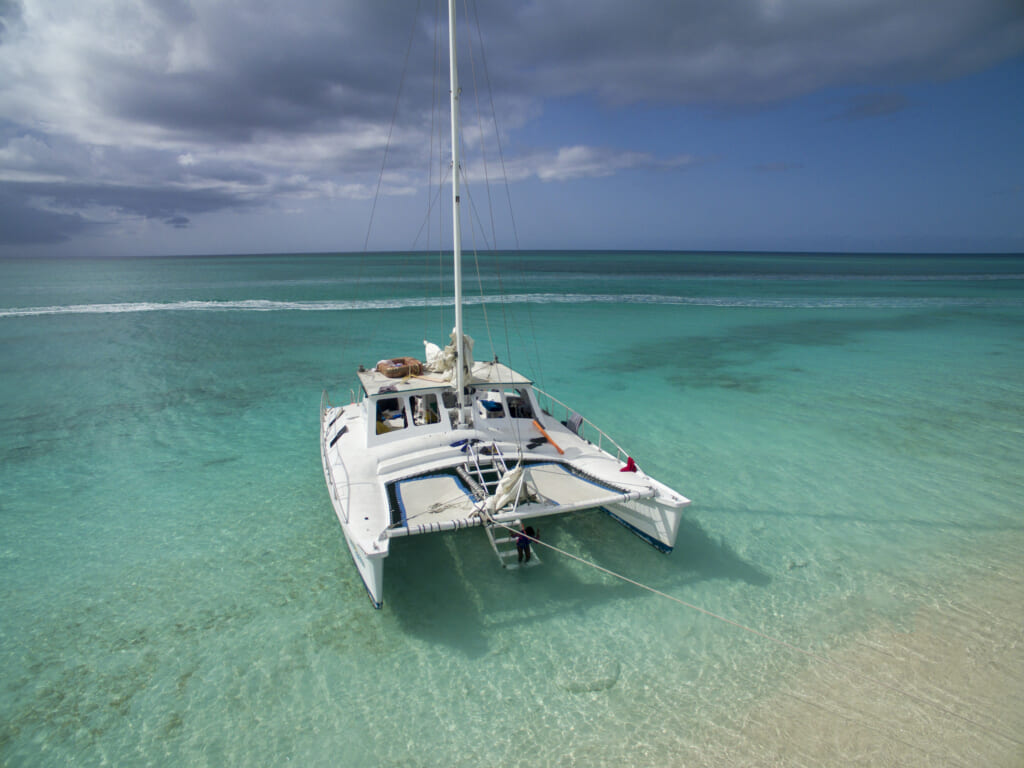 And no visit to the Turks & Caicos would be complete without a boat tour. Ocean Vibes is a native owned-and-operated excursion company originally started by local scuba diving instructor and boat captain Wayne Hall, as a concierge-style dive operation. Over the last 22 years the company has "morphed into a full scale adventure company operating a variety of adventures" on both Providenciales and Grand Turk island, include sailing, snorkeling, and champagne sunset cruises, among other options. Private charters are also available. Bon voyage!