Why the Exclusive Caribbean Island of St Barths is a Must-Visit Destination
The luxurious island getaway features 22 picturesque beaches, a dozen five-star hotels, and 800 luxurious villas.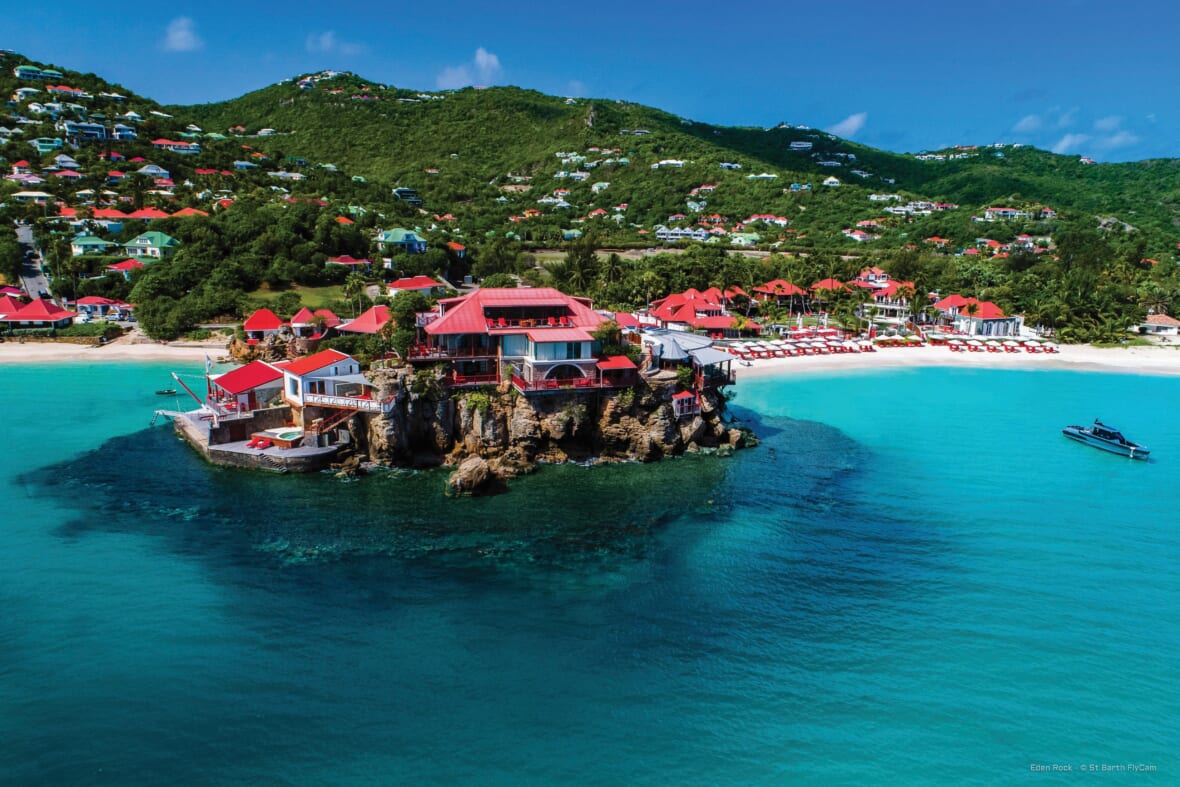 "An approximation of Elysium, a place that is geographically paradisiacal, filled with stylish and rigorously exacting hotels and restaurants, but where an inclusive and renegade spirit suffuses every corner." Those who frequent the world's most luxurious tropical islands and beach enclaves won't have trouble figuring out that socialite and journalist Vassi Chamberlain is talking about Saint Barthélemy, aka St Barths.
The words come from the introduction to her beautiful new book, St Barths Freedom, from top-drawer French luxury publisher Assouline. The latest title in its coveted Travel Series, the voluptuous volume is the next best thing to an actual visit to the idyll in the French West Indies, which lies about 20 miles south of the Caribbean island of St. Martin.
Encompassing less than ten square miles, and home to 22 picturesque beaches, some accessible only by boat, St Barths, despite being one of the world's most glamorous destinations, has managed to maintain its unique exclusivity. This is mainly because, Chamberlain notes, the island has steadfastly "refused to cave in to big hotel groups, tour operators, casinos and even airlines."
Which is not to say that it's lacking in hospitality, as St Barths is home to over 100 restaurants, a dozen five-star hotels including Eden Rock – St Barths and Le Sereno, and 800 luxurious villas that regularly attract the likes of Jay-Z and Beyoncé, Leo DiCaprio, Jeff Bezos, Cindy Crawford, Dua Lipa, and the Kardashians, to name a few.
The annual St Barth Gourmet Festival has also become a major draw, with an increasingly impressive cohort of Michelinstar French chefs descending on the island every November, making it even more of a culinary paradise. And yet St Barths, while undeniably glamorous, is refreshingly unpretentious.
The billionaires who frequent the island might arrive on megayachts, but they usually drive around in Mini Coopers like everyone else. Chamberlain attributes this to the French—St Barths is an overseas territory of France—"who staunchly defend their principles at all costs. So while they happily cater to the whims of those who wish to be defined by their ability to purchase all the luxuries the island offers, they refuse to be swayed by money, particularly if it doesn't accord with the values of the island."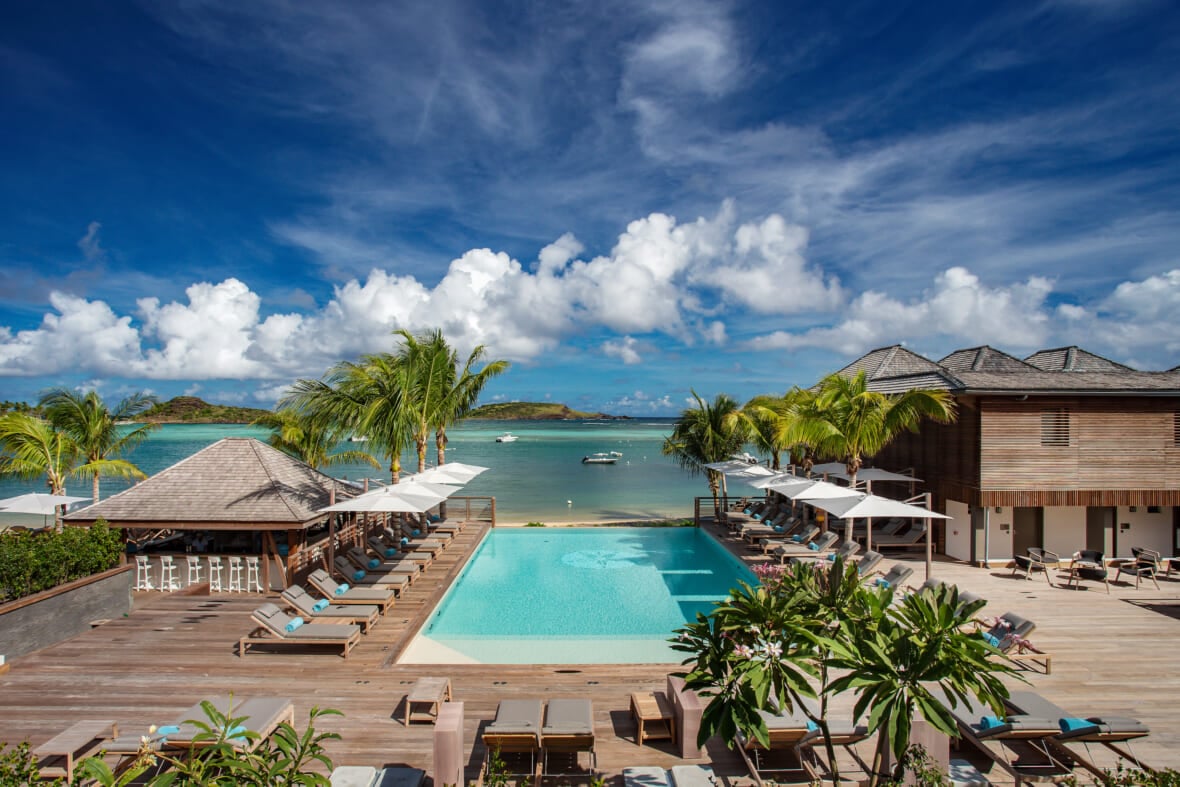 All in all, "No matter how many superyachts line the harbor, how many new restaurants or beach clubs have popped up, or what parties are happening—none of that matters," she concludes. "What does, the one thing that eclipses everything, is the visceral gut-punch seductiveness of the island. Its hills and dips, its incandescent light and deserted beaches, its breathtaking views, abundant wildlife and charming architecture [are] what make it so special…. Nothing trumps the grand and epic beauty" on display everywhere.
So how does this jibe with Chamberlain's declaration that the island's central Gustavia harbor is, "the world's greatest floating catwalk"? Again, it's about how everything is done with style and an emphasis on accomplishment over ostentation.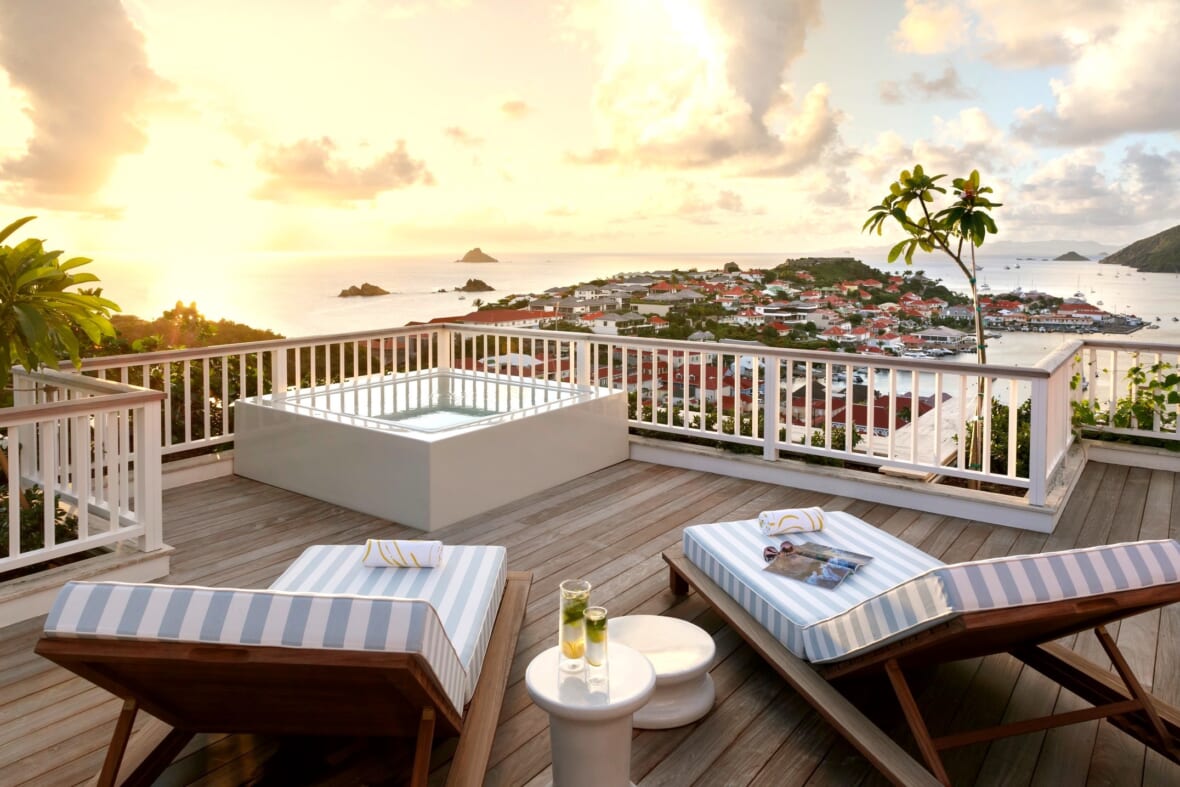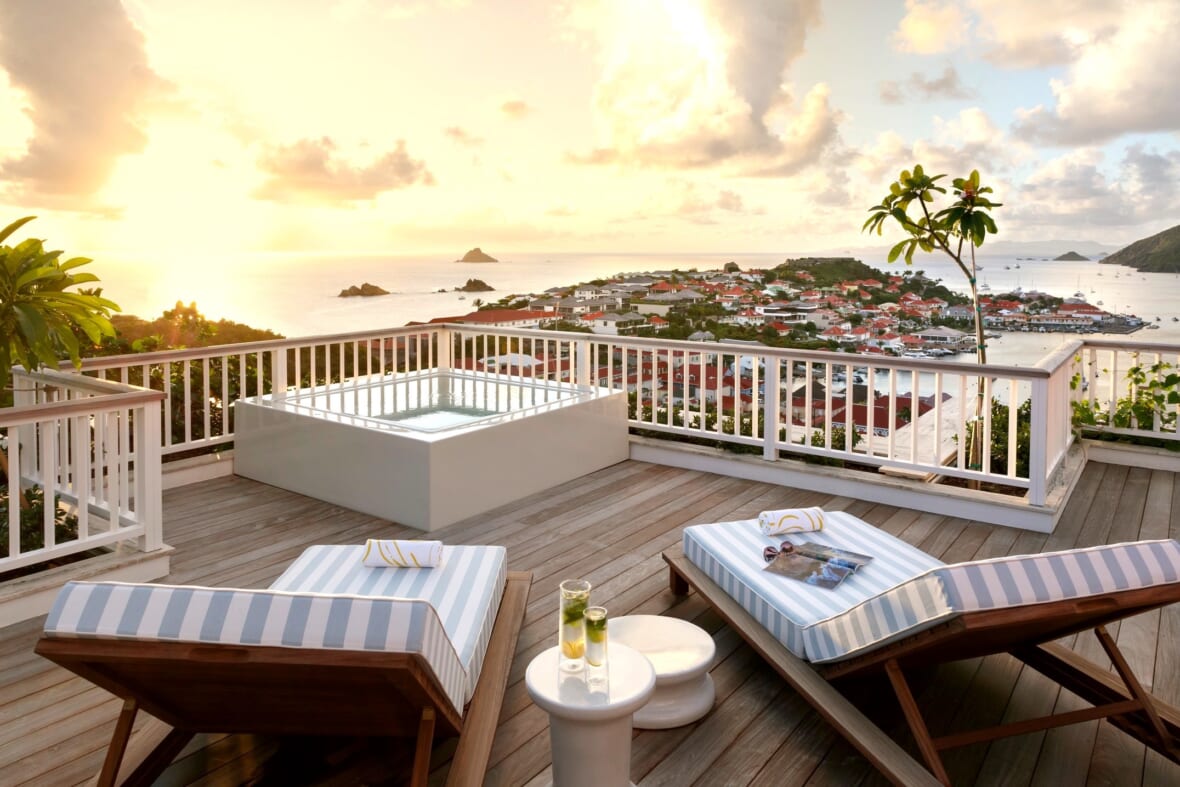 While the winter holidays bring in massive motor yachts—in December 2022, billionaire David Geffen's 454-ft. Rising Sun was the biggest —"The island truly swells to capacity during its two annual classic yacht regattas"—Les Voiles de St Barth, sponsored by watchmaker Richard Mille, and the St Barths Bucket Regatta—she notes, "when the real beauties come out and a fleet of 1930s-style sailboats rule the island…. Some say St Barths is the greatest sailing location in the world, the epitome of elegance and nostalgia."
Think of St Barths and a series of incredible images pop into your head—even if you've never been there. Many of them are featured in Chamberlain's exquisite book.
"Famed photographers including [Maxim Special Creative Adviser] Gilles Bensimon, Patrick Demarchelier, Johnny Pigozzi and art director Fabien Baron, as well as journalists who love nothing more than reporting on the glamorous goings-on, particularly during the holiday period, are all responsible for being the main chroniclers of the Islands modern history," she writes.
"No one more so" than fashion photographer [and Maxim contributor] Antoine Verglas and his wife, former stylist Christiane Celle, "both of whom are an intrinsic part of the island's style. Celle opened her wildly popular boutique, Calypso St. Barths, in 2008, followed by the photography bookstore Clic, which has evolved over the years to include housewares and fashion alongside examples of her husband's work." Stylish, but never stuck up. As Verglas himself puts it, "St Barths gives a very elegant style to the Caribbean, but it is not fancy. There is no artifice… It is always glamorous, but in a natural way."
As the tiny airport, Gustaf III, which has one of the shortest runways in the world, cannot accommodate private jets, many moneyed visitors choose to arrive by yacht. But they are missing out on the undeniable thrill of coming in hot on one of Tradewind Aviation's eight-passenger, single-engine, turbo prop Pilatus PC-12s that are an iconic sight buzzing over the harbor in their stylish silver livery.
"Your fear goes out the window; literally, as a tableau of almost shocking beauty explodes all around you," as Chamberlain puts it. "The visual combination of the delicately shaped harbor, Gustavia, with boats floating on a glittering sea, and the electric green of the vegetation, out of which peek dozens of charming red roofs, scrambles your brain. The perfect distraction, every time…. You haven't even set foot on the ground yet, but you're already in love"—and feeling like James Bond.
From the airport it's a short drive to your hotel suite or villa, operated to world-class five-star standard as St Barths is home to some of the most luxurious examples of both anywhere in the world. In October 2022, St Barths' two largest and longest-operating luxury villa rental agencies were acquired by Nocturne Luxury Villas, merged and rebranded under the WIMCO St Barth Properties banner.
This has enabled WIMCO Villas to expand and relaunch its Special Reserve Collection, which now numbers 30 incredible multimillion-dollar rental properties, and includes private chef services as well as a personal concierge available 24 hours a day, seven days a week. Of course you may well end up buying a villa of your own, as so many well-heeled visitors have.
Private villas are also increasingly being offered by the very best hotels, such as the legendary Eden Rock, the island's first five-star, which attracted the likes of Greta Garbo, Howard Hughes, Robert Mitchum and Jacques Cousteau soon after it opened in the 1950s. Later more boldface names including David Rockefeller, Baron Benjamin de Rothschild and Aristotle Onassis, who docked his 325 ft. yacht, Christina O, in Gustavia, began to make it their home away from home.
Chamberlain writes that Eden Rock, now part of the posh Oetker Collection, is nothing less than "the island's most glorious monument, its unofficial mascot, its beating social hub for over 60 years," and the placethat set the tone for what St Barths eventually became with its elegant evocation of the French Riviera.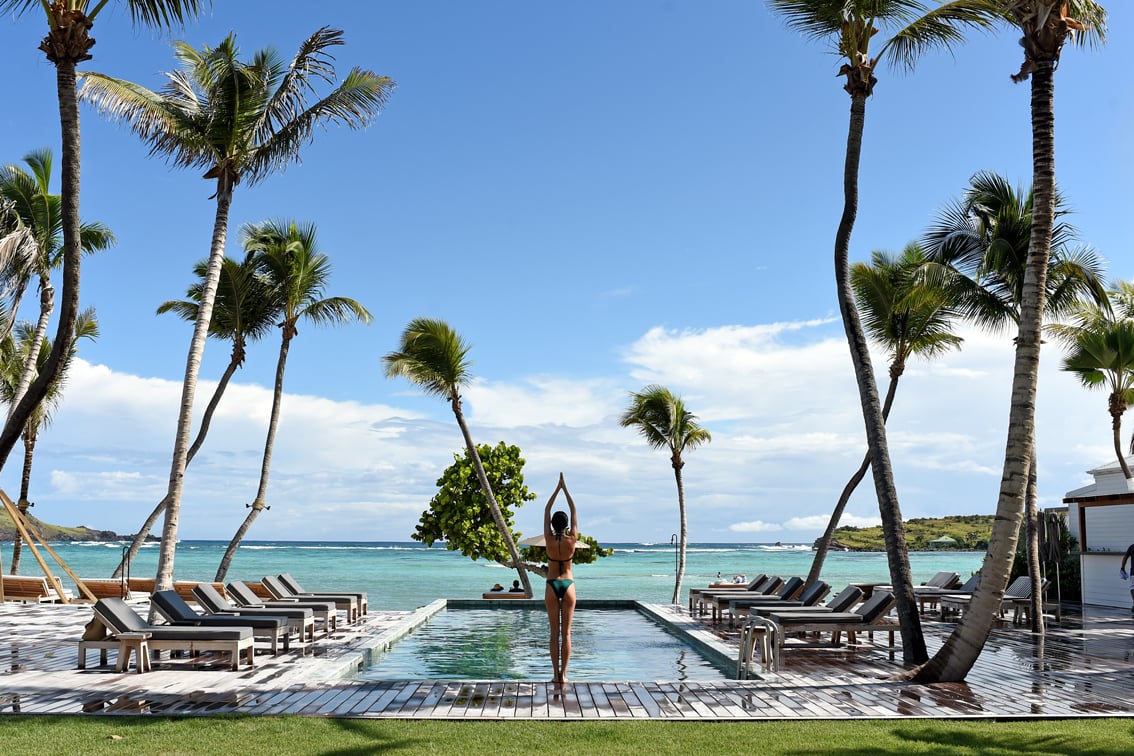 These days you are as likely to run into a Formula One driver or a celebrity chef at Eden Rock—Mercedes-AMG star George Russell, who placed 4th in the 2022 driver rankings, two places ahead of teammate Lewis Hamilton, recently vacationed there, while culinary star Jean-Georges Vongerichten oversees its stylish Sand Bar restaurant, where "heavy hitters from billionaires to supermodels hang out daily," Chamberlain notes.
Vongerichten, who has been coming to St Barths for 35 years and owns a villa on the island, has become one of the most recognizable faces of the Gourmet Festival, when he and other famed French chefs present special tasting menus at the island's top restaurants and participate in special events.
A combination of "the local Caribbean influences, the local fishermen, and local fruits and vegetable coming from neighboring islands, along with food coming from the States and Europe several times a week, really makes St Barths a unique gastronomic destination," Jean-Georges tells us.
That's even more apparent now that two new Parisian outposts have recently opened on the island "catering to serious foodies" Chamberlain notes: Atelier de Joel Robuchon and Fouquet's Saint-Barth. The latter is located in the island's newest and most stylish five-star hotel, Hôtel Barrière Le Carl Gustaf Saint-Barth, from the storied French hospitality group that operates the original Fouquet's in Paris as well as the Hotel Barrière Le Majestic in Cannes.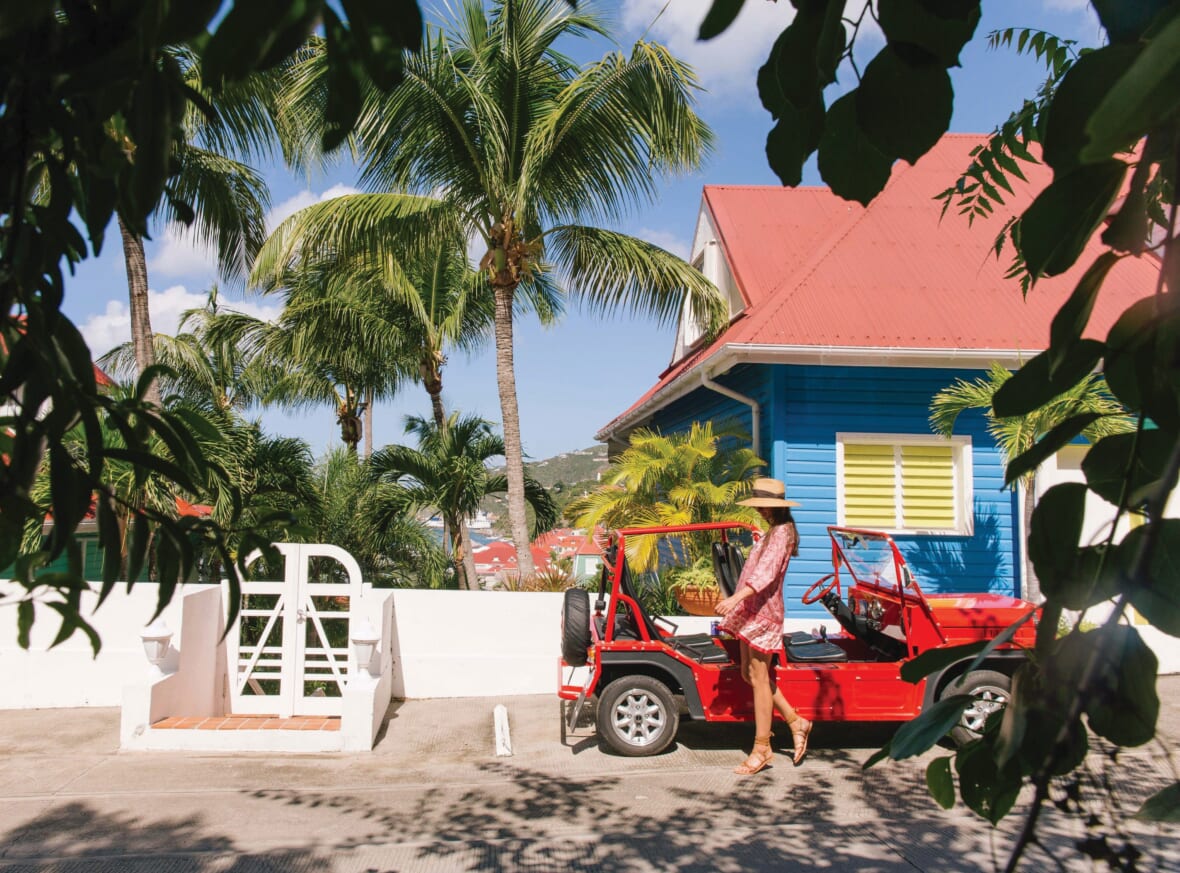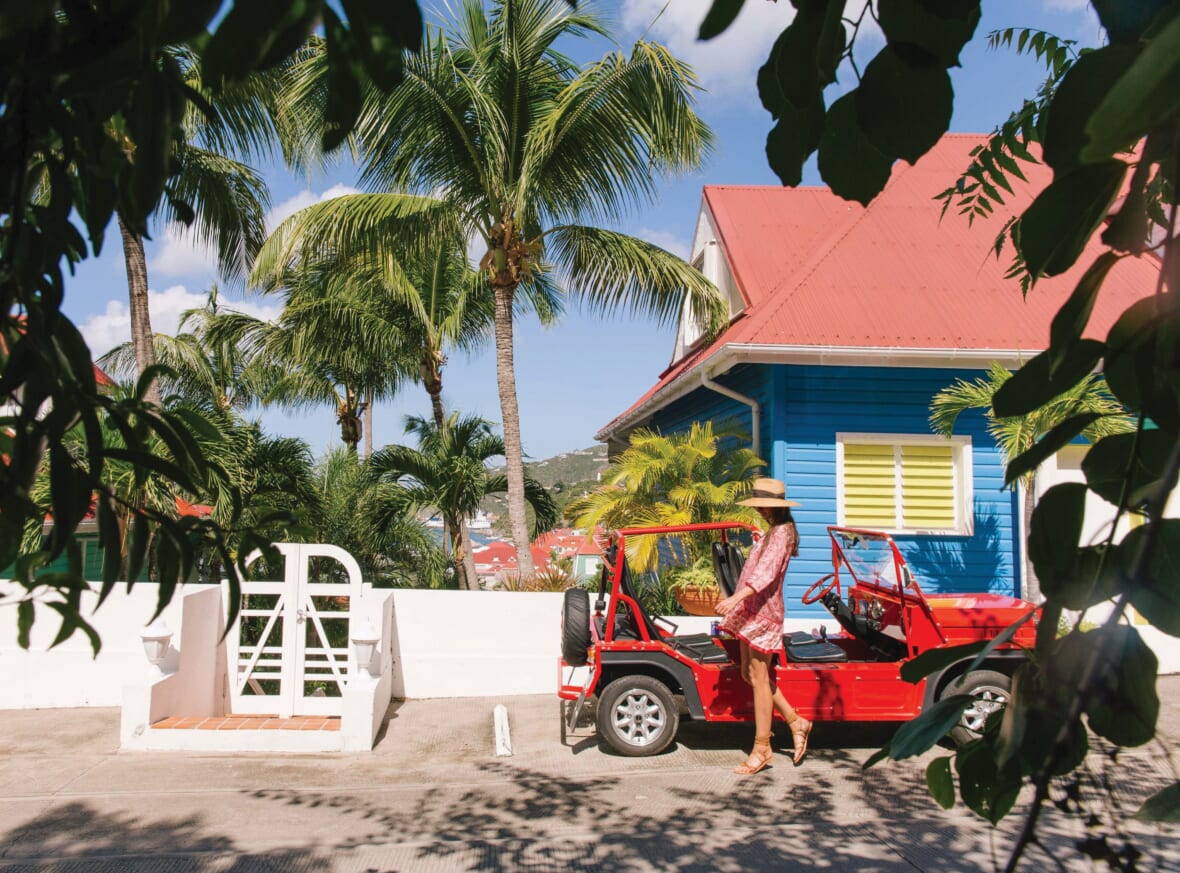 Le Carl Gustaf's interiors were created by famed French design duo Gilles & Boissier, who fashioned an oasis of seaside style with nods to both classic European luxury and island chic for the 21-key boutique property perched on a hillside offering unique panoramic views of Gustavia's harbor.
With an exquisite collection of rooms, suites and bungalows that all face the ocean, including the breathtaking five-bedroom Villa Diane, as well as the world-class Spa Diane Barrière, in addition to Fouquet's overseen by chef Pierre Gagnaire, whose namesake Paris restaurant boasts three Michelin stars, it's quickly become the place to see and be seen. Guests can also spend the day at the hotel's private beach club Shellona Restaurant, just down the hill from the hotel at the picture-perfect Shell Beach.
At the five-star Le Sereno on the island's chill Grand Cul De Sac, the vibe is Saint-Tropez meets Lake Como, as their famed sister property Il Sereno is located in Lake Como, Italy. French design superstar Christian Liagre created the soothing, stylish interiors for the property, a member of Leading Hotels of the World, which once played host to a Victoria's Secret fashion show.
Fittingly it recently also hosted an exhibition of work by Antoine Verglas. "Le Sereno is one of the few remaining enclaves of barefoot luxury defined by the ultimate in service, accommodation, cuisine, and guest activities," as the hotel's dapper Managing Director, Samy Ghachem, puts it.

At the hotel there's also a beautiful boutique from Larusmiani, the ultra-stylish Milanese menswear and gentlemen's accessories brand, a bastion of hand-craftsmanship since 1922, the only one of its kind outside Italian territory.
The first sight that greets guests arriving at Le Sereno are the towering coconut palms set around a beachfront infinity pool with green stone tiles imported from Indonesia, that so captivated the Victoria's Secret supermodels. There are 39 rooms and suites and three villas in all, as well as Restaurant Al Mare, overseen by the all-ltalian team from the Michelin-starred restaurant at Il Sereno in Lake Como. And during the 2022 Gourmet Festival acclaimed female chef Georgiana Viou of restaurant Rouge in Nîmes was the kitchen's guest of honor.
Just down the beach from Le Sereno is the impeccable property known as Le Barthélemy, a five-star member of Small Luxury Hotels of the World (SLH), home to one of the largest and most luxurious spas on the island, as well as a new rooftop bar with some very cool music and mixology activations.
Named the #1 Best Resort in the Caribbean by the readers of Condé Nast Traveler, it features interiors by celebrated designer Sybille de Margerie, and "embraces its chic Parisian pedigree while reveling in its relaxed Caribbean setting—perfection without the unnecessary pretense."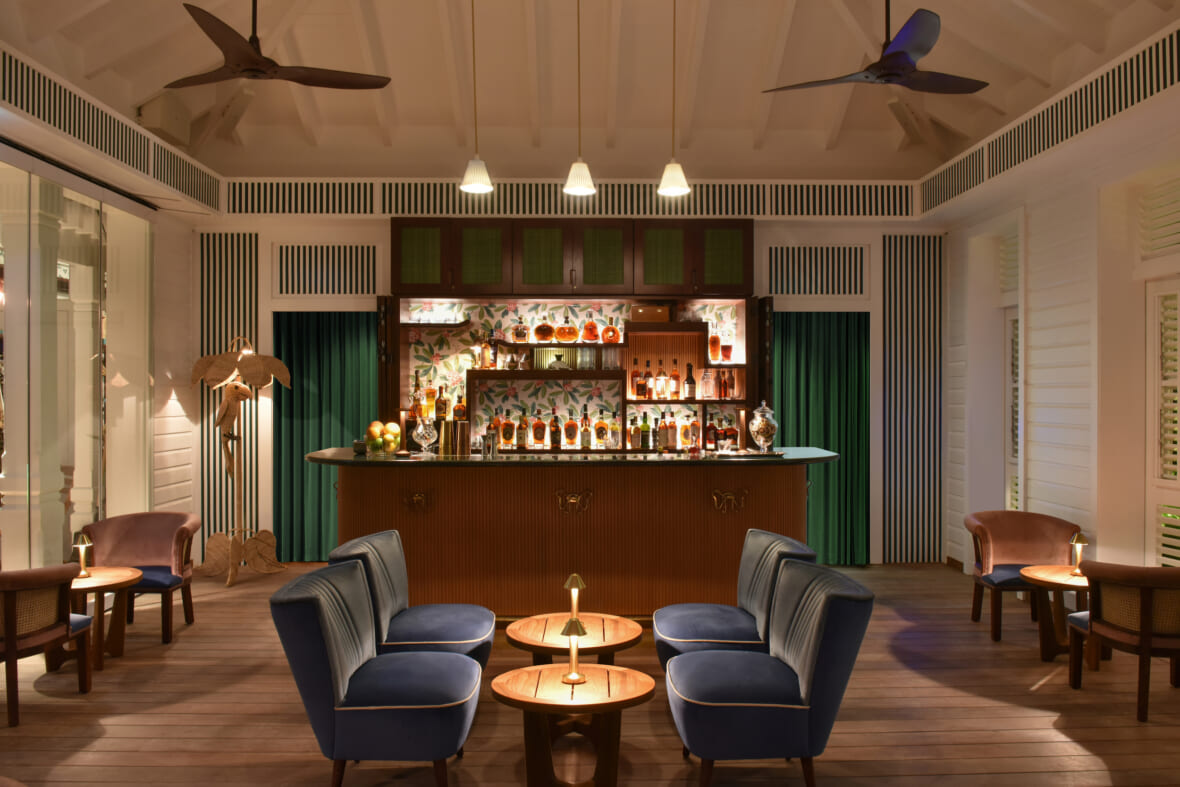 Le Barthélemy is also home to Amis St. Barth, a perfect evocation of French Mediterranean cuisine with island inspiration, and the hotel's alluring rooms and suites, all overlooking the beach, are now joined by Le Barth Villa Rental, expanding its sybaritic offerings. Perhaps the best feature at Le Barthélemy is the "Champagne Please" button on every room phone, which guarantees a bottle of bubbly will be at your door in ten minutes; the hotel's proprietors also own their own champagne maison (and hotel) in France.
Across from Le Barthélemy is Rosewood Le Guanahani St Barth, which alongside the Cheval Blanc St-Barth Isle de France—which alone on the island can claim the coveted "Palace" designation—ranks as the largest hotel on the St Barths, with just over 60 keys. Even these posh properties are designed to embrace the landscape rather than dominate it.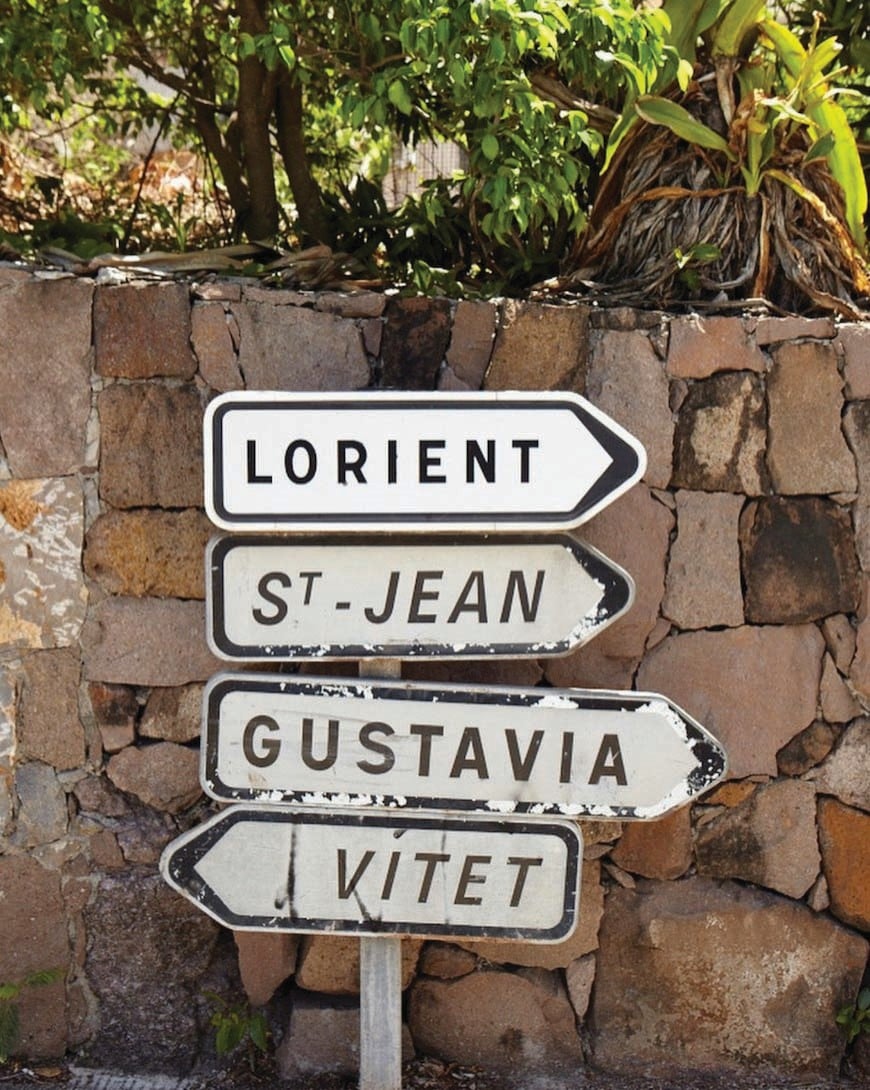 The result throughout the island "is a rare, photogenic cohesion, where nothing looks out of place or feels architecturally dissonant," Chamberlain writes. Rosewood Le Guanahani, formerly owned by American billionaire David Bonderman, secured one of France's true culinary celebrities for the 2022 Gourmet Festival: Gérald Passédat, of three-Michelin-star restaurant Bouillabaisse in Marseilles.
On the ecology and biodiversity front meanwhile, the island is also home to more than 400 species of indigenous plants and trees, 60% of its surface is considered natural zones, and there are almost 3,000 acres of marine park.
"The island's geological distinctiveness creates its natural profile and its varied vegetation favors a diversity in animal species," as the tourism board puts it. "Resolutely turned toward intelligent tourism, St. Barts is launching new energy policies and pilot projects to transition toward a global and innovative vision for the island."
Not all the action takes place at these undeniably impressive hotels or on those gorgeous beaches, however. The rich and beautiful also like to let their hair down at the likes of Nikki Beach, Bagatelle, and Le Ti, where boozy lunches and dinners soon become house parties where dancing on the tables is de rigeur.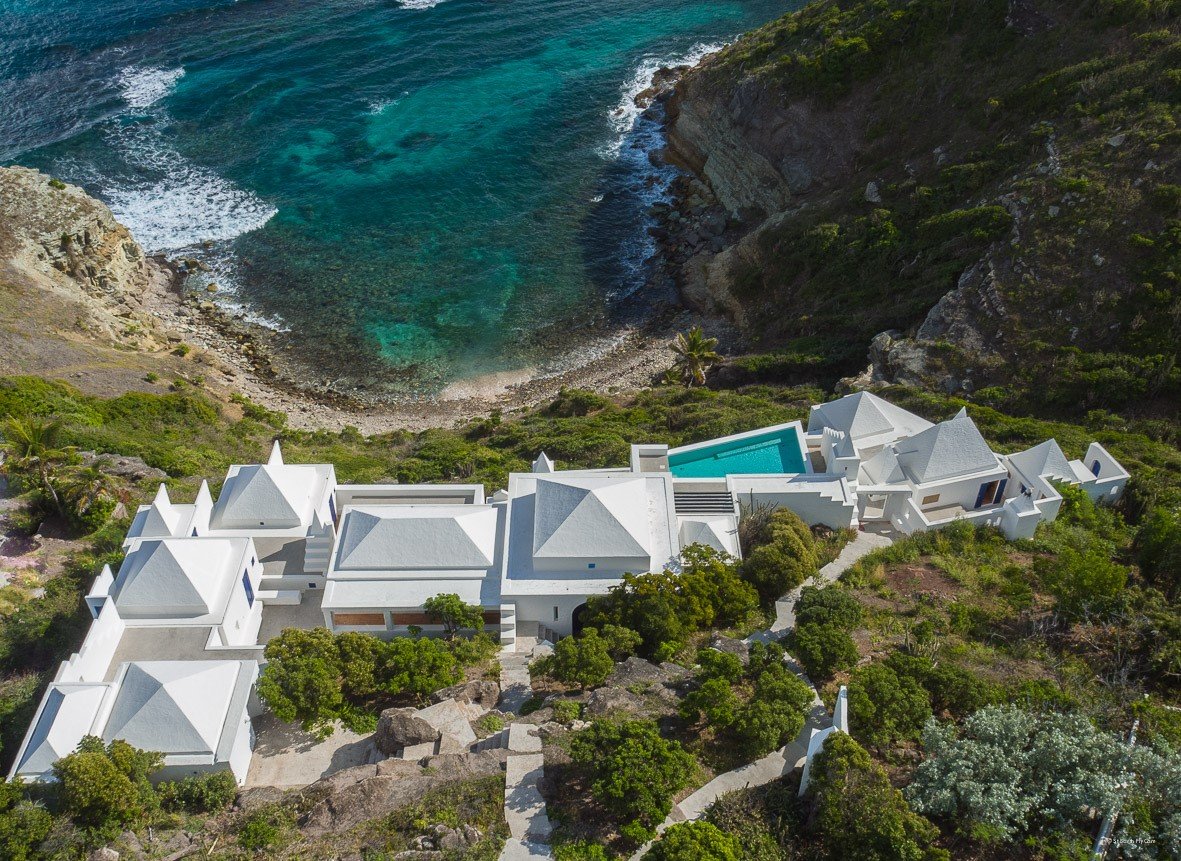 The rustic Le Ti is covered in prints and photographs of frequent visitors including Kate Moss, Jack Nicholson and Pamela Anderson, Chamberlain notes, recalling, "The first time I went, I remember thinking how it didn't seem to fit with the picture of St. Barths, until its pièce de resistance made itself known—semi-naked girls reputedly from the Crazy Horse in Paris, who performed on the tiny stage, bringing a louche turn-of-the-century decadence to the Caribbean. It felt euphoric, unusual, curious."
All these experiences are "now part of the St. Barths legend, and over the years I have witnessed some of the greatest excesses of our time" on the island, Chamberlain concludes. "But while entertaining, they are always just an amusing side show, never the main story. The grandeur and excess of its beauty, its soul and its spirit, its adroitness and its style, all fashioned with love and care by those who were born and live there all year round—now, that is the real St. Barths."
This article originally appeared in the March/April 2023 issue of Maxim.