From Russia With Love: Meet September Maxim Cover Girl Anne V
Get to know the Russian supermodel who is taking America by storm.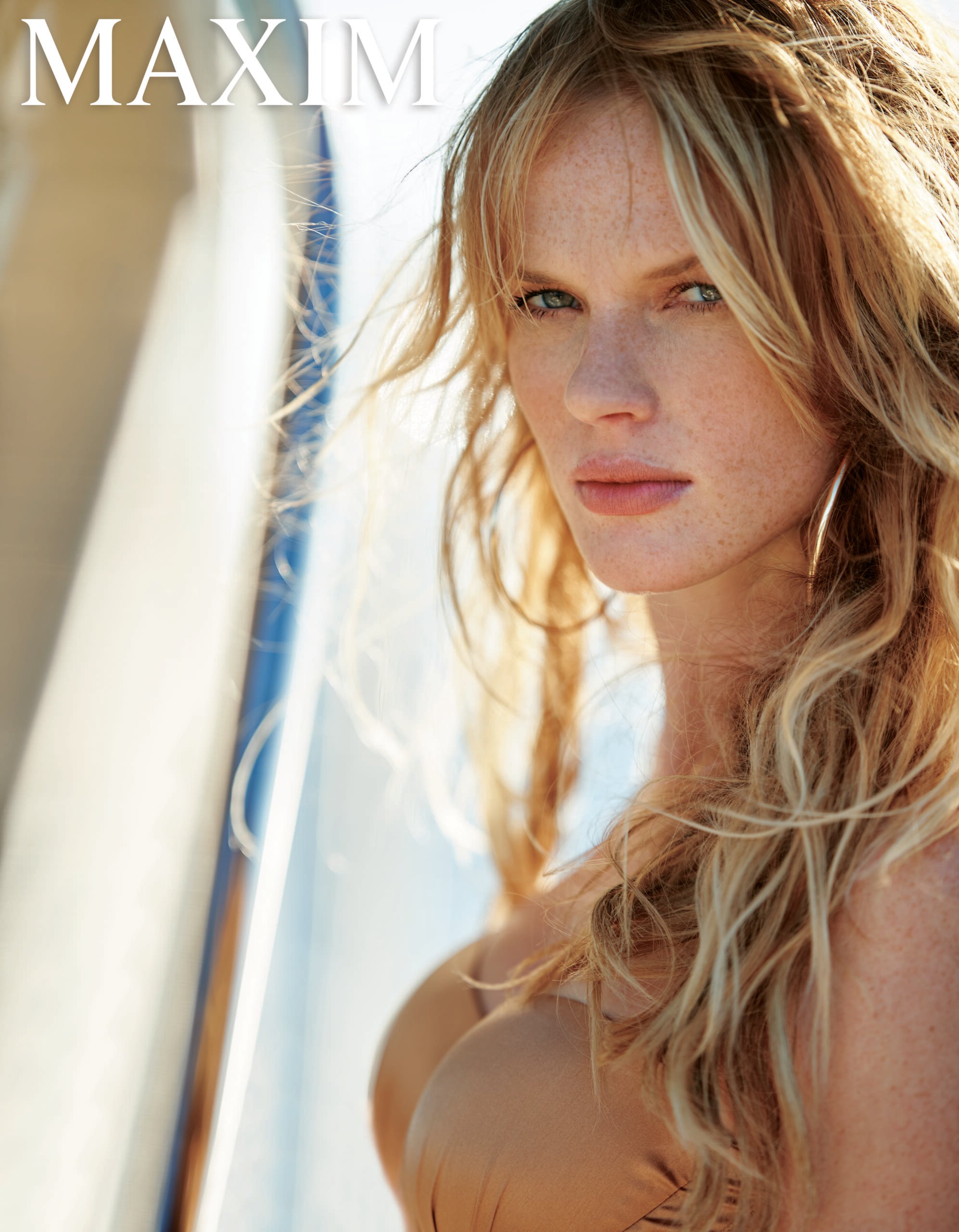 Anne Vyalitsyna, known to all as Anne V, is a 5'10" Russian supermodel who once posed naked for the cover of Vogue. She's a woman with a face so coveted—by the likes of Chanel and Calvin Klein—that she fronted a reality series called The Face. 
And yet, when we meet for coffee in Manhattan's West Village, what she really wants to talk about is decidedly less titillating. It's America's citizenship test. Or more specifically, her issues with it.
She tucks her impressively long legs underneath the table and gets right to the point. "I take this shit very seriously," she says. V was a straight-A student in Russia and wants me to know that she approached the exam with a similar resolve; she didn't want to pass the test so much as crush it. 
"I had to know all the answers," she says. "But it was actually really easy. I was like, Is this the best question you can give me? Who is the vice president? I was expecting it to be so much harder."
This is Anne V—competitive, unflappable and now a proud American, speaking nearly perfect English like someone who learned the language watching TV news. Another impressive (if less attractive) American, F. Scott Fitzgerald, once said there are no second acts in American lives. But how about for immigrants? 
Anne V, who has been the frontwoman for Chanel perfume and a staple of high fashion magazines, is in the midst of a reemergence. After loving—and leaving—both Maroon 5's Adam Levine and Mets pitcher Matt Harvey, she stepped away from modeling and leaned in to motherhood, having a baby in 2015 with a very different kind of rock star: Adam Cahan, a Silicon Valley entrepreneur who sold a company to Yahoo! for upwards of $20 million in 2011 and now serves as the tech giant's SVP of mobile and emerging products, where he was once tasked with making Yahoo! mail relevant again. Anne V, a supermodel, now finds herself starring in her very own real-life episode of Silicon Valley.
"If someone told me fifteen years ago that I would be living in San Francisco, I would laugh at them," she says, adding: "I've been to TechCrunch. It's hilarious." If you're wondering what the hoodie-and-flip-flop crowd make of this Russian gazelle, she might have an idea. 
"They're probably saying, 'Here's Anne V again—wearing all black.' It's funny; you can actually spot the New Yorkers in San Francisco. The girls wear all black and a red lip." If Bay Area style leaves a little to be desired, the women there impress in other ways, V says. "They're smart and fucking ballsy."
For the record, Anne V, 30, doesn't look like she had a baby 12 months ago; when we meet, she's wearing short denim shorts and a slim white T-shirt, her hair blonde and her freckles summer ready. The proof is in the pages—captured here by Gilles Bensimon on a boat in Saint-Tropez, taking a welcome break from motherhood for a few glamorous days. (Flying home from the shoot, she tweeted to her 468,000 followers: "Bye Saint-Tropez you have been real! Thank you for rosé wine headaches.") 
She's camera-ready and back at work, but she's very much in transition, meditating on what comes next and, for the first time, daring to ask herself, What makes me happy? Besides watching Veep, which she does religiously. Life will do that to you. 
She's not just a mother to one- year-old Alaska but also now a stepmom to Cahan's two children from a previous marriage. Sometimes Anne, a woman who once regularly flew to Paris to walk in runway shows that lasted less than eight minutes, finds herself picking the girls up from school, half-joking, "I'm going for the MILF award."
Perhaps upheaval is her comfort zone. She was discovered at age 15 by IMG Models while they were scouting in Saint Petersburg for a modeling competition in 2001. Taking her first-ever plane ride to Milan, she won the competition, and later that year she arrived in New York. 
She spoke no English and found herself installed in an apartment on 34th and Park with six other models. "It was kind of a shit hole," she says now. "We had three bunk beds in a bedroom and then, during the shows, they would put three more girls on the couches. We had one bathroom." Which is to say: It was also pretty exciting.
Fifteen years later—after appearing in the Sports Illustrated swimsuit issue for a decade straight, and after a few of her romantic relationships made her a paparazzi target—she got pregnant, rolled the dice again and moved west. She wondered if her modeling career might be over (it wasn't) and feared, she says, "Is anyone going to give a shit about me?" In Silicon Valley parlance, she contemplated a pivot. V had flirted with acting before, appearing in A Good Day to Die Hard, but it didn't take. ("I'm a lot better at showing my personality than trying to act like some- one else.") 
So she wrote a children's book about a flying dog and then imagined developing a series of fitness apps for pregnant women. "When I first got pregnant," she says, "I literally thought, I'm going to do a bazillion things, because I can't model now. People said, 'Girl, you've been working for fifteen years. Can you just chill the fuck out and relax?' "
And so she has. Or at least she's trying to, anyway. She and Cahan, 44, are engaged but haven't set a wedding date. "We're practically married anyway," she says with a shrug, telling me they're building a house in San Francisco's family-friendly Pacific Heights neighborhood, home to Larry Ellison and PayPal's Peter Thiel. (Her devotion does have its limits, however. When asked if she uses Yahoo! Mail, V doesn't exactly apologize. "I don't," she admits. "I've been a Mac girl for a very long time.") But after dating celebrity athletes and singers, she's finding unexpected joy in dating a guy with a day job.
"I finally realized that I was worthy of a man like this," she says. "I think you need to find someone who respects you and loves you and doesn't hold you back—who pushes you to be better. It's never easy finding someone who puts their issues aside to try to work things out. When you have someone who's not really secure in themselves, it's very hard for them to admit, 'Yes, I'm wrong.' Most people are like, 'I want it this way, I am who I am.' " She ruminates for a moment on her extreme life makeover. "I came to America, and now I have a white picket fence and a beautiful house. It's kind of the American dream."