Kate Upton Calls Miami Dolphins Players Kneeling During the National Anthem a "Disgrace"
"Sitting down during the national anthem on September 11th is even more horrific."
Kate Upton is outraged by the NFL players who kneeled for the National Anthem during the 15th anniversary of the attacks of Sept. 11, and the supermodel is taking a stand.
Upton posted a photo of the four Miami Dolphins players in question—Arian Foster, Jelani Jenkins, Michael Thomas and Kenny Stills—and gave them a piece of her Star-Spangled Banner-loving mind.
https://www.instagram.com/p/BKO8_ZGA87r
"The national anthem is a symbolic song about our country," wrote Upton. "Sitting or kneeling down during the national anthem is a disgrace to those people who have served and currently serve our country."
"Sitting down during the national anthem on September 11th is even more horrific," the poison-pen Insta caption continued.
The players were ostensibly showing support for San Francisco 49ers quarterback Colin Kaepernick, who has been refusing to pledge his allegiance due to the recent spate of police shootings of unarmed African-Americans.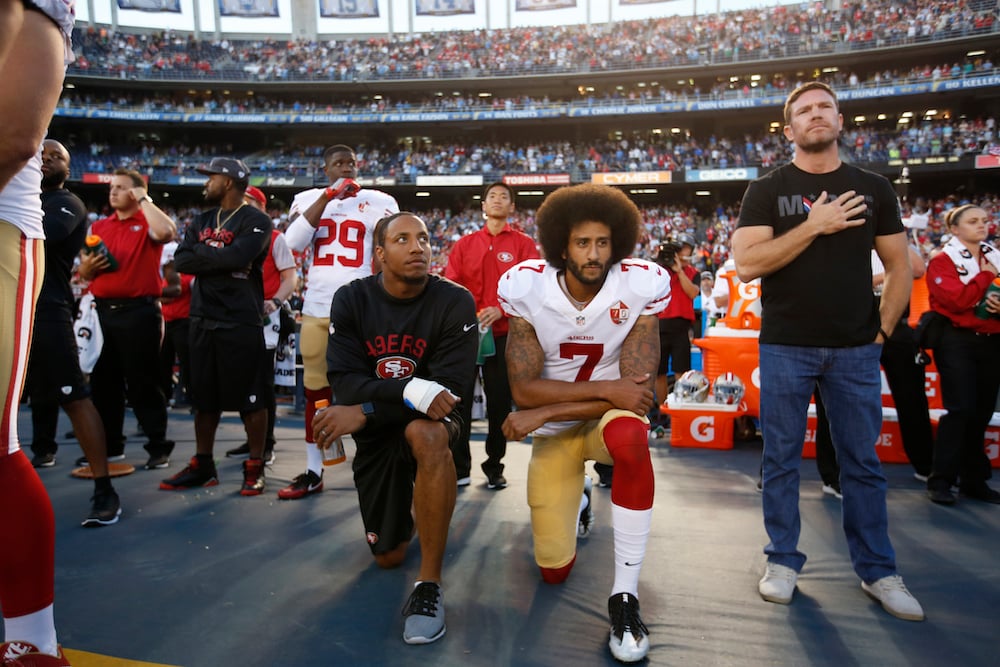 "I am not going to stand up to show pride in a flag for a country that oppresses black people and people of color," Kaepernick told the NFL last month."To me, this is bigger than football and it would be selfish on my part to look the other way. There are bodies in the street and people getting paid leave and getting away with murder."
That point is not wasted on Upton.
"Protest all you want and use social media all you want," she clarified. "After the song is over, I would encourage everyone to please use the podium they have, stand up for their beliefs, and make America a better place."
Now, Upton is taking some heat herself.
https://twitter.com/KateUpton/status/775151520941744128
"Maybe you can be proud to be an American and also protest those things that you think aren't so great about America," journalist Soledad O'Brien tweeted.
"They have every right and SHOULD protest just not during those two minutes on 9/11," Upton unwaveringly replied.
This isn't the first time Kate Upton has been unabashedly patriotic (see below). 
" tml-embed-width="640″ tml-embed-height="480″ tml-render-layout="inline