Kourtney Kardashian Teases Nude Photo Shoot On Instagram
"I am very comfortable in my own skin and I think it is important to expose positive images of our body."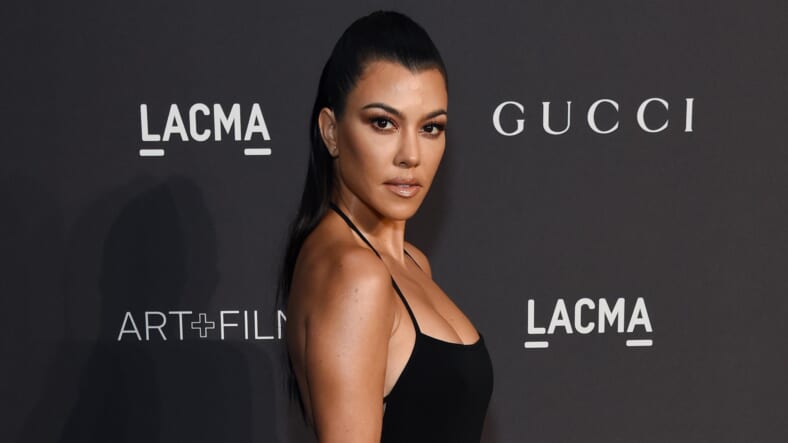 Getty Images
Kourtney Kardashian isn't afraid to show some skin (once again) for her latest magazine photo shoot. 
The eldest Kardashian sister, 39, just dropped a nude Instagram from her cover story for GQ Mexico's December/January issue. 
https://www.instagram.com/p/BqsWNohnd9m
The Keeping Up With the Kardashians star flaunts her abs and backside while rocking a classic hand bra pose for photographer Michael Schwartz.
She wears three different bodysuits on the cover itself and two other images that were posted to her feed a day earlier. 
https://www.instagram.com/p/Bqpua8zHqC0
A beige Calvin Klein bra and a striking bottomless pose are the stars of two more photos. 
https://www.instagram.com/p/Bqps7XJBc3xhttps://www.instagram.com/p/Bqp02bmnbvU
In the accompanying magazine story, Kardashian revealed that she sees stripping down for the camera as a way of spreading body positivity. 
"I am very comfortable in my own skin and I think it is important to expose positive images of our body."
As E! News notes, the mother of three has bared it all before—once while pregnant and once after she had her son, Reign. Kardashian described both as liberating experiences.
https://www.instagram.com/p/BdyHhkkDzCy
"A body during pregnancy is beautiful. I always enjoyed being pregnant, it's a very beautiful state and that's what I wanted to show," she told the mag. 
"In the second study, I was portrayed from behind, lying on the floor; I loved it, I felt power in my body and I wanted to transmit it to women."
Keep doing you, Kourtney. 
https://www.instagram.com/p/Bm4-1wFDK50https://www.instagram.com/p/Boj2eb6joZAhttps://www.instagram.com/p/BnoiPP1BD0Khttps://www.instagram.com/p/BpC89O5h-6Rhttps://www.instagram.com/p/Bm6ND_tjN8Qhttps://www.instagram.com/p/BlTWSRjjjB7