What a Beautiful Woman Wants: Abigail Ratchford
"I'm so used to calling the shots in my everyday life that when it comes to the bedroom, I like to be told what to do."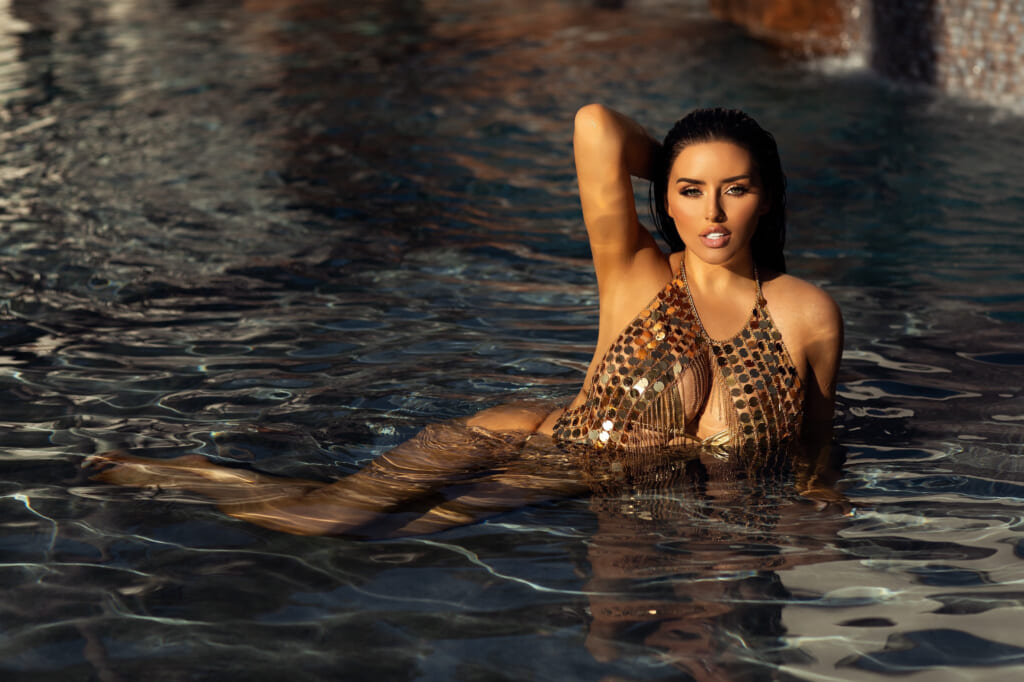 Maxim was a fan of the Abigail Ratchford long before the voluptuous beauty became widely known as the "Queen of Instagram." 
Her transformation from a small-town girl from Scranton, Pennsylvania to the Beverly Hills-based Instababe we know today was kick-started after snaps lensed by a local photographer went viral in 2013. That's when the hard work began.
"I began shooting with different photographers in Philadelphia, New York City, New Jersey, Baltimore and elsewhere" she tells Maxim. "I would take one to two hours every day to contact different sites with my photos and tell them that I was an up-and coming-model. I was my own manager and publicist that first year."
With potential opportunities piling up on the West Coast, Ratchford moved out to LA just nine months into the game. It was undeniably the right move.
She's brilliantly used her social media stardom to secure bigger and better gigs, including a spot on the 2018 Maxim Hot 100, a guest appearance on E!'s Daily Pop, and a role as a Kim Kardashian cosplay in Kanye West's Yeezy Season 6 campaign.
"I think Kanye is a genius with marketing and one of the nicest people I've had the honor of working with, so that was a huge highlight for me," Ratchford says.
She recently launched the highly-reviewed "Abigail Ratchford Official" app and has plans in the works to start a size-inclusive luxury lingerie line. It's only a matter of time before this blossoming model becomes a household name.
Until then, learn all about what Ratchford wants below:
How can a man catch your attention?

I love guys with a sense of humor. My friends and I call it roasting. Like when you and a guy can kind of bust each other's balls, so to speak. That's super attractive. Also, I love people who get references to movie lines, pop culture, observations, etc. It's the worst when a guy is hot but a total dud.
What's the worst pick-up line you've ever heard?

"You look just like my ex-girlfriend" is one I get a lot. Worst ever.
How do you let a man know you're interested?

I'm pretty straightforward if I like someone. I think a guy should put in the work to woo the girl initially, but I'm not the type to lead people on. I don't waste anyone's time, especially my own.
Tell us about your dream date.
Hmm, probably dinner somewhere super cool and fun, then drinks. Or something totally different like glow-in-the-dark mini golf.

What about a man turns you on the most?

I like a boss. I like when a man commands attention when he enters a room. You can tell by the way people around act without him even saying a word.
When do you feel sexiest?

I feel sexiest after a shoot when I still have some makeup kind of halfway on, but my hair is all messy and looks like I just rolled out of bed. And I change into like a silk slip or loose t-shirt.

Who's your biggest celebrity crush?
People always ask me this, but I never know for sure. Maybe Tom Hardy? My type would be Vince Vaughn in the Swingers era. As far as my girl crush, Rihanna all the way!

What's on your favorite music playlist?

Old school Kanye, Jay-Z, The Weeknd, Prince, Biggie, Nas, Wu-Tang, Toro y Moi, The Rolling Stones, Talking Heads, Girl Talk, Daft Punk, Depeche Mode, Gunna…I'm kind of all over the place with music.

Do you have a favorite athlete or sports team?

Favorite athlete is Cristiano Ronaldo. Aside from that, I don't really like sports except MMA because three of my four older brothers are black belts in Brazilian ju-jitsu, so I'm familiar with the sport.

What fashion brands do you like the best?

Off-White, HMN ALNS, Yeezy, Tom Ford.

What's your favorite meal?

My favorite meal is the miso-marinated black cod from Nobu. I actually learned how to make it myself a few months ago and killed it! It's the most delicious thing on earth. I'm also obsessed with soup. I got a crock pot recently and am trying new soup recipes.
What's your favorite thing to do in the bedroom?

My favorite thing to do in the bedroom…hmm. I'm good at lap dances, or so I've been told. Always good to set the mood with those.

And what should a man never do in the bedroom?

One thing a man should never do in the bedroom is talk the whole way through it, like narrate it. WTF is that about?!
Have any sexy fantasies?

I think my fantasies, or just things that turn me on in general, are when a man takes control. I'm so used to calling the shots in my everyday life that when it comes to the bedroom, I like to be told what to do.

Lastly, what's your guiltiest pleasure?

My guiltiest pleasure is taking naps. A few days a week I'll sneak in like an hour-long nap, but I'm trying to eliminate that and just go to bed an hour earlier.
For more, follow Abigail on Instagram.