Watch Behind-the-Scenes Footage of the Threesome This YouTube Vlogger Had With a Hottie She Met on Twitter
First she let her best friend "try" her boyfriend's penis, and now this.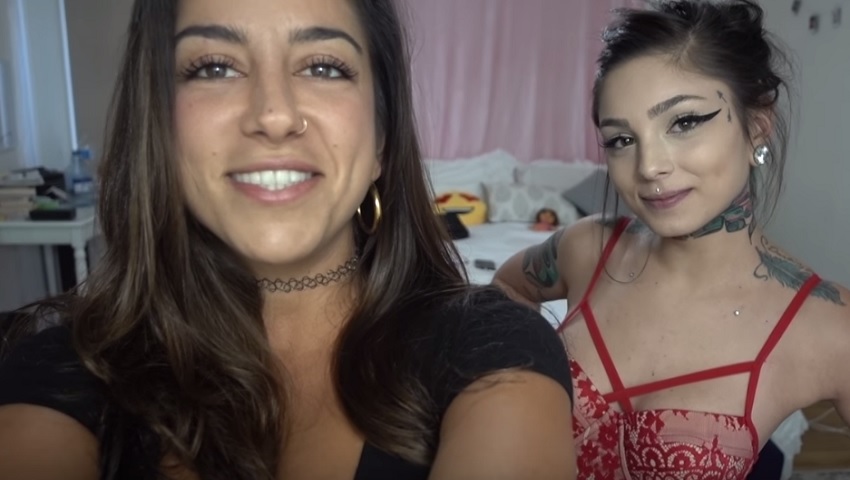 Video Still
Vlogger Lena Nersesian is nothing if not sex positive. She says she'll gladly release a sex tape if she gets a million YouTube followers. She also had no issues sharing her boyfriend's tool with her best friend. Now Lena is encouraging others to get out and have threesomes, because apparently she and boyfriend Adam Grandmaison had one with Snapchat model "Tigerlily" Taylor White, and they had a hell of a good time. 
Taylor White was "auditioned" through Twitter, apparently, and it seems like she didn't have much trouble acing that audition.
The video above won't give you all the goods, but it does provide a breakdown of Lena's day, which involved going to a show, meeting up with Taylor, and then, well, getting it on. Which they did, and apparently enjoyed. 
"It's about 2:35 in the morning," Lena says later in the video, "we've been having sex for about two-and-a-half hours. I had a lot of fun."
"Go and have a threesome," concludes the vlogger.  
Well, sure, that's easy enough to say—but not every threesome partner will look like Lena Nersesian or Taylor White. Enjoy some hits from both their Instagrams below, and maybe hope that if Lena hits that million follower milestone (which is apparently very close), we'll learn even more about the three-way. 
That, or go all in and get on her Snapchat.
" tml-render-layout="inline
" tml-render-layout="inline
" tml-render-layout="inline
" tml-render-layout="inline
" tml-render-layout="inline
" tml-render-layout="inline
" tml-render-layout="inline
" tml-render-layout="inline
" tml-render-layout="inline
" tml-render-layout="inline