Inside Travis Barker & Kourtney Kardashian's Zen California Home
Chill vibes mix with rock star excesses like the Blink-182 drummer's murdered-out Buick GNX, Dior BMX bikes and a vibrating "organic" bed.

For the home of a bonafide rock star who's married to a Kardashian, Travis Barker's Calabasas, California mansion is tastefully modest.
The one-story home, which spans just under 10,000 square feet, was featured in Architectural Digest following a fresh renovation by Waldo Fernandez, a regular on the mag's AD100 list of top design, decor and architecture talent.
"I had interviewed several designers, and the day I met Waldo, the minute I spoke to him on the phone, his energy was just the best energy I had experienced."
Barker gave Fernandez carte-blanche to remodel the home while the musician was on-tour for most of a year, during which time he was advised to stay away until it was time to move in.
The Blink-182 drummer, in-demand producer and frequent Machine Gun Kelly collaborator described the resulting abode as a "zen" retreat in which he can recover from the strains of the road.
"When I come home from long tours or long nights at the studio, [it's] just a place to rest my head," he said from his living room, which is decorated with a banzai tree and works by cult-favorite artists Raymond Pettibon and Wes Lang.
It's also where Fernandez made one of his many contributions during the remodel. The room's back wall, previously covered entirely to windows, was knocked out and replaced with two giant double doors that open to the pool.
Much of the home is minimal in aesthetic. There's a sparsely decorated dining room, where he, his soon-to-be-wife Kourtney Kardashian, and the six kids between the couple "eat delicious vegan food."
In the TV room, Fernandez replaced vaulted ceilings and recessed lighting with heightened, flat ceilings to create clean lines.
"I like clean space, it allows me to think," Barker said. "And it doesn't like crowd my vibe."
There are some signs of rock star excess. Next to a cement ping-pong table, two of Barker's collection of 25 BMX bikes were displayed for the AD feature, both of which were designed by Dior. The white one was a gift from Kourtney's sister Kendall, and the gold one was offered to Barker after LeBron James failed to pick it up from the high-fashion label.
There's a movie theater featuring terraced couches and 100 professionally-tuned speakers, and a home studio where Barker recorded and produced music during quarantine, including his part on MGK's "Bloody Valentine."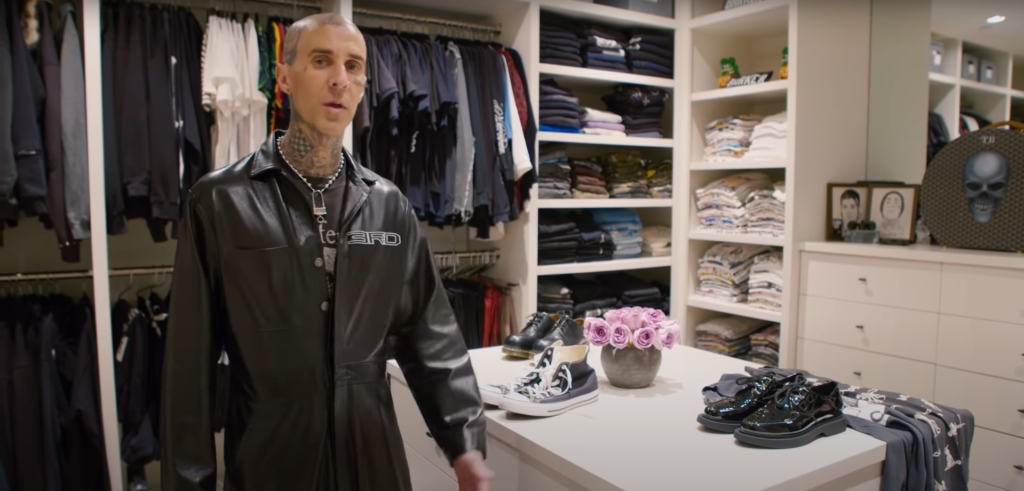 His walk-in closet is filled with his staple attire: vintage t-shirts, slacks, Doc Martens and Converse sneakers. And Baker's bed is a vibrating "organic" mattress free of "toxins and all sorts of bad things that everyone sleeps on and they don't know about." Then there's his garage of murdered-out rides, including the Buick GNX Kourtney gave him for his 46th birthday.
"Usually I drive all my old cars, but this one I have to baby and only drive during special occasions," he said of the ultra-rare "Buick Regal from hell."
Next to that is the also scarcely seen G-Wagen 4×4 Squared—of which only hundreds exist—a Rolls-Royce Cullinan with the optioned shooting-star headliner, and an Escalade.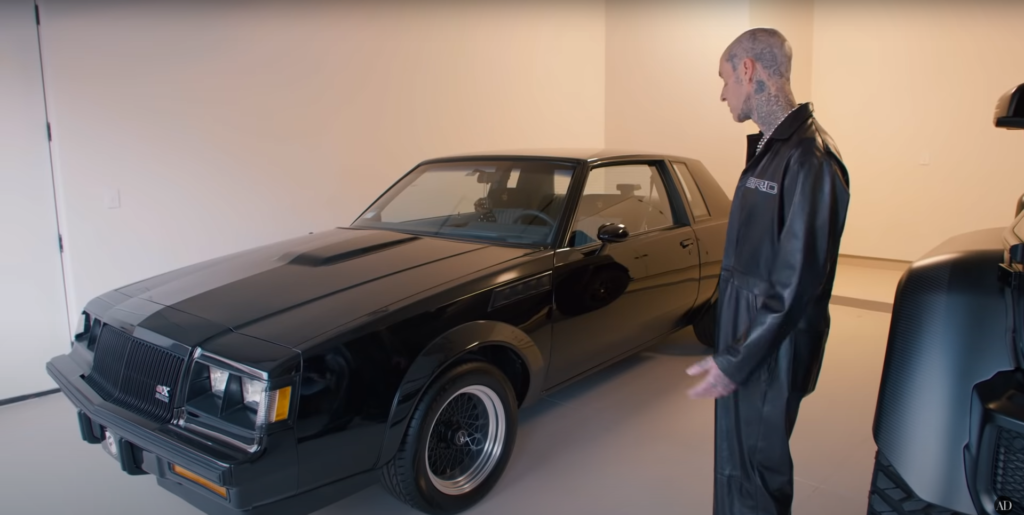 "I've had an Escalade every year since they came out with the Escalade. It's like a must for my fleet. It's perfect for the kids. I have "Cadillac" tattooed down my ribcage. I'll never outgrow Cadillac."
Watch the embedded video above to see the full tour.