Keanu Reeves Keeps Giving His 'John Wick: Chapter 4' Stuntmen Customized Gifts
Reeves followed up his gift of custom Rolex Submariners with another stylish treat for "John Wick: Chapter 4" stuntmen.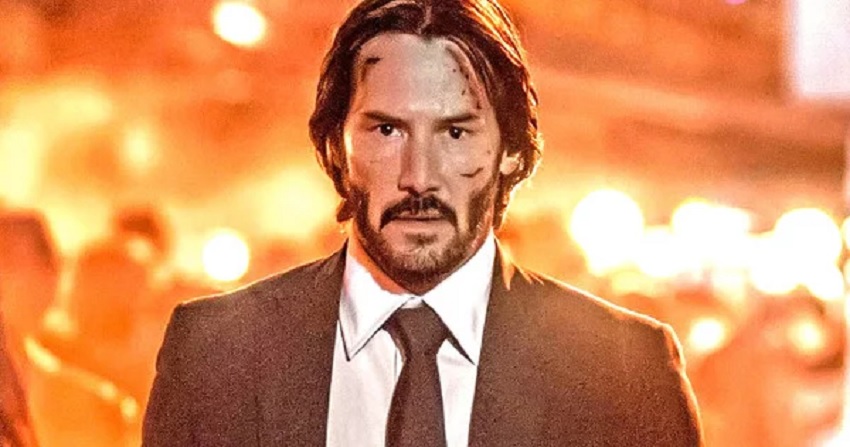 John Wick Chapter 2
The legend of Keanu Reeves' generosity just keeps growing when it comes to John Wick: Chapter 4, the latest installment in the actor's wildly popular action franchise.
Reeves famously gifted four stuntmen from the film custom Rolex Submariners while dining at a Paris restaurant in 2021 to celebrate finishing the film.
The custom 2020 Submariners featured personalized engravings—including the inscription "JW4 2021"—Oystersteel cases and bracelets, black unidirectional Cerachrom bezels and color-matched dials, and Rolex's signature cyclops magnifying lens.
But apparently that wasn't the only impressively cool gift Reeves gave to his stunt team. The New York Times reports that another, less-luxurious present was delivered after a climactic staircase fight scene involving 35 stuntmen on 222 steps leading up to the Sacré-Coeur Basilica in Paris.
At the end of the shoot, Reeves made T-shirts for the stunt performers emblazoned with the number of times they were slain over the course of the entire movie. Some had more than 20 deaths.
Reeves' generosity would seem to align with the outstanding stunt work in the notoriously high kill-count movies. John Wick: Chapter 4 is said to be the most lethal in the series so far, with an estimated 140 fatalities, according to GQ.
John Wick: Chapter 4 also made a killing at the box office. It notched $73.8 million debut in the U.S. alone, marking the biggest domestic debut of the series to date ahead of John Wick: Chapter 3 – Parabellum's $56.8 million, and is spurring talks of a seemingly inevitable fifth Wick flick.
But the next Wick movie hitting theaters could well be Ballerina, an Ana de Armas-headlined spinoff that may debut in 2024, according to Slashfilm. And since Reeves is expected to reprise his role, we can likely count on him to keep those gracious stuntmen gifts flowing.