Offset Talks Car Collection, Luxury Watches, Fashion Line and More
"You can't be like, 'I'm a rapper and I got a million dollars and I'm gonna get me a Lamborghini.' You gotta educate yourself on whatever you purchase."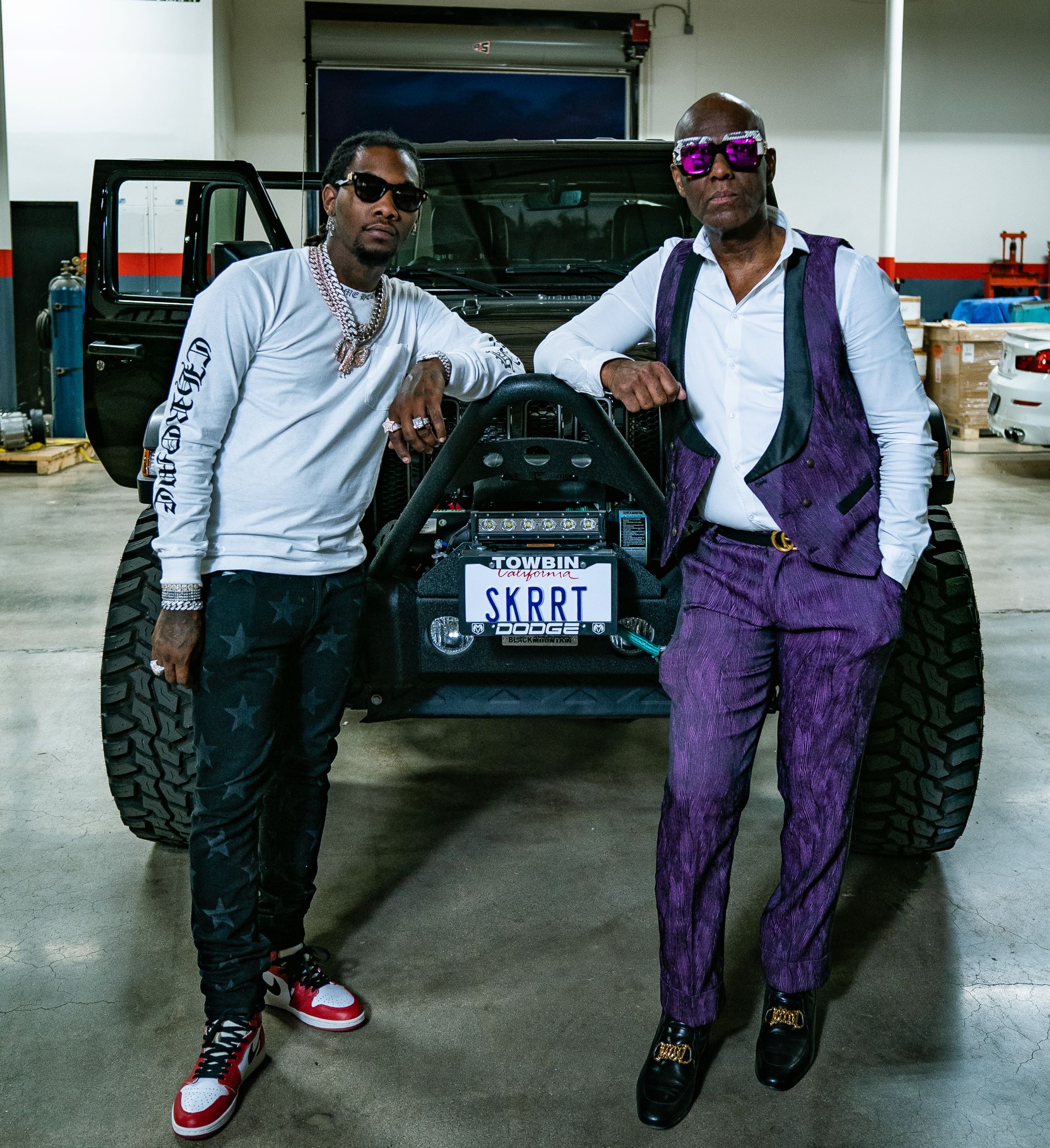 This past January, in Paris's 8th arrondissement, Kiari Kendrell Cephus was getting ready for one of the biggest nights of his career. Better known as the rapper Offset, he wore head-to-toe black denim, sunglasses, and a little bit of bling. 
The venue, a massive church, buzzed with excitement, and some of the supporters included his mother and business manager Latabia Woodward; his fellow Grammy-nominated, Platinum-selling Migos bandmates Quavo and Takeoff; and Offset's wife Cardi B, who wore a custom Mah-Jing Wong catsuit under a faux-fur coat. 
The crowd, however, was not there to see Offset perform. They'd come to see his designs. It was Fashion Week Men's in the City of Light, and the 28-year-old rapper was debuting the 11 pieces he designed in the Fall/Winter collection for Laundered Works Corp., the label overseen by Chaz A. Jordan. Male models would soon strut down the runway in luxury streetwear—hoodies, sweatshirts, t-shirts and flannels. Backstage, Offset wasn't glad-handing and schmoozing, he was putting sneakers on the models and checking on all of the last-minute details. 
The idea of a music mogul with 16 million Instagram followers on his knees tying shoelaces for strangers might seem unusual, but Offset is a man full of surprises. His career began, naturally, with music. Migos' first hit, "Versace," dropped in 2013 and since then, the trio from Gwinnett County, Georgia, has ridden a rocket ship to mega-stardom. Following their 2017 No. 1 hit "Bad and Boujee," they not only ascended to the top of the rap game but also transcended it, becoming mainstream pop icons as well. 
Migos earned Grammy nominations, toured with Drake, and showed up in Netflix ads and NBA promotional spots. Meanwhile, Offset made headlines of his own. With his 2017 marriage to rapper Cardi B, he formed the latest culture-music power couple à la Jay-Z and Beyoncé. Offset, Migos and Cardi B headlined the 2018 Maxim Super Bowl party along with Post Malone. 
And last year Offset released his first solo album, Father of 4. With his earnings, the artist turned to cars. His collection is a mix of modern—a McLaren 720S, a Lamborghini Aventador S, a Mercedes-Maybach S600, and a Dodge Charger SRT Hellcat Daytona, to name a few—and classic, including a 1970 Chevy "Split Bumper" Camaroand a 1955 Chevy Bel Air. His current favorite however is a Ferrari 812 Superfast. 
"It's fast," Offset explains. "And smooth. With more room on the inside." But he's not filling his garage to show off. He's following his longtime passion and doing it with a purpose. "I met Jay Leno and he preached about buying cars he likes," he recalls.
Following the former Tonight Show host's advice, Offset spends relatively conservatively, making sure he has enough in the bank to buy the cars outright and not have to then sell them. With his hectic travel schedule and penchant for switching up rides whenever he's home, his collection remains in pristine condition, all with less than 2,000 miles on them. 
Yet the care and selection of his prized rides also serve a greater goal: an investment. Get Offset talking about cars and he'll spew models and years and talk numbers like a human Kelley Blue Book. Depreciation, appreciation, valuation, he knows it all. In fact, he's the host and an executive producer of a new car show, SKRRT with Offset, on Quibi. 
"You can't be like, 'I'm a rapper and I got a million dollars and I'm gonna get me a Lamborghini'," he explains. "You gotta educate yourself on whatever you purchase. A lot of people don't understand that game." That game means buying both brands and models—especially limited editions—that will become exponentially more valuable. He cites his Charger Hellcat (#215 of about 500 made) and getting his hands on an Aventador SVJ, of which there are only 63. His dream car? A LaFerrari. But that will have to wait. 
While he could pony up the $2 or $3 million, he won't risk buying cars at that price until he has $100 million liquid in the bank. He's not, however, self-conscious about his lack of über-expensive vehicles. "I'd rather have my nice collection," he says of his more modestly priced rides. "I know these cars are going to be like those cars down the line. I'm just taking my time." 
Offset applies the same mentality to another of his prized possessions: watches. "I've always liked watches," he says. "And then I started noticing guys like Jay-Z and Kevin Hart." With their timepieces in mind, Offset started laying out for iconic brands like Audemars Piguet and Patek Philippe. 
The reaction was immediate. "I'll be gambling at a table in Vegas and my watch will get me a conversation with a CEO," explains the artist. "I'm young and got some tattoos on my face, and I get judged a little sometimes. It is what it is in life, ya know? But they see that Patek on my wrist and they say 'Damn, what does he do? Who is this guy?'" 
And it's not the flash and bling he's looking for. It's quality. Another investment. "It's a great product and not a lot of people are hip to it," he says. "Artists' houses get broken into all the time and they'll steal a PlayStation or a TV, and certain Pateks will get walked past because they look like a $2 watch when they're worth $350,000." He likens the ownership to a secret society. "Those purchases feel good," he notes. "You know what you have on your wrist whether or not anyone else does."
Back in Paris, the Migos rapper's debut as a designer was a resounding success. According to Offset, the entire collection sold out. But that's just the beginning. "In 10 years, I just want to be an in-house big brand that's still here," he says. "I never want to sell it or franchise too many times. And I want it all online because more and more stores are closing every day." 
Like all of his passions, Offset is in it for the long game.