Pam Anderson Channels 'Baywatch' Swimsuit For 'Pamela, A Love Story' Netflix Premiere
Anderson, 55, turned heads at the premiere of her new Netflix documentary.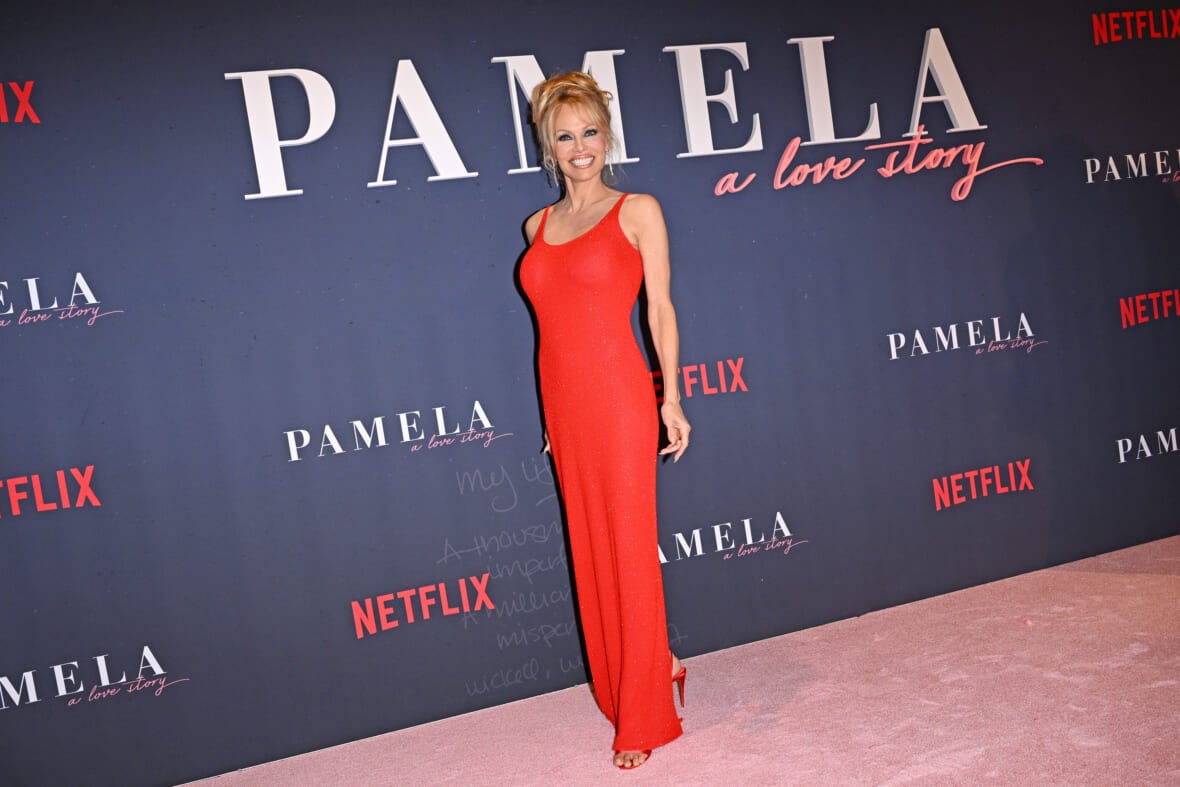 Pamela Anderson gave a nod to the iconic swimsuit that helped launch her career at the premiere of her new Netflix documentary Pamela, A Love Story.
The 55-year-old sex symbol and newly-minted author donned a fiery red Naeem Khan gown to the event, evoking the bouncy one-piece swimsuit associated with the character she played on Baywatch, lifeguard C.J. Parker.
Christian Louboutin sandals, Cicada diamond earrings and a Delfina Delettrez ring rounded out the ensemble, the New York Post notes.
"Pamela Anderson is ready to tell her story in a new documentary," reads a statement from Netflix about the new doc, which is streaming now.
"The film, which has been in the making for several years, will feature the pop culture icon setting the record straight as she looks back on her professional path and her personal journey. In her own words, through personal video and diaries. Pamela Anderson shares the story of her rise to fame, rocky romances and infamous sex tape scandal."
Anderson has repeatedly blasted Hulu's Pam & Tommy, the 2022 docudrama series depicting her infamous sex tape scandal and turbulent marriage with Mötley Crüe drummer Tommy Lee.
Anderson has slammed the series and its creators, who she has said did not consult her at all. During a recent interview with Variety, Anderson called the Pam & Tommy creators "assholes" and said they "owe me a public apology."
And during a subsequent interview with Howard Stern, Anderson said she felt like she had been "run over" after hearing about the show.
"I remember seeing this advert for Pam & Tommy and was like, what? No one called me. I'm still alive. No one asked me. It's nothing to do with me," she told Stern.
"I felt kinda run over by that one. I don't think they portrayed Tommy or I very accurately. I haven't seen it, but I've heard from people that it's a very shallow representation of us. I wish they would've called."
Anderson isn't just opening up in the doc, but also in her new memoir Love, Pamela. Learn more about the book and see exclusive photos from Maxim's January/February issue here.