The Best Commercials of Super Bowl LVI
From ScarJo goofing on Amazon Alexa to Chevy saluting "The Sopranos".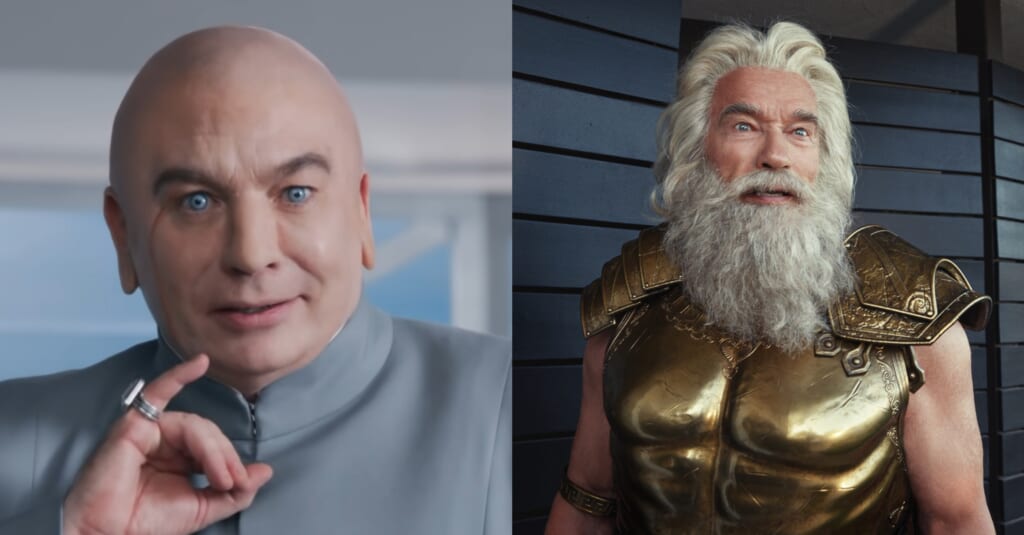 The Super Bowl brings with it some of the best, weirdest, and most ambitious commercials of the year, and 2022 is no exception. See some of the best Big Game ads below:
Amazon
Amazon sends up its electronic assistant Alexa's increasing omnipresence with this winning ad featuring real-life husband and wife Scarlett Johansson and Saturday Night Live's Colin Jost.
Chevrolet
Actors Jamie-Lynn Sigler, 40, and Robert Iler, 36, reprised their roles as Meadow and A.J. Soprano in this 60-second commercial. In The Sopranos, the opening credit sequence sees Tony Soprano driving his Chevy Suburban from Manhattan to New Jersey as "Woke Up This Morning" by Alabama 3 plays in the background. In the Super Bowl ad, Sigler drives Chevy's new Silverado on the same route, while "Woke Up This Morning" also plays. See how they compare above.
BMW
To promote the all-electric, possibly color-shifting BMW iX, the German marque has Arnold Schwarzenegger doing his best intimidating impression of Zeus, the Greek God of Lightning. It sounds like almost every other Ah-Nuld character—we'll see what kind of depth Salma Hayek brings to the role of Zeus' sister Hera in the full commercial.
Sam Adams
In addition to imitating Mick Jagger and combating humans, the Boston Dynamics robot dog, aka Spot, can fetch and toss cans of Sam Adams beer in a 15-second teaser. Good boy.
GM
Mike Myers' Dr. Evil from Austin Powers lore isn't so evil compared to the looming threat of climate change. So the parody villain is taking over GM and leveraging the new Ultium platform behind the Hummer EV and Silverado EV to defeat his environmental nemesis.
Miller 64
Molson Coors' entire point in taking out a multimillion-dollar Super Bowl ad spot and hiring the extremely credentialed mathematician Dr. Ken Ono is not to ask him whether 64 is a smaller number than 80. It's so the beer conglomerate can undercut the recently launched, 80-calorie Bud Light Next in the diet department by plugging the even lighter Miller64.
Mailchimp
Email marketing platform Mailchimp pokes fun at the exact types of big-budget ads by huge brands featured above before plugging a small-business initiative. Its "BigGameSmallAds" campaign will sent live tweets promoting small businesses from the Mailchimp Twitter account immediately after each Super Bowl commercial.