15 Fine Bottles You Should Be Sipping at Your 4th of July Barbecue
Because the best way to celebrate freedom is with a drink in hand.
Left: Knob Creek
Summertime is prime grilling season, and as the Fourth of July holiday draws near there's no time to spare to stock up your bar for your next backyard barbecue. A cold beer is always a good drink option, of course. But spirits of all kinds also pair remarkably well with some seared meat glazed with sweet or spicy barbecue sauce or simply seasoned with a healthy dose of salt and pepper. 
Whether you are making a batch of cocktails for your guests or swigging straight from the bottle, here are some new whiskey, tequila, rum, and gin releases to enjoy around a smoky grill with a bunch of your friends.
Utah's High West Distillery has been sourcing and blending excellent whiskey, mostly from Indiana, for many years now. For the first time this year, the distillery is using a small percentage of its own house-distilled rye whiskey in its Yippee Ki-Yay limited release. This new blend also includes rye from MGP and Barton, aged from two to 16 years (the youngest being its own whiskey), which is finished in Syrah and vermouth barrels. This sweetens the whiskey up quite a bit, making it a nice complement to a plate of smoky ribs slathered with some spicy barbecue sauce. $80
A bottle of booze with a good story behind it can be a quick conversation starter for your next cookout. Eau De Musc definitely satisfies that requirement. The whiskey, created by Steven Grasse (the creative force behind Hendrick's Gin) and Tamworth Distilling in New Hampshire, is bourbon that has been infused with the oil from beaver caster sacs that are located right near the butt. This oil is called castoreum, and has been used throughout the years as an ingredient in things like perfume, food, and Swedish schnapps. The whiskey is light and drinks very young (it's about two years old), but the perfumed flavor from the oil is strong. While this isn't for everyone, it will certainly provide ample fodder for conversation about how you are drinking beaver butt oil. $65 (200 ml bottle)
Woodford Reserve's latest addition to its core lineup is a straight malt whiskey. This means the mash bill is made up of 51 percent malted barley, with the rest being corn and rye. This is not an American single malt; think of it more along the lines of a high-malt bourbon. It's smooth with chocolate and grain notes that hide hints of spice and oak just underneath, great for pairing with some charred rib eye or porterhouse. It's also a perfect hot afternoon whiskey, and the predominantly barley mash bill makes it appealing to both scotch whisky and bourbon drinkers. $35
Wild Turkey's recent Longbranch bourbon, a collaboration with the brand's creative director Matthew McConaughey, was an appeal to the casual bourbon drinker looking for something new and affordable. But the brand-new Master's Keep Revival is geared towards the whiskey connoisseur looking for something pricey and unique. The liquid is 12-15 year old bourbon that has been finished in 20-year-old Oloroso sherry casks. It's a decadent and delicious dram, with the classic Wild Turkey spicy flavor draped in dried fruit and black cherry notes from the sherry casks. Set this bottle next to the grill and watch it disappear, as the soft flavors of this whiskey should play well with a nice medium-rare steak in the same way that a red wine might. $150
If you're making a bucket of cocktails outside for all your friends, you might want something that is high quality but packs a little more punch. Try this new rye whiskey from Knob Creek, a cask strength expression that clocks in at just under 120 proof. It's aged for nine years, and it's dark, rich, and spicy — perfect for sipping on its own if you are so inclined (and that's a very good inclination). This rye is going to be much hotter than something like Old Overholt or Pikesville, but even at cask strength it drinks relatively smoothly. And the high proof means that you might even have some left over, as your guests are going to be sipping this one slowly. $70
This is another whiskey that was seemingly designed with the summer season specifically in mind. It's basically regular Crown Royal, one of the most popular Canadian whiskies on the market, which has been flavored with smoked Texas mesquite wood. It's unclear exactly how the mesquite flavor got into the liquid; most likely there was some added flavor as opposed to just an infusion of smoke into the whisky. Regardless, while perhaps a bit galvanizing, this whiskey is inarguably a great choice for drinking while grilling, or perhaps even using to make a smoky, sweet barbecue sauce or glaze to pour over some pork tenderloin. $25
Bob Dylan has lent his name to a new trio of whiskeys called Heaven's Door – Tennessee Bourbon, Double Barrel (a blend of three whiskeys aged for an extra year in new barrels), and Straight Rye Whiskey finished in French Vosges oak. Open one of these bottles as the afternoon turns into evening, the lightning bugs start competing for space with the mosquitoes, and you start blasting Blood on the Tracks on repeat. The initial bottling has sold out online, but you can sign up for an alert when it becomes available again. Or you can knock, knock, knock on your local liquor store's door to find out if it's still in stock. $50 – $70
MGP makes whiskey for a lot of other brands, like Bulleit, Templeton, and Redemption. But over the past few years, it's been releasing some high quality whiskey of its own, first under the George Remus name, and now Rossville Union Rye. This four-year-old rye comes in both a 94 proof and a barrel strength (112.6 proof) version, so you can pick how strong you like your poison. Both of these are nice summer sippers, and both provide an ample dose of rye baking spice flavors to combat even the sweetest, stickiest barbecue sauce or watermelon. $40/$70
It isn't a summer cookout without some gin drinks on the cocktail menu. For a gin that offers something completely different, check out Four Pillars Bloody Shiraz. This blood-red spirit is made by steeping Australian Shiraz grapes in gin, and then pressing and blending them with the distillery's Rare Dry Gin. It's floral, spicy, and fruity, and can be enjoyed neat or on ice, making it an acceptable substitute for a glass of red wine to pair with some grilled skirt steak on a hot summer day. $45
There has to be some tequila at your backyard barbecue, but it doesn't always have to be consumed in margarita form. Sometimes you just want to sip some extra anejo, and enjoy it like you would a fine whiskey. There are many options available, but Jose Cuervo Reserva de la Familia, first introduced in 1995, is a good choice. It's a blend of tequila aged for at least three years mixed with some liquid that could be as old as 30 years. Please, do not even think about making a margarita with this. Actually, don't even let this bottle near your blender. Reserva de la Familia is proof that tequila can pair just as well with grilled meat as whiskey or wine. $150
Of course, tequila doesn't have to be so precious. If you want to make some margaritas, no one is going to argue; it's the perfect companion drink for any summertime barbecue. Padre Azul is an interesting new entry into the tequila category that's recently become available in the U.S. The tequila was created by an Austrian-Mexican family in Jalisco, and it comes in a cool looking bottle with a skull on top. There are much cheaper tequila options out there, but you get what you pay for. The blanco should make for some really delicious margaritas, and your guests will be very happy. $75 – $100
Rum, like whiskey, can be very fussy and refined, and sometimes that is what you are looking for. Other times it's not, especially when you are working up a serious sweat lather while grilling hamburgers and hot dogs for hours in the sun. Rum is a spirit that is synonymous with summer, with perennially popular drinks like the Dark and Stormy and the humble Rum and Coke entrenched as backyard barbecue staples. Cruzan Single Barrel, a blend of rum ranging in age up to 12 years, is a good pick for mixing or sipping. The term "single barrel" can be a bit nebulous when it comes to rum, but according to Cruzan this expression is literally "bottled one cask at a time." $30
Jagermeister is the king of shots, a college frat bar staple, a syrupy, herbal tincture that you drink but don't really like, right? That may have been the case in your wilder, younger years, but the brand is making a move into the premium market with the new Manifest. This has more botanicals than regular Jagermeister and is aged for a year in oak barrels. It's not exactly giving whiskey a run for its money, but it does make for a good cocktail component as well as sipping nicely on its own. Bust this bottle out at your next barbecue for an elevated, more adult version of your college drinking days. Or just revert to old times and pound some shots. $60
You can bring some class to your next backyard barbecue with a bottle of bubbly. But it's hot, damn it, so why not go for something you can enjoy extra cold? Moet Ice Imperial is champagne that is meant to be enjoyed with ice. It's a blend of Pinot Noir, Pinot Meunier, and Chardonnay. It's complex and fruity, and can be garnished with some berries or a sprig of mint. Drop a couple of cubes in a glass, or pour it over one big sphere, and the champagne cools down and makes for a rather refreshing drink at your next barbecue. $60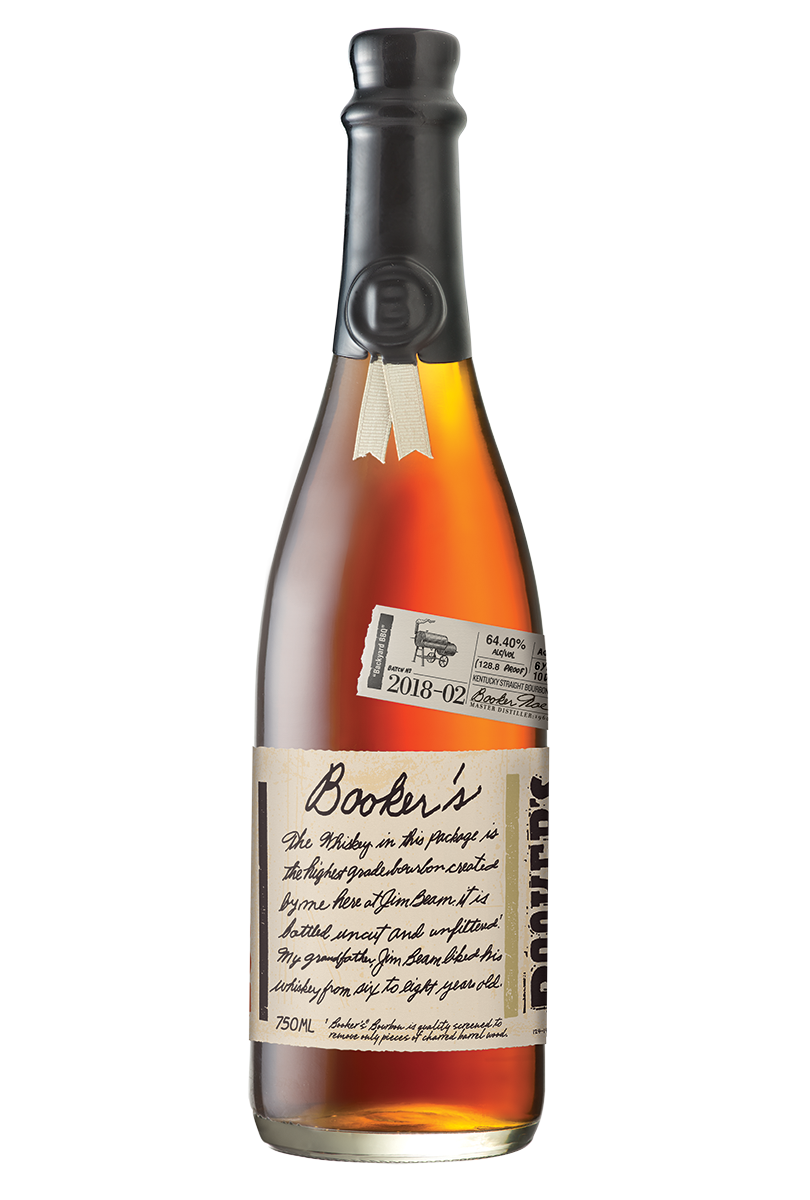 The name of this new Booker's release, the second for 2018, makes its intention clear — this is a good bourbon to crack open outside by a sizzling hot grill. Booker's Backyard BBQ was inspired by former Jim Beam master distiller Booker Noe's legendary barbecues that he threw for his friends, family, and distillery employees (he called them "bourbon-ques," of course). Backyard BBQ is just over six years old and bottled at barrel strength of 128.8 proof, perfect for slow and low sipping with an ice cube or two. Splash a little on your meat as it grills for some flavor, but watch out for the resulting fireball. $70