Bowmore & Aston Martin's Rarefied 52-Year-Old Scotch Just Sold For Over $230,000
The once-in-a-lifetime whisky originally retailed for $75,000 per bottle.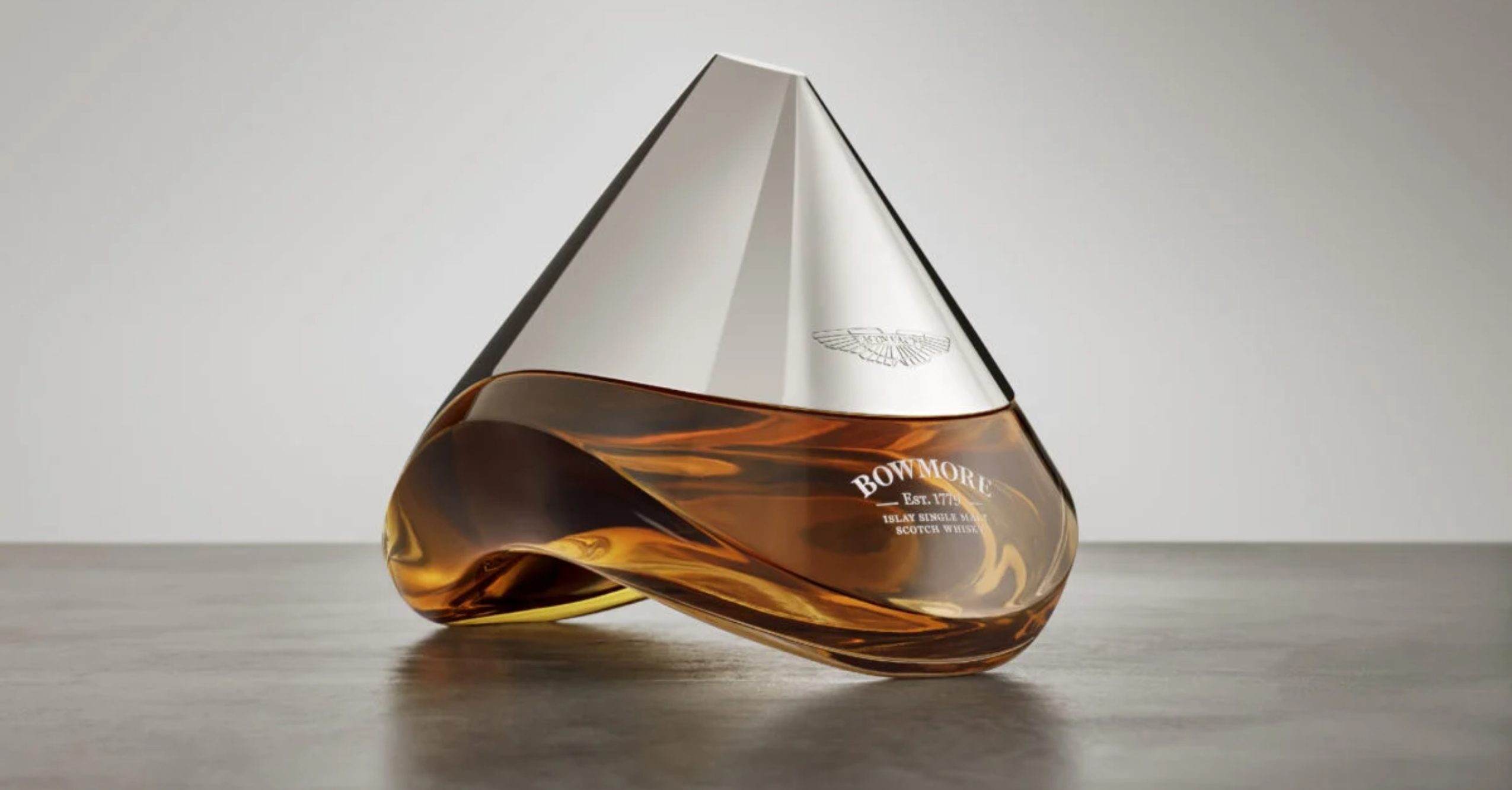 (Beam Suntory)
Luxury spirits are becoming as collectable as classic cars and watches, and the recent aftermarket sale of a top-shelf Scotch collaboration between Bowmore and Aston Martin provides further evidence of an upward trend in the liquid gold market.
Presented in a sculptured decanter with curves that recall Aston's supercars, the 52-year-old Bowmore ARC-52 was first announced in 2022. Only 100 bottles were offered directly to select consumers for $75,000 each.
One of those bottles, however, just fetched £187,500 GBP—the equivalent of $231,800 at current exchange rates—at a Sotheby's auction in London. That's over three times over the already exorbitant $75,000 MSRP.
Granted, the winning bidder also gets "an exclusive experience at Bowmore Distillery and on Islay" and a drive in a "limited-edition Aston Martin DBX Bowmore Edition," according to Sotheby's. But make no mistake, it was the whisky itself that drove the price.
The never-to-be-repeated expression is a 42.3-percent ABV blend of 1962 and1968-vintage Bowmore whiskeys, one of which was aged in sherry-seasoned European oak and the other in ex-bourbon American oak Hogsheads.
The top half of the curvy decanter is also wrapped in unique carbon fiber material that was designed to mimic the layers formed by the ancient Japanese metalworking technique "Mokume-Gane, which produces a mixed-metal laminate with a natural, woodgrain-like aesthetic.
"Bowmore's ARC-52 Mokume Edition is as much a masterpiece of design as it is an exclusive whisky," said Jonny Fowle, head of whisky and spirits for Sotheby's, North America and EMEA, in a statement.
"These two legacy British brands have produced something that is visually spectacular to house a totally unique liquid time capsule. Today's most dedicated collectors aim not only to collect legendary bottles, but particularly those which are unique. The price achieved for the Mokume is testament to this."
As Robb Report points out, all proceeds from the auction will go to The Bowmore Legacy, an organization dedicated to supporting the people of the town of Bowmore on Islay by supporting affordable housing and employment training.
It's unlikely anyone will find a bottle of Bowmore ARC-52 available outside of a high-end auction. Fortunately, the more attainable Bowmore Aston Martin Masters' Selection 2023 Edition is currently selling on the aftermarket for under $1,000.