20-Plus Bottles of Booze That Make Great Holiday Gifts
Each of these intoxicating tipples are sure to deliver holiday cheer.
Courtesy
For almost anyone worthy of friendship, fine spirits make the perfect holiday gift — especially if you're looking to add some intoxicating intrigue to the New Year's soirée. A coveted bottle can be an indulgence of finer quality than one would normally spend on themselves, making the gift a literal (and often affordable) luxury. 
Here are 20-plus fine bottles recently released for the holiday season, ranging from limited-edition unicorns to new core products from your favorite labels. From valuable last-minute gifts to rare nectars of great value, these are the bottles to seek out when you want your holiday gift to make a serious splash.
El Tesoro Extra Añejo
Agave legend Carlos Camarena's flagship brand El Tesoro cuts no corners in crafting, still using a tahona wheel, traditional ovens, small copper stills and open wood fermentation baths (the oak tubs dating back to his grandfather's day) to make his tequila. This fall they launch the oldest aging expression to their core portfolio with Extra Añejo, aged four to five years in American oak ex-bourbon barrels. Expect notes of coffee, dark chocolate, dry fruits and roasted almonds with hints of pepper and oak. $100
Bruichladdich Octomore 10 
Although Islay's Bruichladdich distillery distinguished itself as one of the few non-peated single malts from the island, their sub-brand Octomore has become famous for its next-level smokiness (it rates as the world's most heavily peated whisky). Look out for their just-released Octomore 10 series — a quartet of exceptional pronounced single malts which boast specialized profiles so complex they are best enjoyed sitting down, quietly, where you can contemplate them like a Zen koan. Look out for the Octomore 10.3 which uses field-to-farm barley grown on Islay — the only single malt to do so. $190-250
Mr. Black Single Origin Colombia 
Coffee expert Tom Baker co-founded Mr. Black with the intent of spreading the Love Of the Bean to the bar shelf. Now he's launched the brand's first Single Origin expression, and what other country to begin with than Colombia. This is not some cloying sugar water or simple Kahlua, Mr Black Single Origin Colombia is an exquisite liqueur that adds complexity to any cocktail you can think of to get creative with.
$50
Moet & Chandon Imperial Brut 150th Anniversary Box Set
If you're looking for something special from Moët & Chandon for the holidays, look out for the new Impérial Brut 150th Anniversary Limited Edition Gift Box. Named after Napoleon, memorably a close friend of the Moët family, the Impérial is assembled by more than 100 different wines to create one of the most famous champagnes in the world (30 to 40 percent Pinot Noir / 30 to 40 percent Pinot Meunier / 20 to 30 percent Chardonnay). The elegant box set was crafted for thoughtful—and affordable—gift-giving. $40
Heavensake Junmai Daiginjo Sake
Founded by champagne maker Régis Camus, Heavensake is the first sake produced by an award-winning chef de caves in collaboration with Japan's most respected sake breweries. The French X Japan partnership has borne fruit as their Junmai Daiginjo was recently named "Best Sake" at this year's San Francisco International Wine Competition (with a 96 point score), where the Dassai brewery rice wine also earned two Double Gold Awards. $95
Wolves "Winter Run"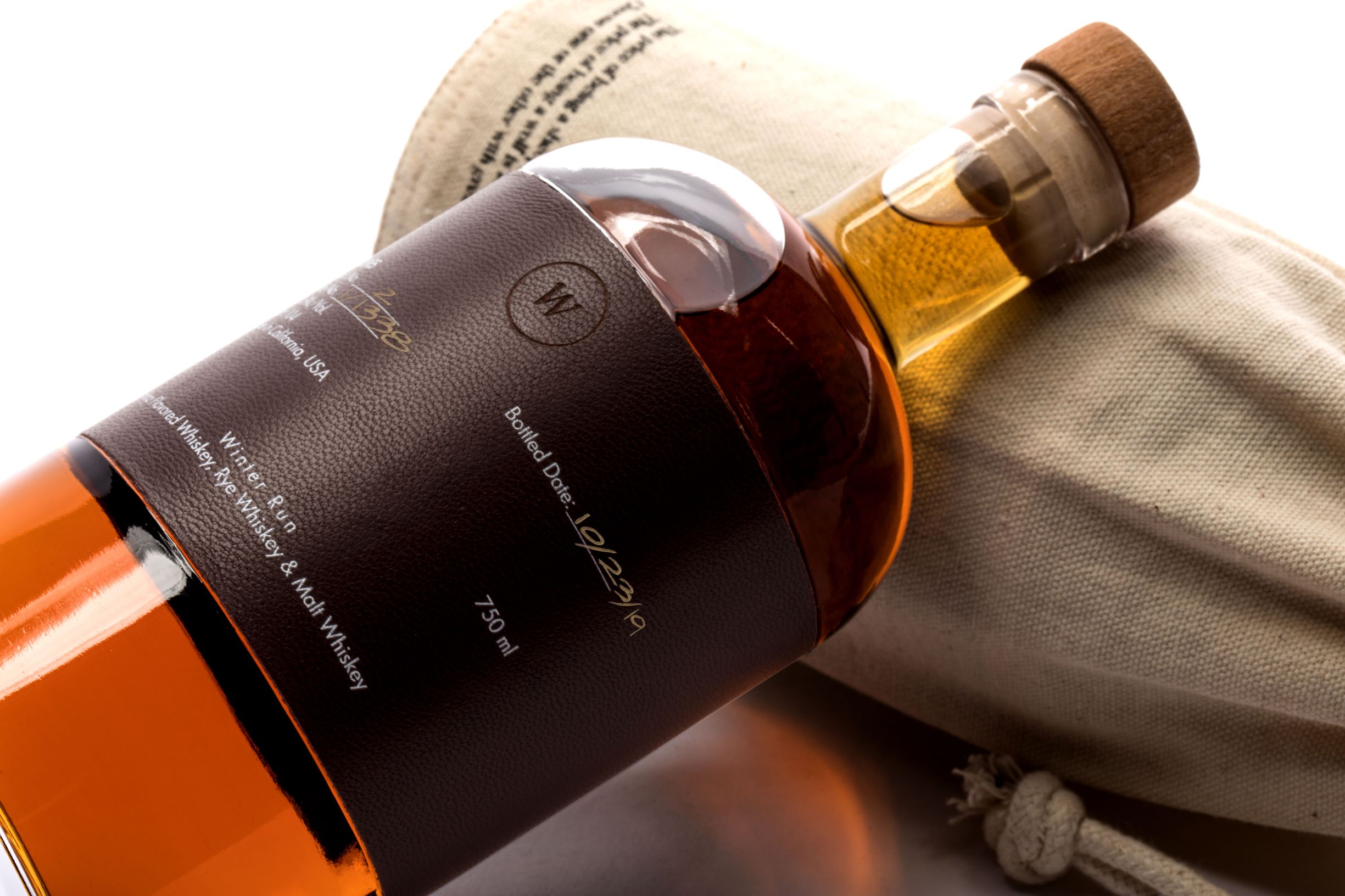 Wolves' first pup was so excellently executed it sold out in days when released in May. Their unexpected second drop, "Winter Run," is another innovative blend: double-distilled from craft stout and pilsner beer (aged 8 years in French oak and 5 in New American Oak, respectively), a rye, and a single malt aged for 9 years in French Oak. The bottle is then wrapped in an embossed Italian sheepskin leather bag so you know it's luxe. All 1,338 bottles sold out like lightning again, but Wolves is well worth searching for.
$185
Ferrand 10 Generations Cognac
To celebrate ten generations of their family's legacy making Premier Cru de Cognac (the Ferrands have called the vineyards around Segonzac, Charente, home since the 15th century), Maison Ferrand releases their 10 Generations expression just in time for the holidays. Using only Ugni Blanc grapes slow-distilled in pot stills, the eau-de-vie is then aged in French Limousin oak casks (20 percent of which are Sauternes barrels). With a nose of fruity gingerbread, raisin, apricot, coconut and caramel, and finishing notes of prune, mango, vanilla and fresh tobacco, 10 Generations Cognac is a fitting homage to the Maison Ferrand heritage. $60
J Henry 10-Year Blend 
One of America's most awarded and coveted distillery's is releasing an anniversary blend that may cause riots. The authentically "field to glass" distiller, led by Joe and Liz Henry, grows their heirloom red corn (grown by his grandfather on the same soil), distills the spirit and then ages it in a barn all on the same farm in Wisconsin. J Henry's handcrafted touch and rare ingredients — plus aging in the varied Wisconsin weather — results in one of the best whiskies in America. So far they've only done a 5-year bottle, so their Anniversary 10-Year blend should be special. Good luck finding one. $110
Suntory Whisky Toki Highball Gift Set 
While Suntory's TOKI is not new for the holidays, their Highball Gift Set certainly is. And as anyone who's been to the Land of the Rising Sun recently knows, they take their Highball game very freaking seriously. For Japanese aesthetes it's not just the whisky that matters, but the quality of the soda, the provenance of the ice and even the glass itself are critical ingredients to crafting a respectable highball. With their set you have everything you need in one box.
$35
Rabbit Hole Heigold 
The newest bottle from Rabbit Hole, Heigold is a high rye bourbon developed by the Kentucky distillery's founder and distiller Kaveh Zamanian. Its unique mash bill is very on-brand for Rabbit Hole, as Zamanian has made a name for himself combining heritage whiskey-making techniques with innovative mash bills (in this case 70 percent corn, 5 percent malted barley and 25 percent malted rye). Crafted using a proprietary cooking process and aged just under four years in toasted and charred new American Oak barrels, the Heigold expression was envisioned to create heightened malted-flavor characteristics.
$70
Simple Vodka
In the honor of the giving season, Simple Vodka was formed with a stated mission of giving back to American hunger relief programs: the philanthropic brand donates 20 meals per bottle sold. You can feel good while drinking a quality potato vodka, sustainably-distilled, gluten-free and completely absent of added sugars, flavors or preservatives. While released in 2017 we're including it here because giving is good.
$20
Ginraw 
In case you haven't been, Spain could arguably be considered ground zero for the G&T. So it's little surprise the first gastronomic gin from Barcelona to hit US shelves would make waves. GinRaw is the what happens when a chef, a sommelier, a mixologist and a master parfumeur all collaborate to craft a singular gin. What makes GinRaw unique is its use of a Rotoval — a distillation machine developed by one of the highest rated restaurants in the world, the molecular gastronomy mecca Celler de Can Roca. They claim the low-temperature process preserves more of the natural essences and delicate aromas of seven botanicals.
$53
Old Fitzgerald Fall 2019 Bottled-in-Bond Bourbon
The family-owned, fiercely independent Heaven Hill is unquestionably the most important distillery for Bottled-in-Bond whiskies. They distill more BIB bourbons than any other brand, with output from proud labels like Henry McKenna, Evan Williams, Rittenhouse, J.T.S. Brown and Larceny. This season they're releasing Old Fitzgerald Fall 2019, only the fourth in Heaven Hill's Decanter Series and by far the oldest at aged 15 years. As Old Fitzgerald's mash bill is heavy on the wheat, expect an exceptionally smooth, well-rounded bourbon. $150
Krug Les Creations de 2006 Set 
Founded by Joseph Krug in 1843, the prestige Krug house remains to this day one of the most respected Maisons de Champagne the world over. For this holiday they're releasing a limited edition case – only 100 to be available — imagined to educate bubbly fans of the unique circumstances of 2006, and illuminate two Krug champagnes born from it: Krug 2006 — aptly dubbed "Capricious Indulgence" by the House — and Krug Grande Cuvée 162nd Edition. The "Les Créations de 2006" will allow those interested to better comprehend how each champagne vintage is unique, and to celebrate the distinct character of 2006. Price N/A
Rare by Nature 2019 Special Releases Single Malt Collection
Diageo recently unveiled their 2019 Special Releases Collection. Discovered by Master Blender Craig Wilson, the rarefied ccollection — dubbed as 'Rare by Nature' — of unique single malts are all single cask and bottled at cask strength. Of the 8 one-of-a-kind browns only a trio are coming stateside: ghost distillery Pittyvaich's 29 Year Old, Mortlach 26 Year Old and The Singleton of Glen Ord 18 Year Old. For the true and distinguished scotch connoisseur in your life. $200-2,090
Billykirk x Cooper & Thief Bartender Bag 
Sure it's not actually a spirit, but the Billykirk x Cooper & Thief Bartender Bag is the perfect gift for the cocktail enthusiast whose shelves are already stocked. Winemakers Cooper & Thief Cellarmasters teamed up with leather goods purveyor Billykirk to create the Batman Utility Belt of cocktail mixing. Loaded up with everything you need to take your mixology game to that New Year's Eve soiree (and impress everyone at the bar cart), the handsome Bartender Bag is the kind of gift that keeps on giving.
$250 
Don Papa 10 Year Old Rum 
Arguably the Philippine's finest export, Don Papa is releasing a limited edition 10 Year Old Rum for the holidays. The Spanish-style rum (or ron) adds cacao and dried fruit notes to Don Papa's signature sweetness, a quality that hails from its source noble cane — a sweeter variant of sugar cane. The small-batch premium rum's extended time in the barrel also lends the nectar a rich, dark amber hue. $70