The Best Pairing Wines To Drink On Thanksgiving
Top sommeliers picked their absolute favorite pairing wines for the perfect Turkey Day feast.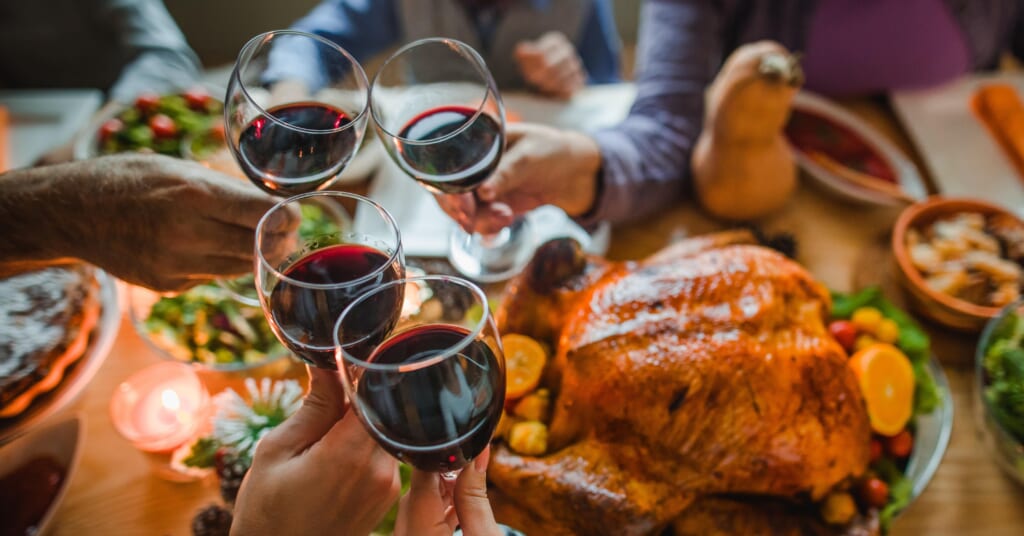 Thanksgiving is upon us. Last year, we largely spent the holiday in quarantine — toasting to our loved ones from afar and cobbling together some semblance of a solo celebratory dinner. But this year you get to see your uncle wine-drunk IRL, and you're going to need some good wine for that. 
Thanksgiving is a notoriously difficult holiday to pair wine with. Essentially, you need to find a bottle that pairs well with everything from pumpkin pie to turkey to cranberry sauce and mashed potatoes.
The trick here is not to rack your brain trying to land the perfect pairing for every single plate. Offer a wide range of bottles — reds, whites, bubblies and in-betweens — and let people gravitate towards their favorites.
A bottle of bubbles is always a good idea, as are a few affordable, workhorse bottles of reds and whites to keep the wine flowing. With the help of a panel of beverage experts, we paired out bottles for every dish on your holiday table.
Pairs-With-Cranberry Sauce: Enderle & Moll 'Basis' Pinot Noir – Baden, Germany – $30
"This is an incredible Pinot Noir from Germany. If you close your eyes, it almost tastes like a sophisticated and nuanced white — it's got lightness and luminosity to it. Filled with tart fruits, it can be quite the opener to the feast, with the first bite of turkey dunked deep in the cranberry sauce."
"Enderle & Moll is a TINY (only two hectare operation!) in Baden, Germany, where it's usually much more about bulk production. It's quite light in style with incredible freshness to it but it still has loads of spice and nuance and can stand up to the Thanksgiving feast in both a meaningful and delicate way."-Tamy Rofe, sommelier and co-owner of Colonia Verde, Disco Tacos and Comodo.
The Budget (But You Wouldn't Know it) Bottle: Gouchas Luján de Cuyo – Malbec, Argentina – $22
"Thanksgiving day is here and by the time dinner starts to wind down, Uncle Don has already had a few too many scotch and sodas and is asking you to 'bring out the good stuff'. Let this be the wine you fool all your family members with! At $22 it drinks like a $40 bottle and pairs perfectly with Thanksgiving heavier fared foods."
"This Malbec is made by Carbonic Maceration, giving it an extra light and fruity profile that refreshes the pallet after every bite of Grandma's butter-soaked mashed potatoes. Enjoy this with anything on the table, including dessert and alcohol-infused banter as the late night drinking commences."-Lexie Jones, sommelier and cofounder of Argaux and Ameliere Imports
The Party Starter: Julien Altaber 'Vin de France M' Gamay – France – $35
"Julien didn't come from a Burgundian winemaking family — he was the son of a dairy farmer with big dreams to make wine. And he got there, and early too! At just 16 years old, he began working under Dominique Derain, a legacy in Burgundy. Now, he is doing his own thing."
"For this cuvee, he buys grapes from Macon in Burgundy and also from Beaujolais, making this the most natural easy farm juice with the intricacies and complexities of the best Burgundy has to offer. Wild berries, crunchy fruit, warm and toasty on the palate with a really fresh finish. This is perfection but also a wild ride." –Colonia Verde, Disco Tacos and Comodo's Rofe
The Parent Pleaser: Vietti Roero Arneis – Piedmont, Italy – $23.99
My mother swears by Sauvignon Blanc and my grandmother has cordoned herself off to only drink buttery Chardonnay. I, on the other hand, don't want either. So my continuous compromise has been a bottle of Arneis. It has the floral, melon notes that makes my mom nod her head in approval, and the body, lower acidity and lingering finish that my grandmother can get behind. (For the record, white beaujolais also appeases both crowds.)
Vietti offers a benchmark bottle of Arneis, an indigenous white grape that translates to "little rascal" in Italian (it's a nuisance to work with, locals say!). Arneis grapes make wines that are crisp, fresh, aromatic, and excellent companions to food. In the 1960s the wine all but disappeared, save for just a few barren rows of vines in the Langhe. It's thanks to Bruno Giacosa of Neive estate and Barolo producer Alfredo Currado of the Vietti estate that we have Arneis today — the duo worked to lovingly replant and bring back the grape from the brink of extinction.
The Wine Nerd Wine: Lucien Aviet et Fils Melon a Queue Rouge – Arbois, France – $63
Yes, we could pop a bright white that has enough buoyancy to pair with everything on the table, or an oaky Chardonnay to appease the sheer amount of butter in my family's French-Canadian fare. But my continuous holiday go-to is a Jura white.
Made with an ancient strain of Chardonnay in the Arbois region of Jura, right on the foothills of the alps, it's powerful, austere, and golden-hued; nutty, with almost sherry-like qualities. Roasted and spicy, yet fresh and saline-driven. It's decadent, in an almost 'heck yeah I brought this wine' kind of way.
For Chugging: Marioni Wines Fields – USA – $26
"Dan Marioni is all about tradition and roots from California — Mendocino to be specific. But, he's also on the natural train that we so love. This is old vine Carignan and Zinfandel that is produced in a very hands off manner. For a taste of deep and rich California that is also earthy, fresh and nuanced. This will win over the table — a pleasant and delicate surprise from California filled with fruit and spice. Very yum!"–Colonia Verde, Disco Tacos and Comodo's Rofe
The Appetizer Bottle: Strohmeier Rose – Austria – $44.99
I'm a firm believer that bubbles pair with everything (and have done my research into such a proclamation), so when it comes to a fall feasts, well, we all know what I'm drinking. This year? This oddball bottle from benchmark natural wine producer Franz Strohmeier.
This sparkling is made with Austrian grape Bauer Wildbacher and undergoes primary fermentation in stainless steel and oak, before aging for 30 months(!) before disgorging. No dosage is added, so it's bone-dry, with focused bubbles and a lovely creamy, velvety texture balanced out with a big floral bouquet and lots of rhubarb and chamomile notes. Weird, but heavily drinkable.
The Workhorse White: Domaine d'Enclos – Chablis, France – $22
"The Chardonnay for people who say they don't like Chardonnay! This stainless steel chardonnay from Burgundy's Chablis region is full of lemon zest, light ginger and a touch of salt. Chablis is a great all-around wine that you can serve as the guests arrive while also being able to handle everything from the Turkey, to the veggies!"– Rachid Abdelouahad, the director of operations and sommelier at Tiny's
The Turkey Wine: Gary Farrell Chardonnay – $35
If there are those at your table who insist on California Chard, Gary Farrell's take talks well to turkey. It's bone dry but big and zesty, full-bodied, with well-integrated notes of apple, toasted almonds, and a bright, flinty minerality. 2019 offered up perfect temperatures and a mild growing season, helping Farrell's Chardonnay bloom beautifully.
For Impressing a Crowd: Three Sticks Pinot Noir – USA – $75
This is a bottle you should keep near your end of the table. The Sonoma pinot noir is juicy and unctuous, filled with ripe cherries but still has a moody, forest-floor darkness to it that cuts through the bright red fruit notes. It's rich and chocolatey, but bright enough to pair remarkably well with a variety of sides.
Winemakers Bob Cabral and Ryan Prichard partially lucked out with the 2019 vintage; while flooding hit the Russian River hard, their parcels were elevated enough that they were largely unaffected, instead blessed with cool late summer weather that helped the grapes mature beautifully. Sonoma Coast elegance in a bottle.
The Crisp White: Vivanterre MSM – France – $32
Made under the careful eye of winemakers Patrick Bouju and Justine Loiseau, Vivanterre is "full of citrus notes, apple, and honey notes, and pairs well with fall salads, cheese, and fish," says Adil Fawzi, the hospitality director and partner at American Bar. Each bottle is made with 100% melon de bourgogne in the Muscadet region of Burgundy; tangy, slightly briny, and super refreshing.
The Dad Wine: Chateau de Montfrin 'A La Douceur d'Aller' Cotes du Rhone Red Blend – Rhone Valley, France – $40
"This wine is your turkey's right hand man! A la douceur d'aller or 'the sweetness of life' is a blend of 60% Syrah and 40% Grenache. It has notes of black cherry, blackberry liqueur, orange skin, black pepper, toffee and baking spices from the subtle oak influence. The body is structured with smooth tannins and a long finish. Enjoy this with your turkey or ham, sausage and cornbread stuffing."–Argaux and Ameliere Imports' Jones