Meet The World's First Laser Projector With A Vanishing Screen
The $16,000 short-throw projector hides a massive 120-inch screen in a discreet black cabinet.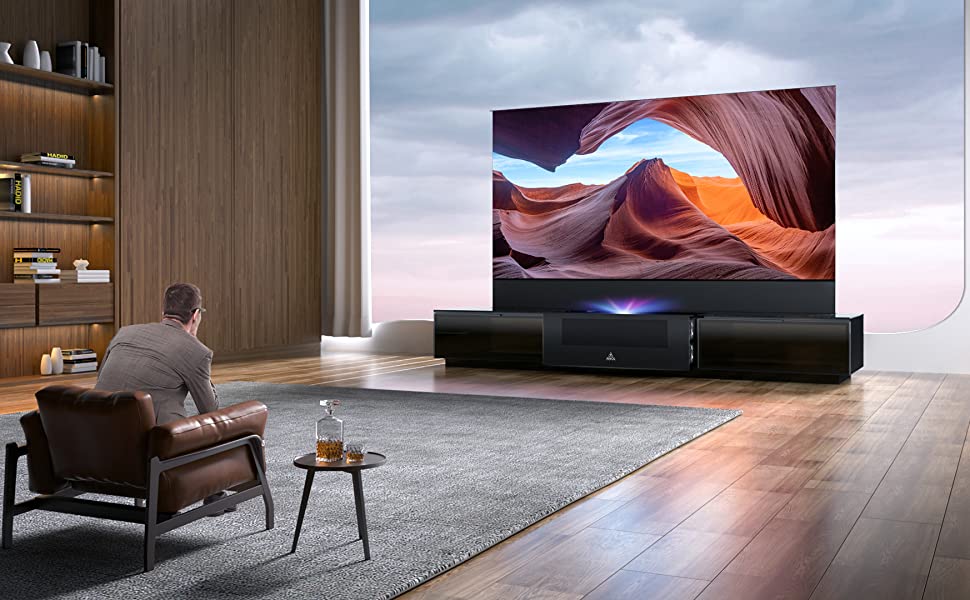 Installing a giant home theater screen generally means forfeiting an entire wall to a rectangular mass that's less than aesthetically pleasing when not in use. Samsung attempts to solve the issue with its signature Frame that displays art or photos when no one's watching, and a new breed of short-throw projectors can cast increasingly good images on a wall.
At the 2023 Consumer Electronics Show, projector company AWOL recently unveiled another solution: the new Vision Vanish. The "world's biggest, brightest rollable triple laser TV," as its billed, hides in a low-profile, eight- or ten-foot long black cabinet that sits in front of a wall, much like a TV stand without a TV.
With the press of a button, a hidden 100- or 120-inch rolling screen deploys and a compartment extends to reveal an AWOL LVT-3500 triple laser projector featuring 3,500 ANSI lumens, HDR 10+ support, built-in 36-watt speakers, and 3D support when used with a pair of active-shutter DLP link 3D glasses, Gizmodo reports.
Everything comes contained in the cabinet, meaning that no calibration or intensive set up is required.
Mind you, the AWOL Vision Vanish system costs a whopping $16,000 in its largest 120-inch spec, or $15,000 for the 100-inch version. While those with that kind of cash may opt to pay for installation of their own custom projector, it still won't be hidden so discreetly. Orders are open now here.
In other CES news, this "flying" electric hydrofoil leisure boat made waves with $400,000 price tag and ultra efficient propulsion.