The Best Home Projectors To Buy Now
Go big on movies and games, indoor or outdoor, at home or on the go.
Credit: Samsung
Whether indoors or outdoors, projectors add versatility that most TVs just can't swing. Larger screens with a smaller footprint, portability and the ability to play any kind of content from any kind of device, a projector is a home theater enthusiast's best friend when it comes viewing content in a fantastic way. Here are some of the best projectors on the market right now.
XGMI Halo+
This diminutive, portable projector bears a striking resemblance to Apple's original HomePod. The cylindrical design takes up no space at all but throws a video image up to 120" at around 9' away from its target screen. The 900 lumens are slightly low on the scale so the Halo+ performs best in darker spaces; meaning outdoor projection is much better after the sun goes down. The Halo+ truly is a self-contained solution, with 2.5 hours of battery life, built-in harmon kardon speakers and easy grab-and-go portability for 1080p HDR10 projection and automatic focus in any situation. ($849. Amazon)
Samsung Freestyle
Samsung is a titan of the TV space, so it's no surprise that they have solid projector offerings. The Freestyle rivals other portable solutions in the space with its Bat-Signal-esque design and built-in speaker. It might be a bit less versatile than the Halo+, only projecting a 100" screen and requiring an external battery pack to go truly wireless. That said, the Freestyle makes up for it with integrated SmartTV functions (like most of Samsung's excellent TV offerings) and a range of available accessories not available for other projectors made by niche companies. ($899. Amazon)
Sony VPLHW65ES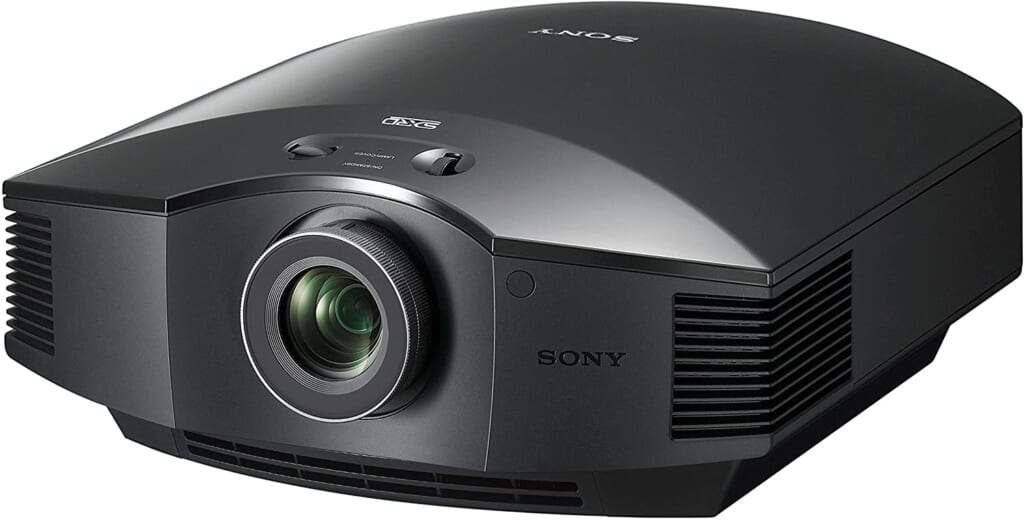 Sony has been an industry leader in the projector space for years now. While the company has toyed with more innovative offerings (like their $30,000 short-throw, space saving light bar from a few years back) most people look to Sony for more traditional, high-quality home projectors. This one probably shouldn't be taken outdoors but when it's in its natural habitat of a den or home theater, it packs an impressive 4K punch with 1800 lumens for super bright, crisp video. While it might be on the lower end of Sony's intense projector lineup, anyone looking for an entry point into the home projector game can't go wrong with this offering from Sony. ($3,999. Amazon)
Optoma UHD35
Optoma has been a leader for projectors for quite some time and their offerings run the spectrum for personal to professional. The UHD35 is one of their best values right now, boasting 4K resolution, a lightning fast 240hz refresh rate and an insane 3600 lumens so its image looks bright even in ambient lighting. That makes this one the perfect choice for movie buffs and gamers alike because there truly is nothing like playing MarioKart with friends on a 300" display ($1,299. Amazon)
ViewSonic M1+
Sometimes, ultra-portable is exactly what's needed in a situation. Easily packable for travel purposes but still strong enough for home use in a pinch, Viewsonic's M1+ has tons of connectivity, can throw a 100" display and boasts six hours of battery life. It also includes a smart stand for setup in a variety of situations that it might come across on its travels or just tough to fit spots in the home. ($339. Amazon)
Samsung SP-LSP9TFAXZA
Ultra-short-throw projectors are the perfect solution for huge screens in small places. Just a few years ago, this tech went for $50,000 when it first debuted but they're much more accessible now. Samsung's top-end offering can throw a 130" 4K UHD image and needs almost no space to do so. Samsung also made several wise design choices here, covering this projector in fabric so it seamlessly blends in with nearby furniture and integrating 4.2 channel 40 watt stereo right in the unit. The 2800 lumen brightness means excellent viewing quality, daytime or night, making this a true TV set replacement in case Samsung's Neo LED just isn't cutting it anymore. ($6,497. Amazon)