These Rare Vintage Rolexes Can Now Be Yours
A gorgeous old-school Rolex Day-Date is just one of the throwback Rollies curated by Fog City Vintage.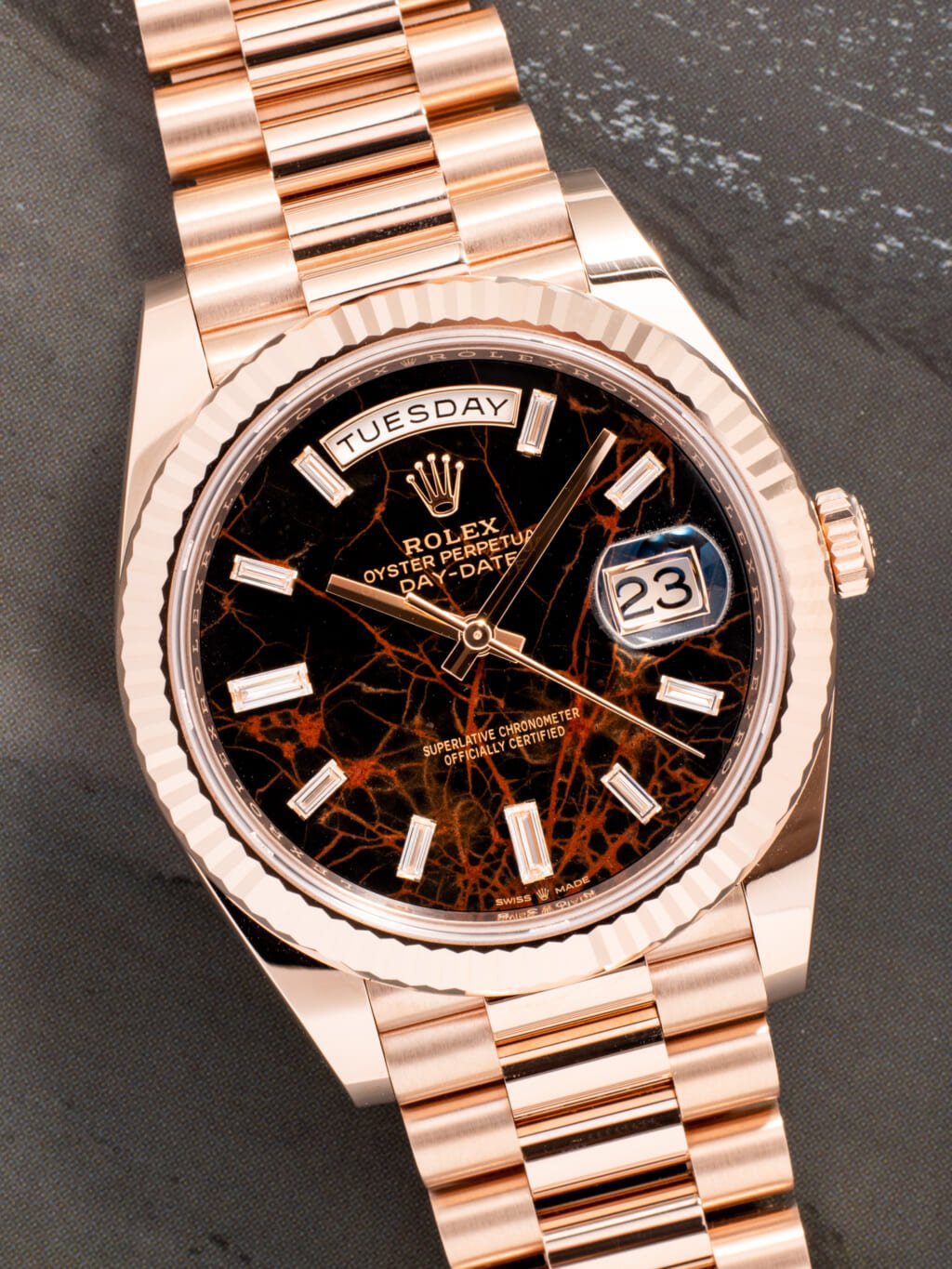 There's never been a better time to invest in a Rolex watch — they proved a more valuable investment than gold or real estate across the past decade — and now, you've got access to anonther standout source with an eye for curating the ultimate throwback watch collection.
The experts at Fog City Vintage recently worked with Huckberry to deliver a trio of extremely well-curated, insanely cool Rolex watches, including one that'll set you back about $19,000 (and the Fog City team also got its hands on an $88,000 vintage Rollie).
Huckberry knows a thing or two about teaming up with experts, and the idea behind Fog City is simple: You can both buy and sell timepieces through the site, and each one is reviewed and authenticated by Fog City's team of watch aficionados.
While only one of those watches (the covetable Day-Date 18038 "President") is up for grabs at Huckberry curently, there are still plenty of ways to get a Rolex on your wrist — or at least, added to your wish list.
The 18038 "President" is an especially impressive watch in its own right, retailing for a cool $19,300 and boasting classic specs, like a 36mm case diameter and an 18-karat Gold President strap.
As Fog City notes, the company was founded on helping an "individual to live their life confidently through vintage watches," and this watch certainly fits within those lofty parameters.
It's not the only vintage Rolex from Fog City Vintage worth checking out, though. Take the 2022 Rolex Ref. 228235, which you can pick up (or at least lust over) through Fog City's own Web site.
It's listed as unsized and unworn, and was just sold to Fog City Vintage earlier this year. The catch? It'll set you back $88,950, an impressive price tag for an equally impressive watch.
The hits keep coming, though: The 1967 Rolex. Ref 1675 GMT is a certified classic, and an incredible take on the GMT style. It boasts the two-tone red-meets-blue bezel so many collectors lust over, and the jubilee bracelet is both refined and functional.
The 1990 Rolex Ref. 18238 is another stunner curated by Fog City Vintage.
Itboasts the instantly appealing day-date design only Rolex seems to have successfully pulled off, with a price tag to match: It can be yours for $19,750, but it's an investment that'll last a lifetime.
The world of vintage Rolex watches is vast but complicated — whether you go through Fog City's curated lineup at Huckberry or shop the site itself, it's a safe bet you'll find a new watch to add to your wish list.