These Are America's Most Popular Beer and Liquor Brands Because We Like to Party Hard
Did your favorite drink make the cut?
Left: Getty
Bar management software company BevSpot has released an illuminating new report on the most-ordered brands of alcoholic beverages in the U.S., based on data taken from thousands of bars, restaurants and assorted swilleries across our great nation. And thanks to our booze-loving brethren at Bro Bible, who dutifully rounded up the infographics published in the report, we can share all of the key stats right here. 
Lets start by looking at the top-selling suds. Happy Hour favorite Bud Light holds a commanding lead with a staggering 7 percent of all bar beer orders. Some craft beer nerds may turn up their noses, but fuck those guys because Bud Light is the jam. Congrats, BL!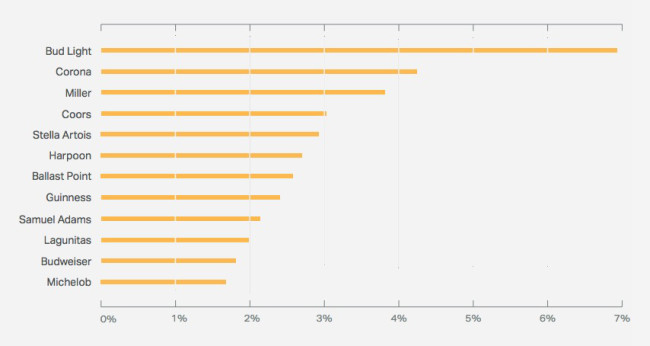 Moving on to liquor,  Jameson Irish Whiskey holds a commanding lead over other brown spirits with about 15 percent of all whiskey orders. Jack Daniel's and Crown Royal pretty much tied for second-place with 10 percent. Jameson's easy-drinking blended magic may be the absolute bomb, but don't order an "Irish Car Bomb" 'cause that shit is sort of offensive, not to mention kind of embarrassing. Drink Jame-O as a boilermaker—a shot with your Bud Light, like a real goddamn person. 
Texas-based Tito's vodka is far and away the most popular brand of everyone's favorite colorless and tasteless spirit. Hey, don't get us wrong, we like vodka. It's good for pouring into Bloody Marys and drinking straight from the bottle, ice cold, in a Russian bathhouse surrounded by gorgeous Slavic bikini beauties. But vodka soda, vodka cran, vodka Red Bull? C'mon, we can all do better, America. 
Where my pirates at? Captain Morgan reigned supreme as America's most beloved rum brand, edging out Bacardi and Gosling's, which incidentally has a genius copyright on the Dark 'N Stormy, one of the most perfect rum cocktails ever. 
From the agave fields of Jalisco, Mexico to pretty much every bar that lets in a bridal party or an after-work softball league, Patron is absolutely the most popular tequila in America. Hey, we gotta admit, it's good shit! It edged out Don Julio and Corazon. Interesting that Cuervo only clocked in at tenth place, no? 
This report even included GIN, for Chrissakes. Hendrick's and Tanqueray take the top two spots ,edging out classic brands Bombay and Beefeater. But seriously if you're ordering gin during the winter time you might be kind of a weirdo. G&Ts are pretty good, though. 
Which is your favorite booze and beer combo? Sound off in the Facebook comments.