Inside Pirelli's Ultra-Exclusive 2023 Calendar
Bella Hadid, Emily Ratajkowski, Ashley Graham and other top models posed for an esteemed calendar distributed only to celebrities and VIPs.
To make a product as mundane as tires seem sexy requires inventive advertising to say the least. But only the Italians could transform an actual tire manufacturer into a sexy lifestyle brand—even if it took them nearly 100 years to do it.
We are of course talking about Pirelli, founded in Milan in 1872, whose name has come to represent "industry, culture, tradition, technology and passion"; the latter helped in no small part by the iconic calendar they've been putting out pretty steadily since 1964.
These days Pirelli tailor-makes expertly engineered tires for Ferrari, Aston Martin, McLaren, Lamborghini and other revered marques, while supplying the only rubber allowed in Formula One and the FIM World Superbike Championship, among many other racing series. Elsewhere, the brand has branched into commensurately luxurious categories via partnerships with the likes of high-end watchmaker Roger Dubuis and luxury goods brand Montblanc.
The coveted Calendar, as you might know if you've ever tried to get your hands on one, is distributed exclusively to celebrities, top Pirelli customers, and other VIPs worldwide. It cannot be purchased at any price, and anyone on the list caught trying to sell their copy will be quickly 86'd.
Originally conceived as a "corporate freebie" by Pirelli's British subsidiary, the alluring annual first featured rising models in stunning settings lensed by the day's venerated photographers like Robert Freeman, Francis Giacobetti and Sarah Moon, until a hiatus from 1974–83.
It then made a welcome return to form—Helmut Newton shot a famously sexy version in 1985 that was subsequently kept under wraps for 30 years—but it was in 1993, when the artistic direction moved to the company's headquarters in the fashion mecca of Milan, that the Calendar would become a sought-after celebration of female beauty.
In 1994, photographer Herb Ritts ushered in the Calendar's new era with "An Homage to Women" featuring an all-star lineup of Cindy Crawford, Helena Christensen, Kate Moss and more. The mission was to capture "the women of the '90s and their place in the world: proud, sexy and beautiful on the inside."
Subsequent editions followed suit with appearances from nearly every supermodel extant, including Naomi Campbell, Gisele Bundchen, Heidi Klum, Adriana Lima, Doutzen Kroes, Miranda Kerr, Lily Cole, Rosie Huntington-Whiteley, and Gigi Hadid.
Due to the pandemic however there was no calendar at all in 2021, while in 2022 a music-themed number shot by Bryan Adams was all but lost in the maelstrom of world events; so 2023 looked uncertain to say the least.
But Pirelli also celebrated its 150th anniversary in 2022, and luckily the powers that be realized this most important element of the brand's identity needed to carry on. And best of all, supermodels are back, in the 2023 Pirelli Calendar – "Love Letters to the Muse" photographed by Emma Summerton.
"I wanted to go back to the etymological root of the word 'muse,'" says Summerton, only the fifth female to photograph the Calendar. "The muse originally represented the source, not just inspiring but also possessing talents in literature, science and the arts. I'm fascinated by women who do extraordinary, creative things, women who, starting with my mother, have inspired me throughout my life and throughout my career."
Summerton's work often features recognizable hallmarks of "surrealist" and "magical realist" tones that make her covers and editorials for W Magazine, Vanity Fair, and almost every edition of Vogue stand out.
She drew on these same tones for "Love Letters to the Muse" in crafting 28 images of 14 models. "In my shots, the borderline between the role that the models play and what they really are is not clearly defined and everything blends together to create images that sing to magical realism," Summerton says.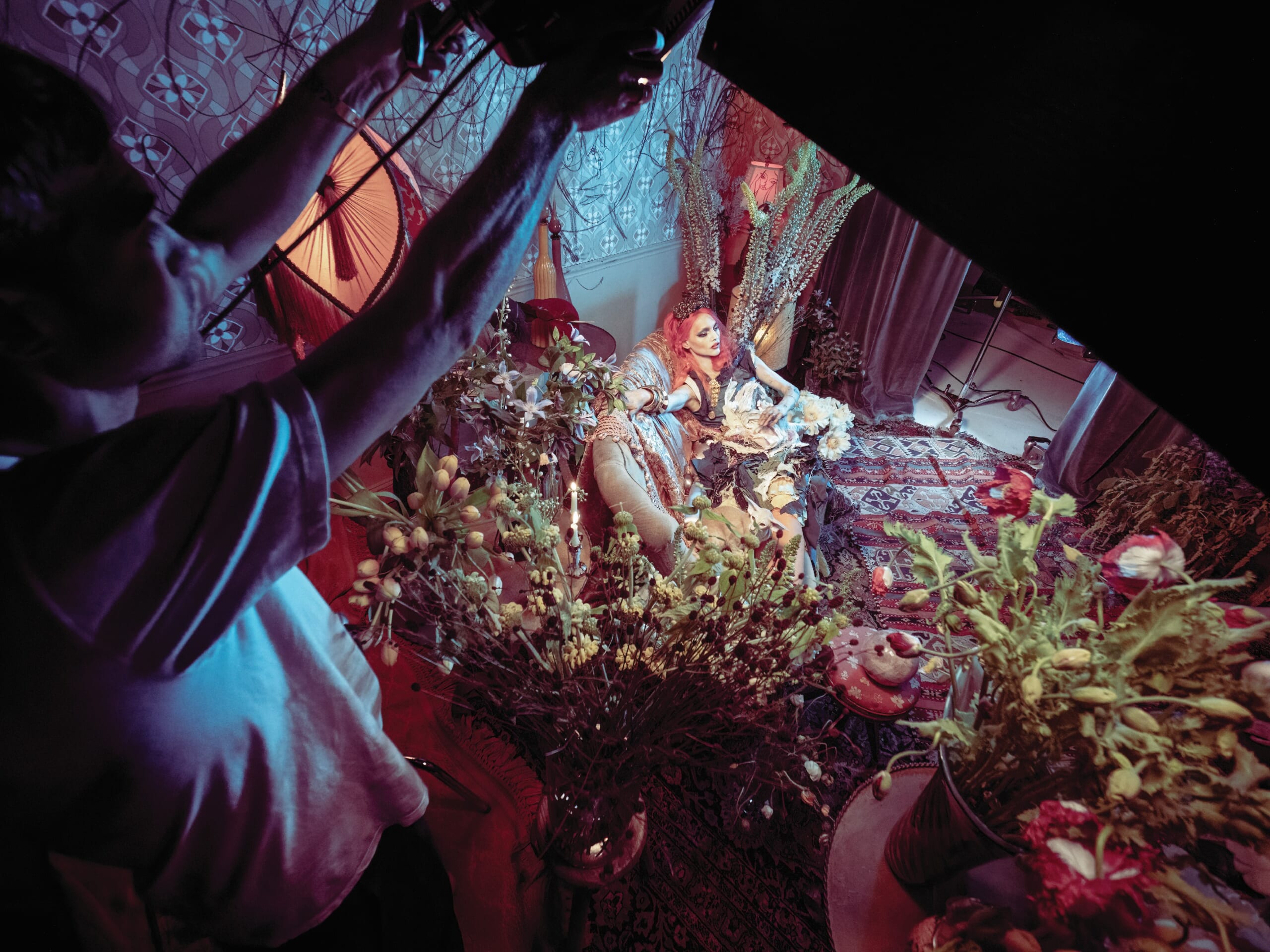 "The Photographer" muse came to Summerton first and is portrayed by supermodel Guinevere van Seenus, seen in a revealing floral shawl, stockings, and heels.
Model, actress and singer Cara Delevingne is "The Performer," posed in tattered material beneath giant dandelions, while model Ashley Graham is "The Activist," a fierce reformer clad in sculpted body armor. And as "The Writer," model Emily Ratajkowski reveals both an immaculate figure in black lingerie and two sides of her face in a mirror.
Additionally, "Love Letters to the Muse" features Lila Moss as "The Seer," Adwoa Aboah as "The Queen," Karlie Kloss as "The Tech Savant," Sasha Pivovarova as "The Painter," Lauren Wasser as "The Athlete," Bella Hadid as "The Sprite," Kaya Wilkins as "The Musician," Precious Lee as "The Storyteller," He Cong as "The Sage," and Adut Akech as "The Dream Catcher." We're feeling inspired already.