Make Space In Your Cellar For Wines From Ribera Del Duero And Rueda
These benchmark regions are one of Spain's best-kept secrets, producing bright, textured Verdejos and age-worthy Tempranillos.
Presented by Ribera y Rueda
We know our Burgundys and our Bordeauxs, our Barolos and Barbarescos. But let me introduce you to two regions that offer superior quality and supreme age-ability: Rueda and Ribera del Duero. Wines here are one of Spain's best-kept secrets, ranging from bright, textured Verdejo to full-bodied Tempranillo, singing with earth, depth, and dark fruit that only gets better over time.
To set the stage: Both regions are located at the heart of Castilla y Leon, a Northern region snuggled between Basque and Galicia. The area is known for exemplary wine, yes, but also 400 museums, 8 World Heritage sites, and 300 medieval castles that dot the rocky landscape, contrasted by the River Duero that flows through the regions. In the western region of Ribera, Tempranillo reigns as Spain's most beloved red wine. In Rueda, Verdejo rules, creating elegant whites that can be everything from bright and flinty to oaked and aged. Whether Rueda Verdejo or Tempranillo from Ribera del Duero, if you age bottles from both benchmark regions, you'll be greeted with incredible complexity and irreproachable food pairings.
Let's dive into why these regions deserve a spot in your cellar.
One of the World's Greatest White Wines
You could say Verdejo ("vurr-day-ho") wears many hats. In some iterations, Rueda Verdejo is aromatic and light, with sparkling acidity that rivals world-renowned Sauvignon Blanc and Pinot Grigio. With other bottlings, Verdejo is rich, creamy, and textured — a wine meant to age alongside your best white Burgundy. It can be young, crisp, aged, oaked, or oxidative, depending on the hand of the winemaker.
'Joven' Verdejos are young and fresh, perfect for patio drinking and pairing with everything from sharp manchego to grilled vegetables to bright salads of mango and arugula. Beyond summer, pairings can span the seasons: Verdejo stands up through spice and plays the perfect partner to creamy chicken or fall-apart carnitas. And of course, Verdejo is a stellar sidekick to all those Spanish spreads: meaty olives, thin slices of Jamon Serrano, or well-aged cheeses.
So why isn't Verdejo everywhere? The grape variety is still one of Spain's best-kept secrets.
It all began 1,000 years ago, when Verdejo vines traveled from Northern Africa up through the South of Spain until they landed in Rueda, where it thrived from the 11th century on. But in the 19th century, the Phylloxera wiped out almost the entirety of Rueda's Verdejo plantings.
Verdejo persisted, thanks to winemakers' enduring love of the grape. Today, Verdejo is Spain's top-growing white wine, with the grape thriving in the vibrant vineyards of D.O. Rueda.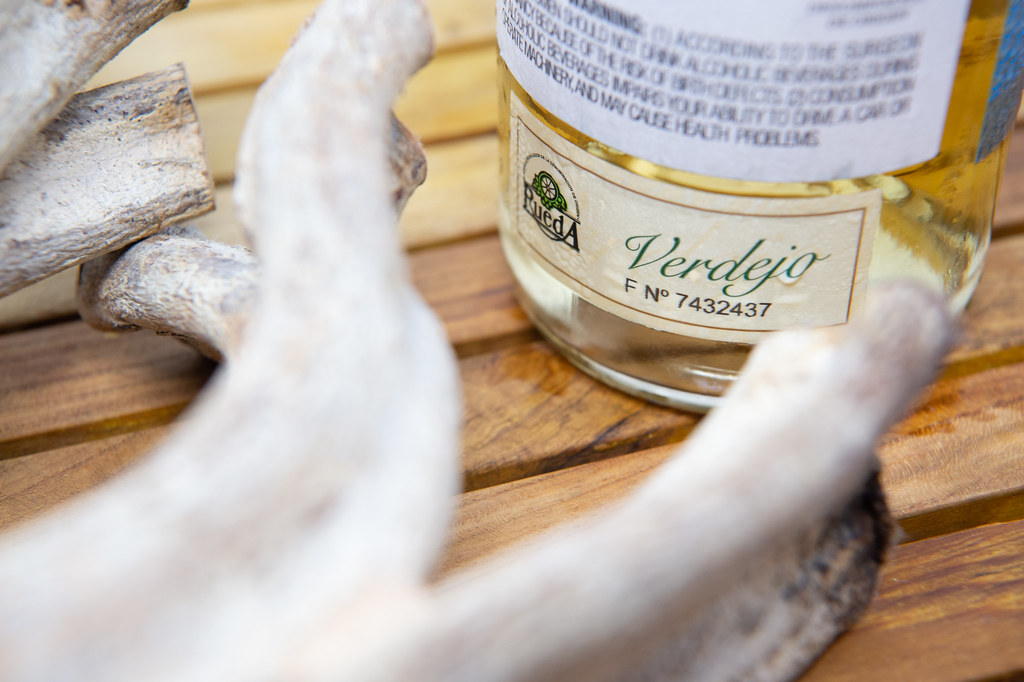 A Sense of Place
What makes Verdejo from Rueda so special? The rocky, limestone-rich soils and sun-soaked days bring forth elegant, full-bodied, and highly aromatic white wines.
When you're drinking Verdejo, you're not just tasting a wine, you're tasting the region. There's the high, well-balanced acidity from the high altitude. The limestone-rich soils, stones, and pebbles lend those bright citrus notes and aromatic herbaceousness to Verdejo. The grapes are carefully harvested at night to retain the grapes' acidity and fermentation.
The region is so special that the government recognizes Verdejo as the first white grape in Spain to bestow a designation of Denomination of Origin – a government mark of quality, of sorts – on any wine from the region.
And these aren't just fresh wines to break out on your patio. Look for bottles from Jose Pariente (fruit-driven, with fennel undertones), Tres Olmos (floral and complex), or Martinsancho (zesty acidity, minerality, and textured). Or, if you're feeling fancy, Belondrade y Lurton and Nisia Las Suertes turns Verdejo on its head and makes elegant, unctuous age-worthy expressions of the grape. Let them rest in your cellar beside your best Burgundy and see how the wine evolves (though select a Verdejo rested on lees and oak for optimal aging).
Age-Worthy Reds
Moving eastward in Castilla y Leon, you'll find Ribera del Duero, a historic region that has put wine at the forefront of its culture for over 2,000 years. Here, you'll spot mainstay reds like Cabernet Sauvignon, Merlot, Malbec, and Grenache Tinto, though Ribera Tempranillo (or Tinto Fino, as it's known locally) is king.
But don't expect the concentrated red fruit or youthful nature of other Tempranillo from around the globe. Ribera del Duero's Tempranillo is dark and tannic, complex with balanced acidity. The majority of the region's vines are decades old, which yields fewer grapes than young vines, but grapes with soft, concentrated fruit and more nuanced flavors.
Harsh Climate Blooms Brilliant Wines
Winemakers make these elegant, age-worthy wines despite the region's unforgiving conditions. There's the local axiom of "ten months of winter, two months of hell" and it's no exaggeration. Winters are long and arduous while summers are short and hot. It's a challenge to farm, but winemakers know this climate breeds distinct, elegant wines unlike any other on earth.
Said winemakers are incredibly dedicated and focused. Grapes are picked by hand and separated to ferment by plot, so winemakers can carefully blend and conjure up wines based on what each distinct vineyard produces each vintage. Wines are mainly aged in tunnels to protect sleeping barrels from the tumultuous climate, giving the Tempranillo a distinct, elegantly earthy flavor. Because of the handcrafted nature of these wines, Ribera del Duero's wines are pricey, but comparatively, a fraction of the cost of other super-premium wines from world-renowned regions like Napa, Bordeaux, Burgundy, and Piedmont — quality, at a steal.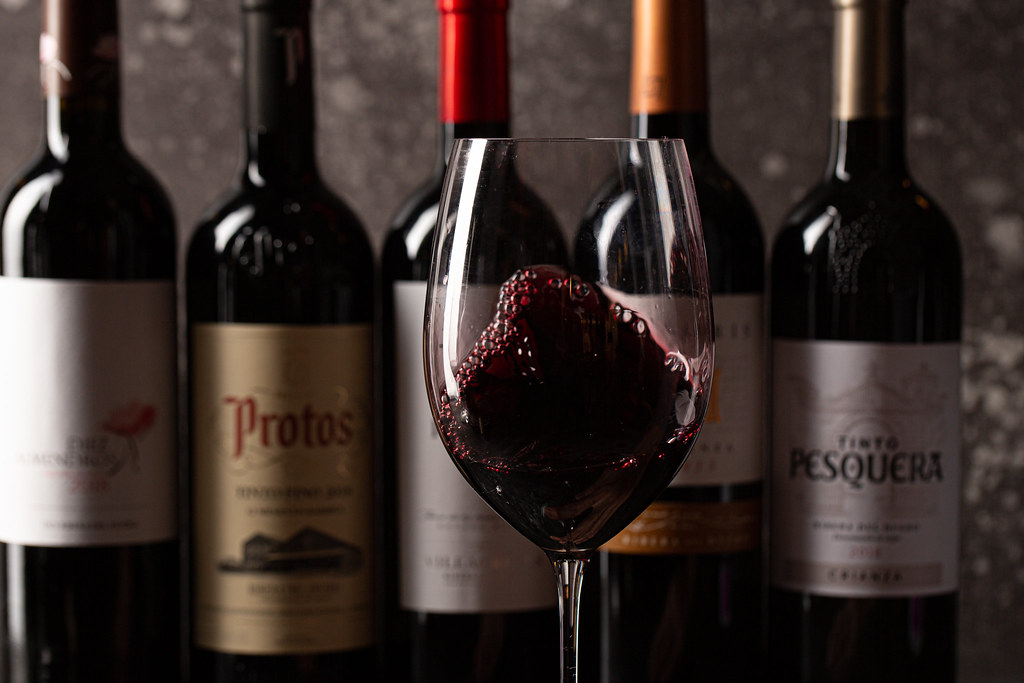 Looking to dig into Ribera del Duero? Valderiz' Tempranillo and wines from Francisco Barona are rich yet approachable; balanced, polished, and only get better with time. Aalto sources from vines up to 80 years old for a complex, expressive version of Tempranillo. If you're willing to shell out, look for wines from Pingus: the vineyard is one of the world's most converted, with a dedication to old vine Tinto Fino (remember, that's Tempranillo!). Or, may we interest you in wines from Vega Sicilia? The estate is regarded as one of the top — if not the best — in all of Spain, with grapes dating back to the 1800s and a continued focus on excellence. These winemakers are not only producing incredibly beautiful wines, but they're helping drinkers reconsider how opulent and interesting Tempranillo can be. If you're kinder to your wallet, look for wines from Garmón — a newish project from the Garcia family, the patriarch of which spent 30 years as the winemaker at Vega Sicilia.
Save a few bottles for your cellar, but earmark a bottle or two to crack open alongside Paella, chorizo, or rich stews, or just set it on the table and watch conversations flow.