Why Verdejo Is The World's Next Great White Wine & Tempranillo Is The King of Grapes in Spain
A James Beard Award-winning writer explains why Verdejo is great, and how Tempranillo grapes thrive in "ten months of winter, two months of hell."
Enter to Win a Trip to Spain's Most Prestigious Wine Regions. Presented by Ribera y Rueda and DrinkRealSpain.com
Win a trip for two to Ribera y Rueda in 2023 (Click here). Here's your opportunity to experience the best bodegas (wineries), tour with winemakers and taste their best bottles while taking in historical sites. Stay in luxurious accommodations, partake in late lunches, tapas crawls and fancy dinners.
The grand prize is a round trip for two from an airport in the U.S. to Madrid, ground transportation, five nights lodging, tours and meals while in Spain. Five runner-up prizes will be awarded gifts from DrinkRealSpain.com.
As a Grape, Verdejo's Potential is Endless
Ask any Spaniard to tell you their favorite Spanish white wine, and it's a good bet they'll answer Verdejo. As Spain's number one selling white wine, Verdejo's popularity is undeniable.
Ask some of the world's most famous winemakers inside and outside of Spain to name their favorite Spanish white wine, and the answer is likely going to be the same. Winemakers from other parts of Europe as well as within Spain view Verdejo as a grape with huge potential. As a result, these winemakers have been quietly putting down roots – literally – for the past four decades in Rueda, Verdejo's primary growing region.
Despite the fact the grape was brought to the area from North Africa ten centuries ago, it's still nothing short of a miracle that renowned winemakers have been drawn to the area. The climate in Rueda, located in northwest Castilla y León, is harsh. The rocky soils seem as if they would be inhospitable to almost anything living, and the desert-like landscape is not typical postcard wine country.
Yet for just these same reasons, Verdejo is thriving. Winemakers are taking what was mostly considered a simple wine and turning it into head-turning juice. They have discovered that the hard dirt, pebbles, sandy clay soils, hot temperatures, and frigid winters produce a grape whose concentrated flavors translate to a wine that is equally at home at a summertime picnic as it is in a Michelin-starred restaurant.
The combination of the Rueda terroir and the myriad winemaking styles produce a world-class wine that reflects complexity, versatility, and ultimately deliciousness.
Joven is Everyday
Verdejo can best be described as a cross between sauvignon blanc and pinot grigio. It has vibrancy, a little edginess, charisma, great acidity, and it loves food. The young or "joven" style of Verdejo is a magnificent everyday drinking wine, which is why it's so popular among Spaniards. For those outside Spain, Verdejo is a sommelier's best kept secret, endlessly intriguing and always enjoyable.
Humble Roots, World-Class Wine
These days, some Rueda wine producers are kicking it up a notch by employing winemaking techniques used in the finest white wines from Champagne and Burgundy. In the process, they are not only producing sensational sparkling Verdejos but also age-worthy still wines as well.
Part of the reason is because these winemakers are utilizing lees-aging to bring complexity and texture to the wine. Verdejo is well-suited to oak-aging too, which is why some winemakers have turned to barrels and large wooden vats – foudres – to make their wines.
For flavor development and mouthfeel, some winemakers are using concrete eggs for aging as well. As a result, these wines can be laid down for years – a relatively unexplored possibility until heralded by notable winemakers who have been exploring Verdejo's potential for decades.
All this is to say that Rueda Verdejo is slowly but surely turning into a world-class wine with a reputation for richness, herbal notes, complexity, minerality and aging potential of 5-10 years. Similar to wines produced in the Loire, Sancerre, Chablis and Bordeaux and well-constructed Verdejo from Rueda is on track to be mentioned in the same breath as those heralded regions.
Gran Vino de Rueda
Keep an eye out for the new Rueda wine designation: Gran Vino de Rueda. The Grand Vino de Rueda specifies that the wines must come from vineyards at least 30 years old. In addition, the yield is capped which translates to more highly concentrated, elegant wines.
For all its complexity and sophisticated winemaking styles now being employed, one would assume Verdejo's prices are rising to match. Instead, most Verdejos can be had for around $20 and the best of the best cap out around $50.
Those that cost more reflect refinement and ageability but are still far and away less expensive than their better-known French counterparts. Which is why Verdejo is as exciting to winemakers as it is to wine drinkers. Winemakers love a good challenge, and wine drinkers love a good wine at a great price. Score.
Breaking Tempranillo, The King of Spain
In most places, an axiom like "ten months of winter, two months of hell" would more likely be the snicker of a competitive region than it would be a statement on its own. But winemakers in Spain's Ribera del Duero, located in Castilla y León in the north-central part of the country, are happy to own this description. They know the resulting Tempranillo grape is like none other in Spain because of the unforgiving conditions in which it grows, not in spite of them.
Ribera del Duero, which translates to the riverbanks of the Duero, is mostly a high plateau ranging from 2,200 to 2,800 feet. It is host to as many as 30 different soil types, though mostly sand, limestone, and chalk, all of which contribute to the distinctive nature of the region's dominant grape, Tempranillo.
Tempranillo grown here is so distinct that it is referred to locally as Tinto Fino and Tinta del Pais in order to distinguish it from other Spanish-grown Tempranillo. The berries from this region are smaller, the skin is thicker, the color is darker, and the acidity runs high. These characteristics result in wines that run the flavor gamut from ripe red fruits to blueberry to plum and cassis; to spice, leather, and tobacco.
Persistent Old Vines and Adaptation
The "hell" referred to in the dubious regional description comes from the scorching temperatures that beat down on the land mostly in July and August. But the region is comprised of thousands of acres of old vines – 9 percent of which are as old at least 80 years old – and over the decades, these vines have adapted to the conditions to produce stellar grapes characteristic solely of this region.
The temperature swings between the coldest and hottest temperatures of the day in Ribera del Duero can be as much as 40 degrees. This means the vines might wake up to a temperature of a mild 60 degrees and before day's end, soak in a high of 95 degrees.
Vine adaptation and specialized winegrowing methods combined with climatic conditions in Ribera del Duero translate to lower yields than in other Tempranillo-growing regions. The concentration of flavor in each grape tells a story of struggle and victory all in one sip.
Quality Over Quantity
Sometimes a challenge can turn into a benefit, and in the case of Ribera del Duero, that benefit is long-standing sustainable growing methods. Those methods may not have been guided by a philosophy as much as they were necessity.
Eighty percent of the grapes are harvested by hand, which is in part a nod to tradition and in part because of the winegrowers' intense focus on selecting only grapes that fit their strict criteria. Also, many of the vines are so old that modern machines aren't designed for them. In the end, it's about quality over quantity.
Ribera: Home to Spain's most exclusive wines
No discussion of Ribera del Duero is complete without the mention of the region's and indeed Spain's arguably most famous wineries. Begun in the mid-19th century, Vega Sicilia got its start making a version of a Bordeaux blend. Over time, however, the grape that elevated their wine to superstar status was the addition of Tempranillo.
Today, the winery's most famous wine – Vega Sicilia Unico – is comprised of about 95 percent Tempranillo and the remainder Cabernet. Shortly thereafter, Pingus joined the ranks of the world's most coveted wines and is well-known and revered wherever great wine is discussed. Pingus is the result of Peter Sisseck's commitment to showcasing his very old-vine Tinto Fino (Tempranillo) vineyard.
These winemakers not only helped elevate Ribera de Duero to world-class status, but they also elevated the status of the Tempranillo grape itself. If the people making one of Spain's most sought-after wines are growing and bottling Tempranillo, then surely it is a grape worth cultivating by others. Consider it done.
A Challenge and a Pleasure
Holding up a glass, one sees deep color and detects aromas that are the essence of the climate, soil, and topography in which the grapes grow. Because of the challenges inherent in growing Tempranillo, it is clear this remarkable grape has gotten to the glass because of persistence and hard work. Then comes a sip, when the only thing left to say is a quiet "gracias."
Learn more about Ribera y Rueda on Instagram @RiberayRuedaWine and don't forget to enter for your free Trip to Spain. Be sure to sign up on Drink Real Spain (it's free to join) for access to the best wine collections from Spain. Each month, Drink Real Spain hosts a virtual tasting featuring a curated four-bottle collection with wine celebrity Anthony Giglio exploring Verdejo from Rueda and Tempranillo from Ribera. Members of Drink Real Spain are also entered in for a chance to win amazing monthly giveaways.
Now is the time to become an insider at DrinkRealSpain.com and follow @RiberayRuedaWine – Spain's most prestigious regions for red and white wines on Instagram.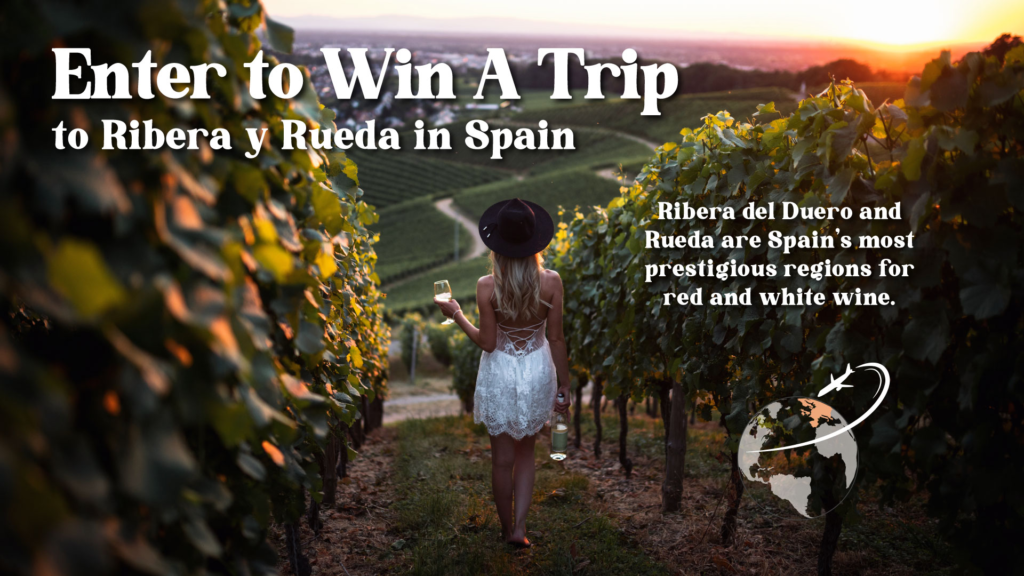 Laura Werlin is a James Beard Award-winning author. Follow her on Instagram @cheezelady.